Posted on
Tigers nearly come back to beat Hodags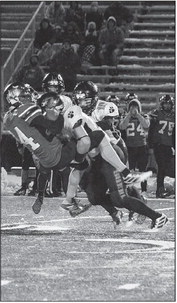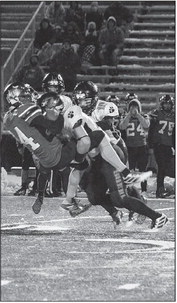 Stratford's football team finishes the 2020 regular season with a 3-2 record, following the cancellation of the team's last two games at Shiocton and versus Nekoosa because of COVID-19.
The Division 5 Tigers nearly knocked off the undefeated Division 3 Rhinelander Hodags, by only losing 29-27 in Friday's road contest.
Stratford scored 15 points right away in the first quarter against Rhinelander. Senior Beau Gross ran for a two-yard touchdown and senior Colten Schillinger added the extra point. Gross scored again on a 10-yard touchdown run, but the two-point conversion pass from senior quarterback Max Vanderhoof to Schillinger was unsuccessful.
Rhinelander stormed back to score 21 points in the second quarter to take a 21-15 lead at halftime. Neither team scored in the third quarter, until the Hodags tacked on an insurance touchdown run and successful two-point conversion pass in the fourth quarter.
Stratford rallied to score two touchdowns in the fourth quarter on Gross touchdowns of two and 10 yards. Schillinger made the extra point after Gross' first score in the final quarter, but the two-point conversion pass attempt from Vanderhoof to Schillinger failed to tie the game with just over one minute remaining.
Gross led the Tigers against the Hodags in both offensive rushing and receiving yards. He ran the ball 14 times for 70 yards and two touchdowns, and he also caught two passes for 25 yards and one score. Vanderhoof completed six of 13 passes for 71 yards and a pair of touchdowns.
Wildcats stay undefeated
Edgar senior defensive tackle Korbyn Bauman returned a Portage fumble 30 yards for a touchdown to start the team's scoring in a 62-0 blowout road win on Friday.
Bauman and his Edgar teammates on defense held Portage to only two first downs and seven total yards of offense in the game.
Wildcats senior running back Kyle Brewster scored three touchdowns on only six touches against Portage. Seniors Austin Dahlke, Drew Guden and Jordan Bunkelman, and juniors Ayden Weisenberger and Mattison Butt each scored one touchdown. Senior quarterback Konnor Wolf threw two touchdown passes.
Undefeated Edgar, who remains ranked No. 1 in Division 7 this season, will play a home game at 7 p.m. this Friday, Oct. 30, against Shawano.