Posted on
Schley makes state field again; Horvath will join her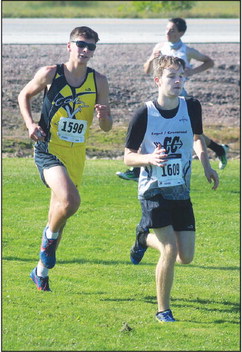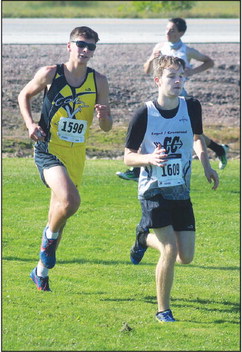 Two runners from the Loyal-Greenwood cross country team will be participating in the WIAA Division 2 State Cross Country Championship in Colby on Oct. 31 after qualifying in the Division 2 Sectional held in Westby on Oct. 24. Savannah Schley returns to state competition for the fourth time in her running career while Avrey Horvath will be making his first state appearance.
The pair of Greyhound runners qualified for state after first qualifying for the sectional round in subsectional competition in Stratford on Oct. 20. Schley and Horvath were the only two runners from their team to make it past the first round, with Schley taking the individual win with a time of 20:21 to move on to Westby. Horvath was the third individual to qualify for sectionals on Oct. 20 in the boys race, placing ninth with a time of 17:52.
At Westby, Schley and Horvath faced their toughest field of competition yet, with the most skilled area athletes competing in a small, but fast 38-runner field. In the girls race, Schley was the fourth individual to earn a qualifying spot for state, taking fifth place with a time of 20:10.
She will be joined at Colby by Southwestern/Cuba City/Benton runners Kayci Martensen (18:48) and Hanna Martensen (19:45), Meg Katzung of Prairie du Chien (20:07) and Macey Tauscher of West Salem (20:40) and by runners from Aquinas and Colby-Abbotsford, who had their teams qualify.
In the boys race, Horvath was the last individual to earn a qualifying spot for state, beating Gale-Ettrick-Trempealeau runner Riley Kirkby by six seconds to seal his trip to Colby. Horvath ran a 17:25 at the sectional race, taking 10th place overall.
Horvath will be joined at state by John Wells of Platteville (17:06), Jose Monroy of Arcadia (17:19), Skylar Drinka of Neillsville (17:21), Sam Ruiter of Gale-Ettrick-Trempealeau and by the teams of West Salem and Aquinas.
Sub-sectionals at Stratford
The rest of the Loyal-Greenwood cross country team saw their season end on Oct. 20. Besides Horvath, four other runners ran for the Greyhound boys at the subsectional meet. Connor Genteman took 13th with a time of 18:35, Seth Genteman ran a 19:46 for 24th, Jaden Ruggles placed 42nd with a time of 22:19 and Vaughn Zettler was 49th with a time of 25:20.
The girls team posted similar numbers to the Loyal-Greenwood boys at Stratford. Rylan Lindner came after Schley in 13th place overall, running a 22:13. Leah Scherer and Maci Bogdonovich followed, with Scherer placing 30th with a time of 23:57 and Bogdonovich finishing after her in 31st place with a time of 24:27. Halle Aumann was the last Loyal-Greenwood runner to finish, taking 36th with a time of 25:30.
Sub-sectionals at Edgar
The Spencer cross country team also participated in sub-sectional competition on Oct. 20 at Edgar, with no runners qualifying for the sectional race. Emily Wehrman came the closest to qualifying in the girls race with her 25th-place finish, but would have had to run two minutes faster than her 24:02 time to have been able to qualify. The girls had two other individuals run at Edgar. Haylee Hopperdietzel placed 37th overall with a time of 27:06 and Faith Miller ran a 27:51 for 40th.
In the boys race, Cameron Nieman led the Rockets with his 21:05 run which put him in 30th place. Malachai Anderson finished about 30 seconds later (21:34) to take 33rd, followed by Caleb Rucker who ran a 21:52 for 35th.
Also running for Spencer at the sub-sectional were Kaizer Eickleberry (39th, 22:29), Noah Schultz (43rd, 23:31), Austyn Kohls (48th, 24:30), and Andrew Sieracki (49th, 24:53).
The WIAA state meet usually includes all three divisions running at Wisconsin Rapids, but due to COVID-19 concerns, that format has been changed this year. The Division 2 meet will be held on Oct. 31 at Colby, with the qualifying runners to compete in three heats. The placings will be determined by the fastest times in each heat.
TRG FILE PHOTO
TRG FILE PHOTO