Posted on
Marathon grounds down Abby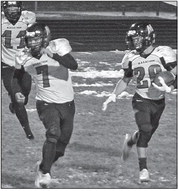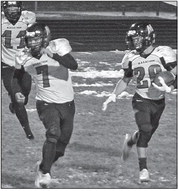 It's been said revenge is a dish best served cold. Mother Nature supplied the cold on Friday, and the Red Raiders supplied the revenge.
A year ago, Marathon fell 21-0 to Abbotsford in a defensive slug-fest on a warm, August evening. A year later, on a cold October night, it was Marathon handing out a goose-egg as they topped the Falcons 15-0 for their first win of 2020.
"We felt we should have had the game last year and we kept that chip on our shoulder and tonight we felt that this was our game to win," Marathon tailback Jared Sweno said.
It was far from a perfect game on Friday in Abbotsford, with the Red Raiders turning the ball over on their first three offensive possessions. So perhaps it's not surprising that it was the defensive that got the Red Raiders going.
Jaden Koeller flushed Abby QB Hunter Soyk out of the pocket and sacked him in the endzone for a safety to give the Red Raiders a 2-0 lead going into the second quarter.
That proved to be the needed spark that ignited Marathon's flame.
"It definitely swung the momentum," Sweno said. "Defensive turnovers are always nice, but when you get to score on those, that helps bring the heat on your opponent's offense."
Marathon kept that pressure on Abbotsford, limiting the Falcons to under 100 yards of total offense.
Ben Robbins went three for six for 34 yards and connected with Jaden Koeller for a TD that made it 9-0 just before the break.
In the second half Marathon used their run game to salt the victory away. Matt Annis scored once in the third and finished with 111 rushing yards. Jake Sweno had a game high 119 yards on 10 carries and brother Jared had 39 on six carries.
"This game was especially important for us to kind of give us a solidified idea of where we are as a team and who we are," Jared said.