Posted on
Raiders' win streak reaches six as they head to the tournament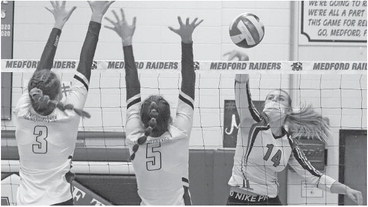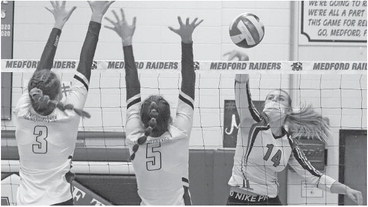 MEDFORD BOYS SOCCER
The Medford Raiders knew Thursday the Rhinelander Hodags might rest their key players in the regular-season finale at Raider Field, and that is exactly what happened.
Still, the Raiders knew they had to just play their game and not worry about who the opponent had on the field. And, for the most part, that's exactly what happened in a 7-0 blowout win that clinched the Raiders' outright spot in second place in the Great Northern Conference.
As has been their custom this season, it took awhile for the Raiders to take advantage of the young lineup the Hodags put on the field. But a three-goal blitz that took less than two minutes early in the second half finally opened up a 4-0 goal lead and allowed for a fun finish to the regular season.
Medford finished 7-3 in league play, one game behind the Hodags (8-2, 11-2), and 8-3 overall.
"To them, the game meant nothing," Medford head coach Nathan Bilodeau said. "There's nothing on the line, why risk it? I get it. But at the same time, it's tough for our guys.
"Our first half was slow, we scored in the sixth minute and I think we thought this is easy," he added. "We scored and now we're going to take it easy. It was 1-0 at halftime. I told them at halftime, that's not Medford soccer. We need to not do that. We can't play down to the level of our opponent. We need to take this game seriously. Even though it's the JV team, we still need to play like it's a real game. We came out swinging in the second half."
The Raiders' first goal at the 6:03 mark was scored by Colton Gowey and that was just the start of a big night for the senior wing, who recorded his first hat trick of 2020.
Gowey and fellow senior Owen Wipf took center stage in the two-minute blitz that buried the Hodags. It started at 57:42 with Wipf's third goal of the season, a welcome sight after he was a quarantine casualty in the team's previous three games.
Medford's next charge into Rhinelander territory resulted in a Gowey goal just 23 seconds later. Then 1:12 after that, at 59:17, Gowey found himself and the ball meeting at point-blank range and he headed it into the net for a 4-0 lead.
"They really turned it on," Bilodeau said. "They got more focused, more energy and a lot more of a want-to-win attitude. That's how we needed to play. It doesn't pay to walk out of here tied or winning 1-0. Play it like it's our game, and we really turned it on in the second half."
Another neat moment was the first goal of the season for junior Quinton Tlusty, who has gotten a lot of valuable minutes in his first fall with the varsity and had some chances. This time he found the back of the net with a solid swing from about 20 yards out. That goal at 78:56 put Medford up 5-0.
"He's really coming around," Bilodeau said. "He's really coming into shape out on the field and that's really impactful for us, especially to have him next year."
At 83:03, senior defender Ty Baker got a scoring opportunity for the second straight game, and though it took a couple of rebound shots, he finally punched it in and recorded his second goal of 2020. Sophomore captain Zach Rudolph buried the final goal on a breakaway off a Gage Neubauer assist with 4:23 left in the game.
"This was a good chance for us to move some guys around," Bilodeau said. "I put Zach Rudolph up at forward. He got a goal and a couple of assists. We tried a couple different guys out at wings and made sure our bench guys got some playing time. It was good."
Medford, a two-seed, is off until Saturday when it hosts third-seeded Lakeland (6-6-1) at 5 p.m. in a WIAA Division 2 regional final. The T-Birds beat sixth-seeded Ashland 10-0 Tuesday and have two wins over Medford this season, but that was during a week when the Raiders were hit hard by injuries and quarantines.
"It's time to focus, re-energize, get healthy, stay healthy and just really execute in our post-season game now," Bilodeau said.