Posted on
Raiders surpass 500 yards, allow just 88 in win over Jays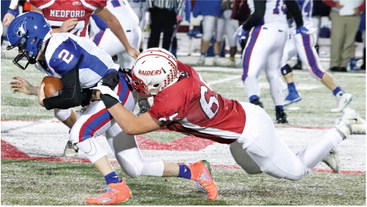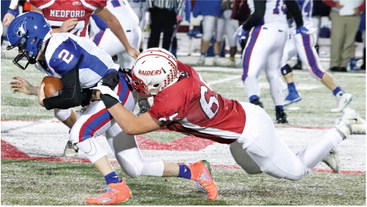 MEDFORD 42, MERRILL 6
The Medford Raiders got hit by an early big play Friday, a rarity for the past season and a half, but they recovered quickly and rolled to their fourth straight one-sided victory of 2020, a 42-6 rout over the Merrill Blue Jays at frosty Raider Field.
The Raiders averaged 11.3 yards per carry while piling up a season-high 372 rushing yards, threw for a season-high 166 yards and held Merrill to just 88 total yards and three first downs, one of which was by penalty, while improving to 4-0 and staying in a first-place tie with Rhinelander atop the Great Northern Conference.
"To give up 88 total yards, and 68 came on one play, that's pretty amazing," Medford head coach Ted Wilson said. "The defense played really well."
The one play Merrill got was a slant pass from quarterback Cayden Diels to receiver Bailey Turenne that turned into a 68-yard catch-and-run for a touchdown with 4:38 left in the opening quarter. It answered an eight-play, 63-yard scoring drive by Medford that ended with Aiden Gardner's 5-yard touchdown run and Peyton Kuhn's two-point conversion run.
The score by Merrill, after the twopoint run failed, made it an 8-6 game. But any thoughts anyone had of this remaining a competitive game were dashed quickly when, on Medford's next offensive snap, Gardner found a huge hole on the left side and easily galloped untouched for a 66-yard touchdown. Emett Grunwald added the two-point run for a 16-6, two-score lead.
The defense got two three-and-outs before Grunwald's 58-yard run set up his own 7-yard touchdown that made it 22-6 midway through the second quarter. With 1:50 left in the quarter, Logan Baumgartner lofted a perfect pass down the middle to a wide-open Colton Surek for a 29-yard touchdown that made the halftime score 28-6. Gardner was one broken tackle away from making the margin even larger when he took a screen pass 43 yards on the last play of the first half.
The Raiders tacked on two more touchdowns in the second half to put it away. Merrill's offense used up virtually all of the available time on the play clock between each snap in an attempt to shorten the game.
The shutdown defense was again paced by the defensive front, which was in Merrill's backfield for much of the night. The Blue Jays rushed for only 16 yards on 30 attempts and only one of those attempts gained double-digit yardage, a 16-yard run by Diels late in the second quarter.
"Joe Gierl and Brody Doberstein are doing a really good job of getting off the ball quickly and not peeking, " Wilson said when discussing the play of the defensive line. "We really try to teach our defensive linemen to get off the ball, fight pressure and feel pressure. They should be able to play well without having to really see where the ball is going. It's more of a feel-type game for them. Those two have done a really great job of doing that. They get off the ball really quick. They get a yard deep and then they're fighting through the pressure like they're supposed to, rather than trying to stand up and peek."
The defense did that work in its first outing since losing standout linebacker Blaine Seidl for the year with a knee injury. For this game, senior safety Colton Surek moved up to fill the linebacker spot and played well. Surek has now moved around on both sides of the ball to fill a need due to injury this season.
"He's a kid that spent a lot of time in the off-season working and really cares about football and does a great job," Wilson said. "He never complains. If you ask him to play tight end, he'll play tight end. Ask him to play blocking back, he's going to do that. Ask him to play linebacker up from safety, he can do that. If we asked him to go down on the d-line, he'd do it. He's really an unselfish guy that's willing to do anything to help the team win."
Even with the season-high 538 total yards, the Raiders were stopped on a handful of occasions, including the first two lost fumbles of the season, both of which came at the ends of 20-plus yard runs. Those were the lost offensive opportunities that concerned Wilson the most.
"Those are huge momentum shifters," Wilson said. "They take the ball away from you. They give the ball to the other team. I think they're probably our first two fumbles on the year. Fumbles are going to happen, but we have to do everything we can to take care of the ball."
Medford's third possession of the third quarter produced points. Carson Kleist made a highlight-reel 40-yard catch on the left sidelines, pinning the ball on his right hip as he was getting knocked down by a defensive back at the Merrill 14. Grunwald broke through a couple of arm tackles and scored on the next play and added the two-point run for a 36-6 lead with 1:50 left in the quarter.
On the first play of the fourth quarter, Nate Retterath threw deep down the middle to Grunwald, who outfought a Merrill defender for the ball at the 10 and then strolled into the end zone for a 43-yard score.
That was Retterath's only pass attempt. Baumgarter was four of eight for 123 yards. Neither quarterback has been intercepted through four games.
"I thought we threw the ball efficiently," Wilson said. "We did miss a couple throws here or there. But for the most part that's the way we're going to be. Let's be efficient throwing the ball. I thought we did OK. We got a little bit better than the previous week. We just have to keep moving forward and getting better and better so that we're up into that 60-70% completion percentage."
Gardner finished with 156 yards on 10 carries and still averaging an amazing 16.3 yards per carry. Grunwald broke
MATT FREY/THE STAR NEWS
out with 146 yards, by far a season-high, on 11 carries. Kuhn had season highs of eight carries and 61 yards.
Medford takes the long trip to Ashland this Friday to face the Oredockers who are off to a 2-2 start and seem much improved over their 0-9 season in 2019. They let one get away in a 20-14 loss at Merrill in week one and turnovers plagued them this past Friday in a 26-7 loss at Rhinelander. In between, they pummeled Hayward (41-14) and Lakeland (46-8).
"They're very physical," Wilson said. "They run a physical offense, they run a physical defense. We really have to take care of the ball because turnovers are the great equalizer."