Posted on
Moore, Granberg advance to Saturday's Cameron sectional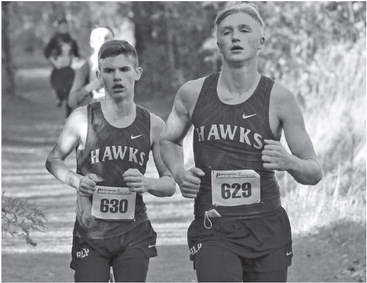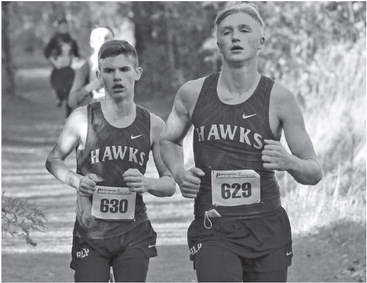 WIAA DIV. 3 HURLEY CC SUBSECTIONAL
Coming off strong performances in Thursday's Marawood Conference meet, Prentice-Rib Lake's Serena Moore and Adam Granberg kept their 2020 cross country seasons alive with even better efforts at Tuesday's WIAA Division 3 Hurley subsectional.
The first meet in a new two-meet system to determine state qualifiers in this COVID fall, the top two teams and top five individuals from non-qualifying schools advanced to Saturday's sectional meet at Cameron. There, the top two teams and top five individuals will move on to the Oct. 31 state meet. State details have yet to be announced by the WIAA.
Moore, a three-time girls state qualifier, won Tuesday's girls race in a seasonbest time of 20:09.7. She pulled away for a sizable margin over runner-up Allie Adomaitis of Phillips, who finished in 20:28. Chequamegon's Claudia Lasiowski (21:00.3) and Autumn Michalski (21:53.3) were third and fourth.
Phillips edged Chequamegon 62-64 for the meet's team title as both teams will run Saturday in Cameron. South Shore just missed, finishing third with 66 points, followed by Solon Springs-Northwood (79), Hurley (98), Prentice-Rib Lake (127) and the incomplete teams from Mercer and Butternut.
Joining Moore as individual sectional qualifiers are South Shore's Lily Truchon, who was fifth in 21:54.3; Hurley's Jaana Aukee, who was sixth in 21:55.1; Nona Thompson of Solon Springs-Northwood, who was seventh in 21:56.3, and Annika Patrick of Solon Springs-Northwood, who was ninth in 22:50.8.
Junior Leah Thums completed her season for the Hawks with a 22nd-place finish in the field of 45 runners that competed in two separate groups. Thums posted a time of 24:14.8. Junior Jeann Johnson was 35th with her best time of the fall, 26:08.4. Junior Kylee Goodrich was 37th in 26:27.4. Junior Ryean Gorski was 42nd at 31:06.5 and sophomore Nadia Czahor was 43rd in 32:38.7.
Granberg set a new personal-best time in the boys race with a time of 18:10.6. That was good for fifth place in a field of 52.
Butternut's Mike Brown easily won the race in 17:18.6, beating Nolan Burchfi eld of Solon Springs-Northwood by 24.9 seconds. Ian Oswald of Chequamegon was third in 17:56.5. Burchfield and Oswald led their teams to sectional berths. Chequamegon won the meet 49-58 over Solon Springs-Northwood, while Phillips came up one point short and placed third.
South Shore was a distant fourth with 112 points, followed by Hurley (130), Prentice-Rib Lake (132), Butternut (163) and Mercer (incomplete).
Phillips freshman Ethan Michek tied Granberg's time, but was given the nod for fourth place, though both runners advanced. Logger Logan Bjork was eighth in 18:38 and Hurley's Eli Talsma was 10th in 18:48.4 and qualified to race at Cameron.
The Hawks got solid outings out of juniors Alex Schantner (19:43.9) and Will Hartke (20:04.1), who placed 27th and 29th. Sophomore Ben Peterson was 35th at 20:49.4, just off his season-best time from Thursday, and junior Reese Isaacson was 36th in 20:50.6, just 1.6 seconds off his Thursday time at the conference meet.
Aiden Hartke, a freshman, was 39th in 21:33.9, his best time of the fall. Sophomore Anthony Schuetz was 52nd in 34:57.6.
Saturday's meet in Cameron is slated to start at 10:30 a.m. and features runners from the Hurley and Webster subsectionals.