Posted on
Momentum fades after first set, Rib Lake's season ends in loss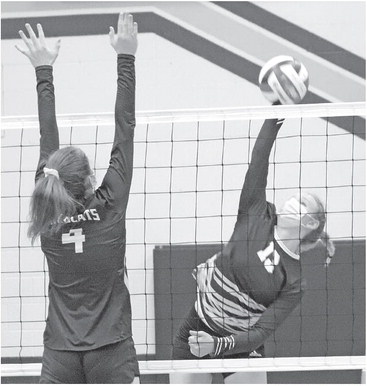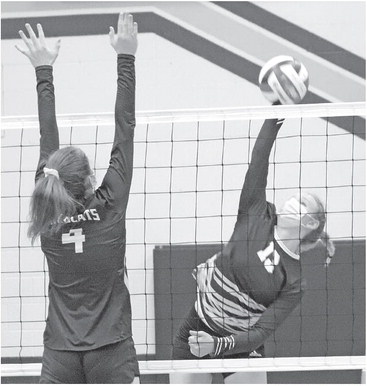 RIB LAKE VOLLEYBALL
The Rib Lake volleyball team won its first set of the shortened season, but was unable to carry that momentum any further in a disappointing 3-1 loss to Northland Lutheran Tuesday in a WIAA Division 4 regional quarterfinal held in Rib Lake.
The Lady Redmen had some of their best offensive moments of the shortened season in the match, but the Wildcats also stymied some of those attacks with a solid blocking effort and their senior hitter, Brooke Neumann, proved to be too hard for Rib Lake to contain seemingly every time the Redmen needed a point.
Rib Lake's short season, which was paused for two weeks and re-started last week, ended at 0-7.
"What a year," Rib Lake head coach Barb Anderson said of the most unusual season she's certainly seen in her many years of coaching. "We really thought we could have beaten Northland Lutheran. But they were the best blocking team we have seen in this short season. I told the girls that we were very lucky. During a season of COVID, we were able to play, quarantine and still finish the season. There were a lot of teams who did not get to play. So, in the big picture of things, it was a win."
A win is what Rib Lake got in the opening game. Down 14-8, Rib Lake's Emma Winter came out firing after a timeout. She nailed three straight kills and then added another winner to pull the Redmen within 15-12. A hard serve by Josie Scheithauer led to an easy tap at the net by Tia Bube that tied it at 16-16. The Redmen grabbed the lead and then Kyla Kennedy rattled off three straight aces to extend the lead to 23-18. Nellie Hopkins added a block kill and Molly Heiser closed out the 25-20 win with a push that found open space the back of Northland Lutheran's defense.
"We were excited after we won the first set," Anderson said. "Then we lost our momentum. We started sitting back on our heels and reacting instead of being proactive."
Bube got a block kill to start game two, but that 1-0 edge was only one of two leads the Redmen enjoyed in the set. They rallied from a 15-8 hole to pull ahead 18-17 on a Winter ace, but Neumann went to work, getting a tip to hit the line for a sideout. With Josie Rus serving, Neumann recorded four more kills in a 7-0 run that clinched the Wildcats' 25-18 win.
Neumann got a block and a trio of kills to spark a 5-2 opening run in game three. Rib Lake never really got going in a 25-17 loss. Game four went back and forth the entire way. Rib Lake led 6-4, trailed 10-9 and then traded leads with the Wildcats until an 18-18 tie. Rib Lake scored three straight points, gave up three in a row and then took a 22-21 lead on a winner from Hopkins. A miscommunication gave Northland Lutheran the tying point, Sabrina Zahrt got a tip and Ellie Kracht blocked a Winter tip to hit match point. Danielle Mann got two kills for Rib Lake to tie it at 24-24. With a chance to take momentum into a decisive fifth game, Rib Lake instead had a hitting error and allowed an ace that sealed the Wildcats' 26-24 win.
Anderson said Winter played her best match of the fall, recording 10 kills, an ace and two digs. Returning to the team after just one practice, Bube had eight kills, two assists, an ace, three blocks and 11 digs. Hopkins, the team's lone senior, had eight kills, including some very hard swings, and two blocks.
Kennedy finished with four aces and eight digs. Mann had three kills and a block. Josie Scheithauer had 10 assists, an ace, a dig and a kill. Heiser had three kills, 15 assists and three aces. Reagan Reinhardt added an ace and Emily Rodman had a kill.
"Statistically, it was one of our best matches," Anderson said. "We just needed a little more push to get over the hump. To Nellie, you will be missed. You gave us everything you could. Your teammates thank you."
The fifth-seeded Wildcats advanced to a regional semifinal tonight, Thursday, at top-seeded Prentice. Rib Lake, meanwhile, hopes to have a more normal summer of preparation before the 2021 season.
"Like I told the freshmen, you will never have a summer like this past summer," Anderson said. "Welcome to volleyball training, leagues, summer school, open gyms and fun."
Edgar 3, Rib Lake 0
The search for win number one went unfulfilled Thursday in the regular-season finale, though the Lady Redmen had chances to take games one and two before getting swept by visiting Edgar.
Rib Lake played well in those first two sets but came up short 25-22 and 25-20. Edgar took the third set 25-16 to improve to 3-6 for the season.
"We really should have been able to take the first set, but we struggled with serve receive down toward the end of each set," Anderson said. "We need to stay positive, get excited after every point and believe we can win."
In the first set, Rib Lake led 6-3 after a Winter ace and 7-4 after Hopkins bumped a ball that found a hole in Edgar's defense. Edgar tied it, Rib Lake nudged ahead again 14-11 when Heiser pushed a ball to an indefensible spot in the corner. From there, things went back and forth. Back-to-back Reinhardt aces put Rib Lake up 20-19, but a couple of missed serves were key as Edgar finished on a 6-2 surge.
Rib Lake continued to scramble well and make some things happen in game two. A couple of Mann blocks sparked a 4-1 start. A Rodman ace capped a little run that made it 10-5. Hopkins got a block to give Rib Lake a 12-10 lead. Edgar tied it at 13-13 and took a 17-13 lead. Rib Lake got within two at 20-18 when Kennedy's bump hit the top of the net and fell on Edgar's side and Hopkins got a touch on a hard swing. Kennedy's ace made it 22-20, but two big kills by Olivia Urmanski helped Edgar close out the set.
Edgar used a big run early to take charge in game three at 12-8 and then used another one late to open up an insurmountable 23-11 lead.
On her Senior Night, Hopkins had four kills, an ace, a block and five digs. Emma Winter had six kills and an ace. Rodman had two kills and an ace. Mann was active with three kills and two blocks. Reinhardt had a team-high four aces and three digs. Kennedy had an ace, a kill and 10 digs.
Heiser had six assists and three kills, while Scheithauer had six assists and a dig.