Posted on
Hawks win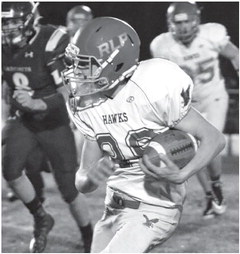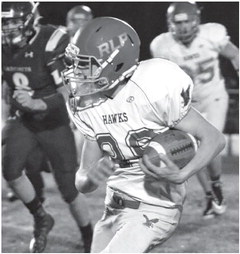 The Hawks got the two-point conversion as Borchardt completed that pass to Ryan Bergman. That loomed large when Ingersoll went 60 yards for a touchdown on the first play of Ladysmith's next drive and Pearson ran in the two-pointer to pull the hosts back within two with 4:53 to go.
The Hawks offense took charge from there, starting at their 40 and getting all the way to the one before stalling on downs with 57 seconds left. With no time outs left, the Lumberjacks were able to complete some short passes, but ran out of time before getting into any kind of serious scoring position.
The two big runs by Gumz helped him get to 122 yards on just eight carries for a 15.3-yard average. Keiser added 96 yards on 16 carries and Thiede had 20 yards in seven attempts. Borchardt completed four of 10 passes for 36 yards.
Ingersoll led all rushers with 199 yards on 26 carries, while Pearson added 82 yards on 17 attempts for Ladysmith, who fell to 0-4. Quarterback Logan Alberson was seven of 13 for 62 yards.
Rib Lake-Prentice will try to make it two in a row this Friday when they make the long trip to Webster to face the 2-2 Tigers, who are coming off a tough 28-26 loss to Lake Holcombe-Cornell in a game they led 26-8 at halftime. Campbell said this win, the Hawks' first since a 50-6 win over Chequamegon on Oct. 12, 2018, certainly gives the team confidence.
"Friday was about having fun," he said. "We still have our goals of winning. That's kinda the same deal that we're looking for this week. Every game is a blessing really. They know that by missing three games. They know they can play now. They know they can play with these teams in the new conference. With the team we have they know we have that ability to come back from being one touchdown behind, which isn't that big, but to come back and score two touchdowns before they scored again is just something we now know we have the mentality to go ahead and do."