Posted on
Schley takes another Cloverbelt title; Horvath fifth on boys side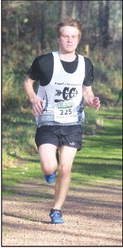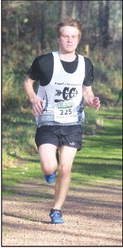 Both the Loyal-Greenwood and the Spencer cross country teams got the opportunity to compete at the Cloverbelt Conference Invitational held on Oct. 13 at Frey Field in Spencer. The Loyal-Greenwood cross country team had a few individuals earn all-conference placings at the invite, with a first-place finish from Savannah Schley.
In the last conference run of her career, Schley took the first-place spot after just barely missing out of a firstplace finish last fall. This year, she won the race with a time of 19:30, leading the other 67 runners throughout the race. Her teammate, Rylan Lindner also took an allconference placing, finishing 12th overall with a time of 22:11.
Four other runners competed for the Greyhound girls at Frey Field. Leah Scherer took 39th place with a time of 24:26 with Aubre Robida finishing right after her in 40th place at the 24:35 mark. Maci Bogdonovich was 44th with a time of 24:46 and Halle Aumann ran a 24:50 for 45th.
The Loyal-Greenwood boys also had two runners earn all-conference placings. Avrey Horvath placed fifth in the 72-runner field, earning his spot by running a 17:38. Dan Anderson of McDonell was the winner of the boys race with his time of 16:46. Taking the second all-conference placing for the Greyhound boys was Connor Genteman, who ran a 18:14 for 10th place.
The next runners to complete the race for Loyal-Greenwood came through the finish about two minutes later. Ashton Palms was the first, taking 40th place with a time of 20:24. Cody Eckes came next, running a 20:36 for 43rd, followed by Seth Genteman who was 45th with a time of 20:37. Jaden Ruggles was 57th with a time of 22:25 and Vaughn Zettler ran a 25:12 to take 67th place.
The Spencer cross country team also competed at the conference meet on Oct. 13, though none of their runners earned an all-conference placing. Emily Wehrman came the closest with her 26th-place finish, which she earned by running a 23:41. Leah Zastrow took 43rd overall, completing the race in 24:41. Haylee Hopperdietzel and Faith Miller were the last two runners to finish for the Spencer girls, with Hopperdietzel running a 26:17 for 53rd and Miller taking 54th with a time of 26:43.
The Spencer boys had a full team compete at the conference invite. Cameron Nieman was the first Rocket runner to finish, crossing the line at the 20:21 mark to put himself in 38th place. Malachai Anderson was next, taking 47th with a time of 21:07. Three places later, Caleb Rucker finished (50th), running a 21:40.
The last four runners for Spencer finished over the course of the next two minutes. Noah Schultz ran a 22:24 to take 56th place, followed by Kaizer Eickleberry who ran a 22:47 for 58th. Austyn Kohls was 62nd with a time of 23:22 and Andrew Sieracki finished in 63rd-place with a time of 23:42.
There were nine complete teams that competed at Frey Field. For the girls, Loyal-Greenwood placed fourth with 122 points to finish ahead of Eau Claire Regis (132), McDonell (136), Cadott (165), Neillsville Granton (185) and Osseo-Fairchild (189). Fall Creek was third (78), Altoona took second (74) and Colby won the invite with 55 points. In addition to Spencer, Stanley-Boyd, Marshfield Columbus, Owen-Withee and Thorp-Gilman all fielded incomplete girls teams.
For the boys, Spencer finished in ninth place with 208 points. Marshfield Columbus was eighth (181), Stanley-Boyd was seventh (173), Colby-Abbotsford was sixth (127) and Loyal-Greenwood took fifth place with 123 points. Cadott was fourth (115), Neillsville Granton took third (87), Altoona finished second (67) and McDonell won the invite with 60 points. Fall Creek, Osseo-Fairchild, Eau Claire Regis, Owen Withee and Thorp-Gilman all fielded incomplete boys teams.
CHEYENNE THOMAS/STAFF PHOTOS