Posted on
Colby girls CC makes history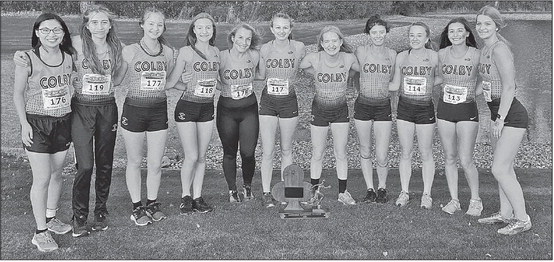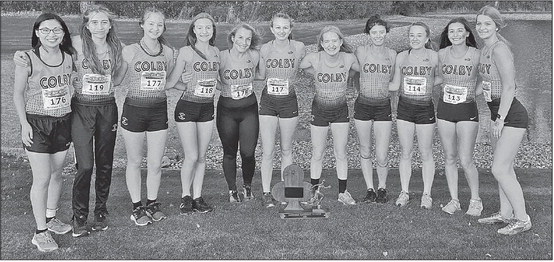 Girls achieve third straight conference title
Over the years, the Cloverbelt Conference has seen its share of historic teams and legendary runners. The Cloverbelt has been home to state champions and future college stars. Through the years the Cloverbelt Conference has almost seen it all.
But on Tuesday, Oct. 13, the Cloverbelt witnessed something when the Colby girls cross-country team raced to first place at Frey Field in Spencer. The feat did more than add another trophy to Colby's case - it made history.
"This is the third conference title in a row for the girls team, a first for Colby, or any team in Cloverbelt Conference history," head coach Bryon Graun remarked later that night on a post to the Colby Hornets Booster Club Facebook page.
The three-peat had been a goal for the girls team all season long, but for all the runners in attendance, just being able to compete and run was a victory, with so many question marks surrounding the season due to COVID-19.
"We are very blessed to have gotten to this part of our season," coach Graun said. "I am honored to tell that our athletes represented Colby and Abbotsford High Schools with grace and class."
The ladies absolutely dominated the race on Tuesday, defeating the second place squad from Altoona by 19 points, taking first with a team total of 55 to Altoona's 74 points. Out of the 11 runners who competed on Tuesday, seven posted personal bests, and all seven varsity runners placed inside the top 30, with multiple athletes earning All-Conference accolades.
"The girls also had an amazing night, with four runners earning All-Conference honors," Graun revealed on his Facebook post. In order to qualify for All-Conference, runners must finish between 1-21, with all-conference being 1-14, and honorable mention being 15-21.
Savannah Schley of Loyal/Greenwood dominated the girls race, claiming the individual title in 19:29.5.
Willow Oehmichen was the first runner from Colby to cross the finish line, taking fourth overall in 21:22, a new season best by 42 seconds.
Three more runners finished inside the top 10, with junior Daisy Feiten finishing a few second back of Oehmichen in sixth place. It was Feiten's first time running under 22 minutes this season, and her time of 21:28.0 was a new personal best by 57 seconds.
Trinity Severson continues her impressive junior season, taking ninth overall in 21:57. Tuesday marked the first time the talented runner picked up All-Conference honors, after placing 58th overall the year before.
Mercedes Sarkkinen also took home All-Conference honors for the first time in her career. After finishing just outside in 2019, Sarkkinen took 16th overall in 22:23.2, a PR by 15 seconds.
Payton Roth finished fifth on the team, and 23rd overall, racing the 3.1 mile course in 23:09.8. Her top 25 performance helped the Hornets clinch the title.
A pair of promising freshman were sixth and seventh runners for Colby. Casey Reynolds took 28th and completely smashed her previous best by 1:38 as she posted a time of 23:55.4. Reagan Schraufnagel also had a huge race, taking 23:57.4, a new PR by 62 seconds to place 30th.
Four more runners competed in the JV race for Colby, with Hanna Meier taking first in that race in her time of 25:01.8, a personal best of 37 seconds. Ella Halopka was second in the JV race, with posting a time of 25:30.3, a season best. Sophomore Gianna Mundt took third in 26:55.2, a PR by eight seconds. Kaylee Podevels was seventh in 31.09.3.
The Colby/Abbotsford boys team was down to just six runners at Frey Field on Tuesday, but five of the six finished inside the top 45, with Chase Oehmichen carrying the banner for the co-op.
Oehmichen has been on a tear his senior season, winning race after race after race. But the conference meet presented him with a rare opportunity to test his best several top runners in the state.
Oehmichen did not disappoint as he shattered his previous personal best by 37 seconds as he finally broke the 17 minute barrier for a five kilometer race.
"Chase Oehmichen ran a great race taking, [nearly] 40 seconds off his personal best time, running a PR of 16:51," Graun said. "He is only the fourth runner I have coached to break the 17:00 minute mark."
Oehmichen's time not only bodes well for his quest to reach state, it also gave him All-Conference honors all four years of his prep career.
The boys placed sixth out of 14 teams, with a final score of 127. Chippewa Falls McDonell was first with 60, followed by Altoona with 67 and Neillsville-Granton in third with 87.
Following behind Oehmichen was Talon Severson in 33rd in a time of 19:42.8. Freshman Carter Roth continues to build off his debut season, picking up another personal best, this time by nine seconds. Roth's time of 20:17.9 earned him 36th.
Junior Matt Mateer is making up for lost time, and the runner out of Abbotsford High took 39th in 20:21.4. Richard Streveler had another PR for the boys, taking 21 seconds off his previous best as he ran the race in 20:24.7 for 41st. Braxton Smith was the final runner through for Colby/Abby, taking big strides in his running career by lopping off 31 seconds for a new PR of 21:53.2 and 54th place.
Both teams return to Frey Field on Tuesday, Oct. 20, for the WIAA Sub-Sectional meet, hosted by Stratford. The top two teams, and the top five individuals not on those two teams, will qualify for sectionals on Oct. 24 at Westby.
The top two teams and top five individuals not on those two teams will qualify for state. The site for state has not been decided yet, but each division will be at a different site. Several runners have an excellent chance to extend their season, but for Graun, the impact he's had as a coach is all the reward he needs.
"I am proud to have the opportunity to impact the lives of these athletes as their coach. We look forward to sub-sectionals next Tuesday in Spencer, with opportunities to advance to sectionals and maybe even state."