Posted on
to a quick 7-1 lead ….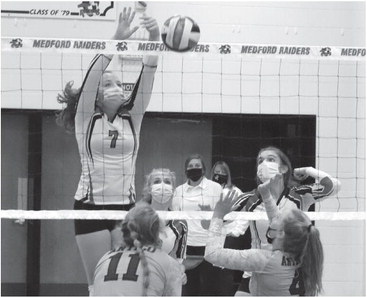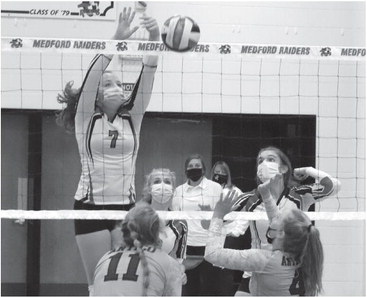 to a quick 7-1 lead in game two. The lead hit 16-5 on an Olivia Krug ace and 20-8 on a Klapatauskas block and Allie Paulson served things out in a 25-10 blowout.
Medford had a 14-9 lead in game three after a Krug ace, but Pines used a serving run by Madi Meisenburg to creep back in it. The Eagles took an 18-17 lead on a Paris Croker block and then broke a 19-19 tie on McKenzie Parnewicz's kill off a Medford block and never trailed again in a 25-23 win.
Medford again responded, leading wire to wire in game four. The Raiders jumped ahead 5-0 and 9-3. The Eagles closed within 10-8, but Miller found an open spot in the Pines defense with her deep push, Brehm got a touch for a 16-12 lead, Marissa Fronk served an ace at 18-13 and Brehm and Miller got kills to open up a 21-13 lead. The Raiders won the set 25-17 to push the match to a decisive fifth game.
That game was all Medford at the start. Behind Katie Lybert's serving, the Raiders took a commanding 11-0 lead, highlighted by an active stretch by Klapatauskas in the front row as she blocked a tip, got a short roll to fall and turned a diving Miller dig into a point by winning a battle at the net. Those three straight points made it 7-0. Paulson pounded a shot off a Pines blocker, Lybert hit a tough serve that wasn't returned and Krug set up Lybert for a short push and a kill for the 11th point.
Miller's winner made it 12-1 before the Eagles made things interesting with a 6-0 run that included three Croker kills. But Paulson got a block, Brehm got a tip and Paulson scored off a Lybert assist to seal it at 15-8.
Serving again was huge for Medford. The Raiders served at a 96.3% success rate (103 of 107) with 14 aces. Lybert had five of those aces, Miller had four and Krug had three. Miller was 21 for 21, while Paulson was 19 for 19.
Miller led Medford with 10 kills, Klapatauskas had nine, Rynn Ruesch had eight, Lybert added six and Paulson chipped in with five. Paulson had 19 assists and Lybert had 17.
Paulson, Klapatauskas and Ruesch had four solo block kills apiece. Miller had a team-high 26 digs. Klapatauskas had 22, Lybert had 20 and Fronk had 19.
After tonight's match, the Raiders will have a week to prepare for their WIAA tournament opener. Medford has been bumped up to Division 1 in the realigned tournament and will begin play as the second seed in a five-team regional. The Raiders will host third-seeded Lakeland Oct. 22 at 7 p.m. in a semifinal matchup. The winner will likely travel to top-seeded Merrill Oct. 24 for the regional final.
Medford 3, Antigo 2
The Raiders' dramatic improvement in the second half of this shortened season was never more evident than it was on Thursday. They dominated games two and three and remained poised when they trailed 8-1 in game five, rallying to take the set 15-13 and the match 3-2.
With the win, Medford avenged a fourset loss suffered in Antigo exactly one week earlier.
"That was huge," Miller said after recording 10 kills and 15 digs in the win. "That was awesome, especially since we didn't beat them last time and we were able to get into this top bracket and really pull it off."
After Antigo took the first set 25-20, the Raiders turned things around with their best set of the year. With confidence growing on each point, they started passing and setting with precision and they connected on some of their hardest swings of the year in a dominant 25-7 win.
"It started with our serves," Klapatauskas said. "That helped."
"We fired up and we crushed the ball," Miller said. "Our passes were on, our sets were on and our hitters just crushed it."
"Yeah, we played offensively more and we were scrambling for every ball," Lybert said. "We weren't letting any ball touch the ground."
"They were aggressive serving and they were aggressive swinging," Schreiner said. "When it wasn't there to full out swing, they did smart things with the ball. I had talked about putting that complete game together. They seemed to do that in that second set."
The momentum carried into the third set, where aces by Krug and Lybert sparked the Raiders on a 16-4 tear that turned a 9-9 tie into a 25-13 win. Ruesch had a trio of key kills late and Paulson's diving one-handed dig eventually led to a net foul on the Robins on a point that made it 23-12.
Lybert went on a serving tear at the end of game two as well. Serving is something the Raiders feel has become one of their big weapons in the last week or two. They had 15 aces in Thursday's win –– six by Lybert, four by Paulson and three by Fronk –– and had just four errors in 101 attempts.
"It really has," Schreiner said. "We've got some good aggressive serving. There's three girls that serve in a row –– Allie Paulson, Laurissa and Marissa Fronk –– they are really a force to be reckoned with. They served a ton of aces. Olivia served well, Martha served well."
Antigo, who entered the match with a 5-1 league record, didn't go down without a fight. The Robins jumped ahead 14-5 in game four and held a comfortable lead the rest of the way, winning 25-18.
The Red Robins got two aces from Gracie DeWan and three straight kills from Clare Aulik to go up 8-1 in the final set. It was 9-2 when a missed serve by Antigo gave Medford the serve back and a chance to start chipping away.
"One at a time. I just kept telling myself that," Klapatauskas said.
"We had to push and put it together," Miller said. "We said, 'we are not done yet.'" Lybert's winning attack into an Antigo block cut the lead to 11-7 and Klapatauskas put down a free ball at the net to make it 11-8 and force an Antigo timeout. The Red Robins went on another little run to go up 13-9, but the Robins misplayed a Klapatauskas return, Fronk's dig led to Miller's kill in the deep corner. Three hitting errors by Antigo suddenly put Medford at match point. Lybert, who served Medford's final five points, then hit one deep that Antigo argued was out, but the call was in, clinching the victory.
Ruesch had 11 kills, Klapatauskas had nine and Lybert and Brehm had five each. Klapatauskas had a team-high four solo blocks, while Paulson and Gabby Brunner had two each. Brunner had two kills and some hard swings in her few moments on the court.
"Any time I need to get her out on the court, she's not afraid to swing, which is really nice to see," Schreiner said. "She's going to be a weapon in the future because of that left-handed swing."
Lybert had 23 assists and Paulson added 16. Fronk's 16 digs led the team, while Klapatauskas had 15, Paulson and Lybert had 14 each and Krug had 11.
"For the girls to go back out there in that fifth set, dig a hole, but meticulously make their way back, it was a step forward in maturity," Schreiner said.
"At the beginning of the season, I think we struggled because we hadn't really played with each other," Miller said. "But now we're just working very well together."