Posted on
Pirates sweep Greenwood, but get rambled in league crossover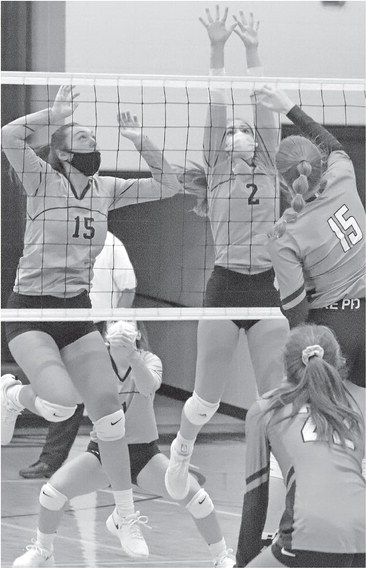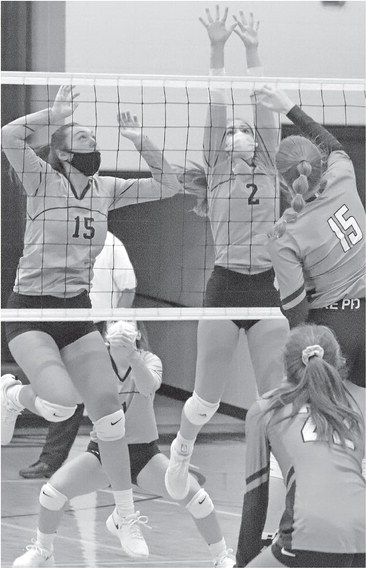 GIILMAN VOLLEYBALL
Coming in with four wins in their last five matches, the Gilman Pirates hoped to continue building confidence heading toward the post-season in Tuesday's Cloverbelt Conference third-place crossover with Eau Claire Regis.
Instead, the Pirates wound up hoping to quickly flush this one from memory.
The Ramblers, who finished 5-2 in Western Cloverbelt play, got on an early roll and the Pirates never found a way to stop it in a 3-0 sweep.
Gilman struggled in every aspect and Regis took advantage, getting strong nights at the net from outside hitters Isabelle Behrendt and Payton Lamont and 6-1 middle Rachel Szepieniec. Strong serving runs by Regis also produced several aces and got the Pirates on their heels and they were never able to steady themselves.
"We definitely are a stronger team than that," Gilman head coach Janice Komanec said. "In our strong moments when we were getting a pass up there and putting up a solid set we had some great swings. It was just as the night progressed, a worry crept in instead of a focus."
Regis jumped out to an 8-0 lead, but there were competitive points in that run. Gracie Tallier got Gilman on the board with a back-row attack. An Ellie Drier ace and an Aubrey Syryczuk kill keyed an even 4-4 run that made it 12-5. But Behrendt put down four kills and Adelaide Hoeschen had three aces in a 13-0 run that ended game one at 25-5.
The Pirates made a little run in game two, getting kills from Emma Grunseth, Syryczuk, Tallier and Tatum Weir and an ace from Madisyn James to hang within 13-8. The momentum got away and Regis went on a 12-4 run to close out a 25-12 win. Makenna Rohrscheib served four aces in a 13-0 run to start game three, which the Ramblers eventually won 25-5.
Syryczuk led Gilman with six kills, Tallier had three, Grunseth had two and Weir had one. Syryczuk had a block. Grunseth and James had four assists each. Tallier had seven digs, Tychelle Duellman and James had six each and Drier and Grunseth both had four.
The loss put Gilman at 4-4 overall after a 4-2 finish in Eastern Cloverbelt play where they got all but one of their matches in. The only exception was an Oct. 6 match at Loyal that had to be canceled.
The Western Cloverbelt showed it was clearly the superior division of the conference Tuesday by sweeping all eight crossover matches, including McDonell Central's 3-0 sweep of Columbus Catholic in the first-place match.
The Pirates will finish the regular season tonight, Thursday, with a newly- scheduled match at Cadott. Then it's on to the WIAA Division 4 post-season, which could start as early as Tuesday. Seeding for the five-team regional bracket took place Wednesday night with Mc-Donell Central the clear favorite to be the top seed.
Gilman 3, Greenwood 0
Gilman controlled the first set and used late runs in the next two to secure a 3-0 sweep over visiting Greenwood on Thursday.
The Pirates were without their kill leader, Syryczuk, who tweaked an ankle in an Oct. 6 match at Phillips, but they made up for it by getting key contributions from everyone who got time on the court while earning their fourth straight conference victory.
"The girls did a nice job communicating and controlling the pace of the game," Komanec said. "Our hitting errors were down. Our hitters were taking better swings with more control and ensuring that if they didn't come up with the kill, we were still getting the opportunity to play out for the point."
Serving runs by Grunseth and James propelled the Pirates to an 11-2 lead in game one. Kills by Weir, Grunseth and Hannah Vick put Gilman ahead 14-7.
After Greenwood closed within 16-12, the Pirates got a sideout on a Kya Dietzler attack. With Grunseth serving, the Pirates went on a four-point run to extend the lead to 21-12. A James back set to Tallier on the right side got the clinching point in a 25-19 win.
Weir made a handful of plays at the net to help Gilman take a 15-11 lead in game two, but Greenwood made a nice run to take an 18-16 lead. Junior middle Ava Gunderson stepped up with a kill and a tip to tie it. With Grunseth serving, the Pirates went on a decisive four-point run that put them up 24-19 and included an ace and a winner from Tallier. The Pirates won the set 25-20.
Greenwood dug out of an 11-7 hole in game three to tie it at 11, but the Indians never could grab the lead. With the score 13-12, Drier made a key save that led to an over-the-shoulder bump from James that hit the top of the net and rolled over for a key point. Grunseth smacked a kill off a free ball for a 16-12 lead.
The Indians got back within 17-16 on a Jasmine Wolf tip, but Gunderson's deep kill got momentum back on Gilman's side. Kills by Tallier and Weir and two tough serves by Tallier helped close out the 25-20 win.
James had 19 assists. The kill opportunities were spread out with Tallier putting down six, Grunseth and Weir getting five each, Gunderson getting four, Vick and James each recording three and Dietzler having two.
Weir added two block kills. James had three aces. Drier led the Pirates with 12 digs. Duellman had nine and Tallier and James had six.