Posted on
Hornets face challenges before playoffs begin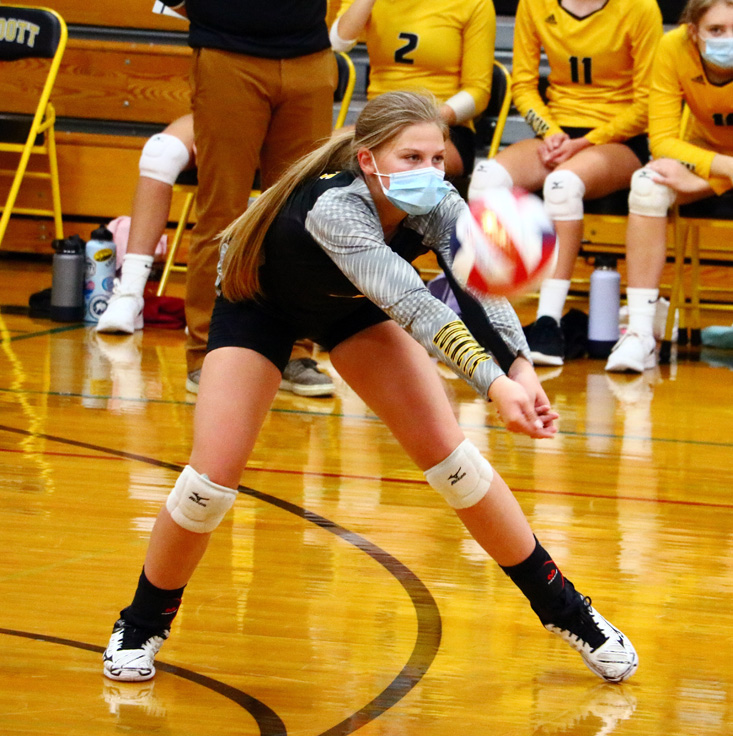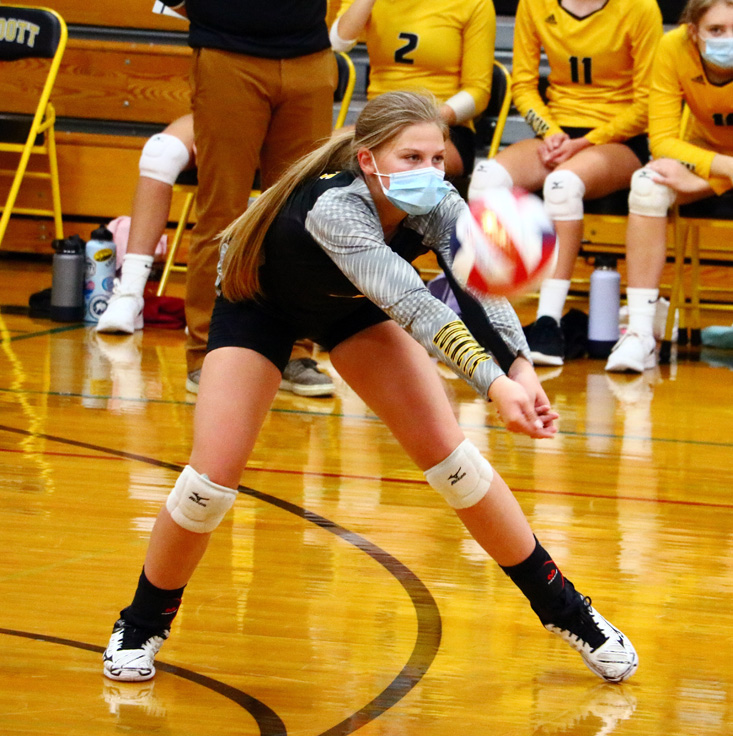 By Ginna Young
It was a bit of a rough patch for the Cadott volleyball team, as they embarked on a four-game week. With playoffs just around the corner, the Hornets faced some tough competition.
Oct. 6 vs. Fall Creek conference (L 3-0)
In a West Cloverbelt Conference match-up, Cadott traveled the short distance to Fall Creek, where the Hornets looked to improve their record.
However, it wasn't happening, as the Crickets were impervious to the Hornets' stings. Cadott dropped the match in three straight sets – 25-15, 25-19 and 25-19.
Oct. 8 vs. McDonell conference (L 3-0)
Cadott was home two days later, hosting McDonell. Unfortunately, the home court advantage couldn't help the Hornets and they dropped the matches, 25-23, 25-12 and 26-24.
"This was a good match for us," said coach James Bremness. "I know the scoreboard says 0-3, but we put ourselves in two of the three sets to win against a very good team. We did some major changes to our rotation the night before, and I was very proud of how the girls worked together, communicated and competed with the limited practice with this new rotation."
Although McDonell is considered one of the favorites in Division 4, Cadott very nearly pulled out a win in the third and final set, which shows Bremness the Hornets have a good dynamic and showed great potential.
"I expect to see more and more good things come out of these new changes next week, and then into playoffs," said Bremness. "If we can learn to stay consistent for a whole set and then match, we are going to be really tough."
Junior Makenna Barone ended the night with 7 kills and 4 blocks. Seniors Jada Kowalczyk and Lexxie Rowe each had 6 kills, while sophomore Lauryn Goettl finished with 16 digs.
Senior Haylee Rowe added to her season stats, with 19 assists.
Oct. 10 vs. Altoona conference (L 3-1)
There was no rest for the Hornets, as they hit the road over the weekend, facing off against Altoona. Cadott dropped the first set, 16-25, but came roaring back in the second set, to take the match-up, 25-13.
The Hornets also came away with the third set, 20-25, but Altoona rallied and eeked out a victory, 25-11, for the 3-1 conference win.
"We are still trying to find consistent play," said Bremness. "In four of our five losses this season, we have these sets and moments where we play really good volleyball. However, we are struggling to put that together into a full match. Thankfully, we have a few matches this week, before playoffs, to keep working on consistency, specifically in the passing game."
H. Rowe led on assists in the matches, with 17, while Barone and L. Rowe combined for 13 kills.
Passing more consistently and confidently will be the key in having a successful post season for us," said Bremness. "I believe the girls are up for the challenge and will work really hard to accomplish the goals ahead."
Oct. 12 vs. Chippewa Falls non-conference (L 3-0)
To finish off the four-game set, Cadott was on the road to face Chippewa Falls in a non-conference match-up.
Unfortunately, the Hornets couldn't muster a win, and Chippewa Falls walked away with a 3-0 victory.
The week's losses put Cadott's record at 6-6 overall and 3-7 in the conference.
Cutline: Lauyrn Goettl, Cadott sophomore, takes her turn at keeping the ball in play Sept. 29, as the Hornets hosted Stanley-Boyd. The away team came up with the win, as Cadott couldn't pull out the fifth game, dropping the match, 3-2. Photo by Ginna Young
[caption id="attachment_93792" align="alignnone" width="207"]
Cadott senior Autumn Yeager serves the ball during a match at Regis Sept. 22. The Hornets couldn't pull out the road victory, falling in four sets. Photo by Amy Wellner[/caption]