Posted on
Dray both qualified way back ….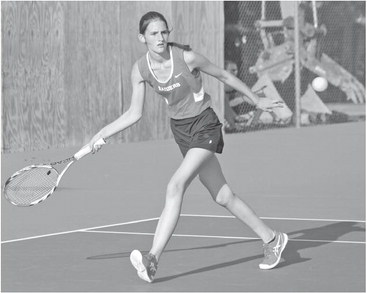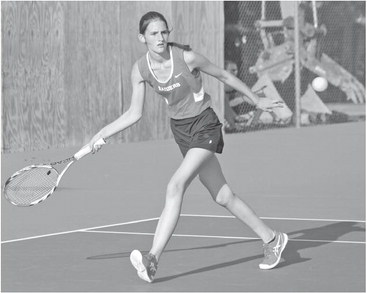 Dray both qualified way back in 2004.
Medford's Lindsey Wildberg also competed in the sectional meet and placed third in the third singles flight.
Sommer said having sectional experience was a factor in the win over Robarge.
"I think so," Sommer said. "I know Lindsey was really nervous, she said, because it was her first time there. And I've played at Baldwin before for sectionals and that helped."
"It helped knowing what to expect and playing at those courts at sectionals as a sophomore," Bucki said. "You know what's going on. There's no unknowns. You're not thinking, you're playing tennis."
Sommer played tennis well in the first set, cruising to the 6-1 win. Things got dicier after that.
"It started well," Sommer said. "I was just getting balls back and she was not getting as many balls back. In the second set, it kinda changed around. My feet kinda died. I just wasn't moving as well and she was getting more in. It was just about keeping nerves in during the tiebreaker. I got off to an early start and went with it."
Bucki said one of the first things he tells his players in tiebreaker situations is to do whatever they can to avoid double faults when serving.
"One double fault is 10% of the points," he said. "That's all you need. (Robarge) double faulted twice and (Sommer) didn't at all."
Robarge had the first serve in the 10-point match tiebreaker and double faulted. Sommer then missed her first serve.
"I missed my first serve, then somebody behind me said, 'don't double fault,'" Sommer said. "No, that wasn't my goal."
Sommer got that second serve in, jumped ahead 5-0 and then saw Robarge climb within 7-4. Sommer got the last three points to nail down the win.
"I think the experience and the confi dence played a huge role in the tiebreaker and ultimately the overall result," Bucki said. "(Robarge) came out in the match and she was nervous, had some double faults in the first set and in the tiebreaker again. The girl from Rice Lake had all the momentum. Then it just comes down to confidence, believing in yourself and knowing what to do."
"Yeah, it's just about keeping your head in it," Sommer said. "It's not over yet. Just breathe. Take a breath before every point."
Robarge was added to the state field as a special qualifier.
The first-round win allowed Sommer to get two more worthwhile matches. In the semifinal, she had a rematch with Great Northern Conference rival Becky Larrain of Newman Catholic. Larrain won 6-1, 6-1 and went on to win the sectional title. Sommer had another rematch in the third-place match against Arianna Smith of Eau Claire Regis, who won the match 6-1, 6-2.
The rematch with Larrain was one Sommer said she wanted. Both she and Bucki felt it was much closer than the 6-1, 6-1 score indicates.
"I got to swing away," Sommer said. "Becky was the most fun to play. I was playing better than her too than against Regis. I had long deuce games with Regis. It was a lot of fun."
"Those are two really big matches for her going into the state tournament to see Becky, who's going to be seeded, and then the Regis girl, who probably won't be seeded but she's right in that range, that top-10 caliber player," Bucki said.
At 6-11, Sommer will go into state as an underdog. Her first year in the number- one singles flight brought some challenges. But despite losses to some tough players, Sommer's confidence has grown the more she's competed with them.
"The season was a little rough at the start," she said. "I was pretty down playing people who were beating me, who were better than me. You just keep improving, you get better. You have close matches, then you don't have close matches.
When you play the people better than you, it helps you a lot because you know what you need to do and you find out you can play good points with them.
"I realized I can hit with these girls," she added. "I'm not winning all the games or anything, but I can hit with them and compete with long games."
Sommer said her biggest improvements came in her backhand shots and her serves.
And now, to end a season that no one could be certain would even reach this point, Sommer couldn't have asked for a better ending.
"My goals are just to have fun and play my best," she said. "I know Lauryn and Mariah, when they went, they had fun and they put it all out there. That's what I want to do."
Wildberg third
Medford's Lindsey Wildberg also competed at the sectional meet and placed third in flight three singles.
She got a tough draw to start, facing undefeated Lily Marquand of Amery in the semifinal round. Marquand improved to 14-0 with 6-3, 6-2 win. Wildberg finished the year 10-6 when she beat Wisconsin Rapids Assumption's Carly Hintz for the second time in seven days, this time by a score of 6-3, 6-1.
Maddie Metz of Eau Claire Regis knocked off Marquand in the flight championship 6-3, 6-4. Other Great Northern Conference players to advance to state included the number-one doubles teams of Grace and Ava Sukkanen of Newman Catholic and Ella Schroeder and Marissa Stolt of Stevens Point Pacelli and, in Division 1, Antigo's number-two doubles team of Ellie Preboski and Elli Stank.