Posted on
Tigers post a shutout win against Rockets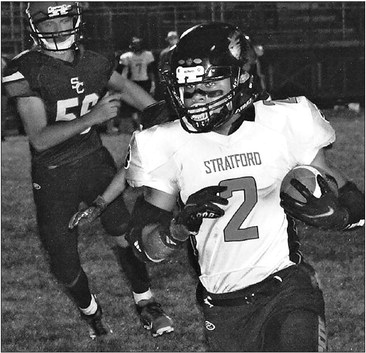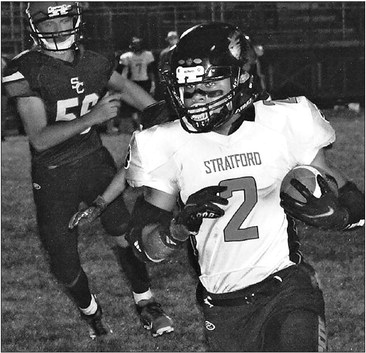 Stratford erupts for 28 points in the second half
By Casey Krautkramer
Stratford's varsity football team broke a scoreless halftime against Spencer/Marshfield Columbus on Friday with 28 second-half points for the big conference win.
Both the Tigers and Rockets were undefeated going into the game. Stratford head football coach Jason Tubbs described how his team was able to score points in the second half against Spencer/Marshfield Columbus.
"Overall, the second half was a combination of our guys blocking and tackling better, which created short field position," Tubbs said. "Max Vanderhoof did a great job of completing some timely passes, which opened up the running game for Beau Gross."
The senior leaders were responsible for scoring Stratford's first points in the second half. Gross caught Vanderhoof's screen pass for a 14-yard touchdown in the third quarter, but the extra point kick failed. Gross added a three-yard touchdown plunge in the third quarter, and the made two-point conversion gave the Tigers a 14-0 advantage against the Rockets.
Stratford junior tight end Devan Ulrich hauled in a 23-yard touchdown catch from Vanderhoof in the fourth quarter, but the two-point conversion failed. Senior Colten Schillinger had a two-yard touchdown plunge, and the two-point conversion was successful to give the Tigers a commanding 28-0 lead.
The Tigers gained 3-1/2 times more offensive yards, 337 to 96, against the Rockets. Stratford converted four of 10 first downs on its third-down attempts, while Spencer/Columbus didn't convert any first downs on its nine thirddown attempts.
Gross led the Tigers in rushing with 27 carries for 168 yards and one touchdown. Vanderhoof was efficient in the passing game by completing five of six for 104 yards and two touchdowns. Junior Raife Smart paced the Tigers in receiving with two catches for 53 yards.
CWC-Large clash on Friday
Stratford now plays against Amherst, which is also unbeaten this season, at 7 p.m. this Friday, Oct. 16, at Tigers Stadium. Amherst is ranked No. 2 and Stratford No. 3 in this week's Division 5 wissports.net coaches poll.
The winner between the Tigers and Falcons will likely capture the Central Wisconsin Conference Large (CWCLarge) championship this season.