Posted on
Schley leads L-G girl runners to top spot at O-W meet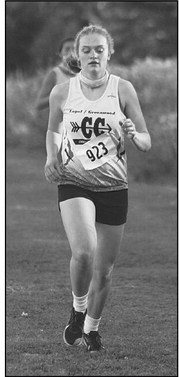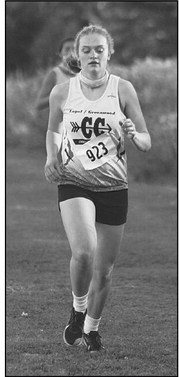 With another first-place run by Savannah Schley and with strong finishes from the rest of the girls team, the Loyal-Greenwood girls took another first-place win as a team at Owen-Withee on Oct. 6. The Greyhounds competed in a meet with seven other schools at Owen-Withee, with only a handful of those schools fielding complete teams.
Running in a field of 30 girls, the Greyhound runners easily finished within the top third of competition. Schley led throughout the race and finished more than two minutes ahead of the next runner, completing the race in 19:51. Rylan Lindner was the next finisher for Loyal-Greenwood, taking fourth with a time of 22:42. Placing 10th was Leah Scherer, who came through at the 24:21 mark to earn her spot.
The Greyhounds' next runners finished within a few seconds of each other, taking 13th and 14th. Aubre Robida finished first with a time of 24:46 and Halle Aumann took the 14th-place finish with her 24:48 run. Maci Bogdonovich was the last runner to finish for Loyal-Greenwood, taking 18th with a time of 25:39.
The Loyal-Greenwood boys ran in a field of 39 runners at Owen-Withee. Coming through first for the boys was Avrey Horvath, who placed third overall with his 17:36 time. Connor Genteman came through soon after, taking fifth with a time of 17:56.
Loyal-Greenwood's next runners finished several minutes after Horvath and Genteman, with three of those runners finishing in the 21st minute of the race. Cody Eckes ran a 21:17 to place 16th, followed by Ashton Palms who finished in 21:36 for 19th and finally by Jaden Ruggles who ran a 21:43 for 21st. Vaughn Zettler was the last runner to complete the race for Loyal-Greenwood, taking 37th with a time of 26:43.
The Greyhound girls earned 40 points at Owen-Withee to put them in first place. Cadott took second (56), McDonell Central was third (61) and Osseo-Fairchild was fourth (64). Thorp-Gilman, Lake Holcombe-Cornell and Owen-Withee fielded incomplete girls teams.
The Loyal-Greenwood boys took third place at Owen-Withee with 49 points, finishing behind Cadott (43) and McDonell Central (34). Thorp-Gilman, Lake Holcombe-Cornell, Owen Withee, Osseo-Fairchild and New Auburn all fielded incomplete boys teams.