Posted on
Marathon hot in the Marawood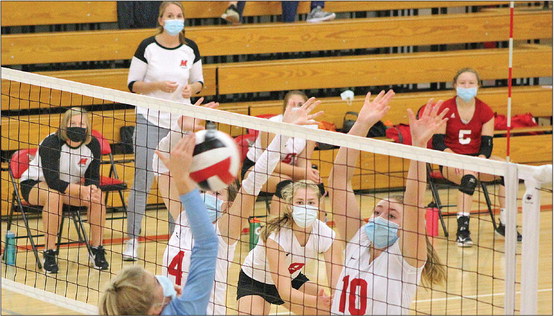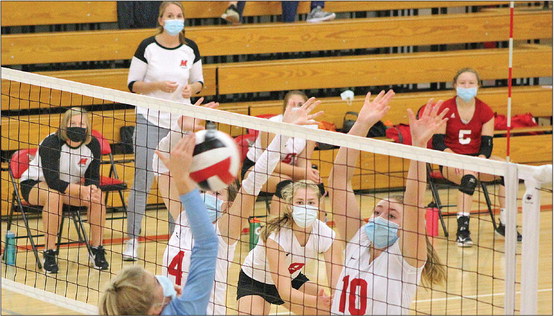 Team has now won six straight in conference
By Casey Krautkramer
Marathon's varsity volleyball team has won six consecutive Marawood Conference matches, after its 3-1 home win against Abbotsford Monday. The team also beat Wausau Newman twice during its conference- winning streak. Marathon boasts a 7-2 record in the Marawood Conference. The Red Raiders are 7-3 overall in matches this year. Marathon junior middle hitter Alyssa Hall earned the final point in the team's 25-19 set win against Wausau Newman on Thursday at home, which gave the Red Raiders a 3-1 match victory.
"It was one of those points you just pull off in the moment, but it felt pretty good to get the win after we lost the third set," she said.
Alyssa, who is the daughter of Luke and Janell Hall, described the significance of Marathon beating traditional state powerhouse Wausau Newman twice in the same season. The Red Raiders also downed the Cardinals, 3-0, in a match on Oct. 3.
"It feels good to beat Newman two matches in a row this year," Alyssa said, noting her team lost nine seniors from last year.
The Red Raiders downed the Cardinals in the first two sets on Thursday by scores of 25-16 and 25-17. Marathon fell in the third set, 25-16, before finishing off Wausau Newman with a 25-19 victory in the fourth set.
Senior Hope Krautkramer led the Red Raiders with nine service aces in Thursday's match win against the Cardinals. Krautkramer and junior hitter Vanessa Krueger paced the team with nine attack kills each. Sophomore setter Ashley Phakitthong recorded 20 pass assists and Vanessa Krueger had 16 digs.
Marathon also defeated Wausau Newman on Oct. 3 in straight set wins of 25-16, 25-17 and 25-19. Vanessa Krueger paced the Red Raiders with 10 kills. Ava Krueger led Marathon with four blocks. Junior hitter Allison Wokatsch recorded 11 digs, while junior back row player Jenna Aschbrenner and Ava Krueger added 10 apiece.
The Red Raiders lost their first set to the Abbotsford Falcons, 25-22, on Monday but Marathon rebounded to win the last three sets by scores of 25-15, 25-20 and 25-21. Phakitthong led Marathon with five aces and Ava Krueger with 10 kills. Phakitthong had 17 assists and Vanessa Krueger 13 digs.
Marathon beat Edgar, 3-0, on Oct. 6 by scores of 25-17, 25-21 and 25-20. Phakitthong paced the Red Raiders with three aces and 26 assists, while Ava Krueger and Wokatsch had three solo blocks each. Wokatsch also paced Marathon with 13 digs.
The Red Raiders suffered a non-conference road loss to a stout Mosinee Indians' squad, 3-1, on Saturday. Krautkramer led the Red Raiders with seven kills and Vanessa Krueger had 13 digs.
Marathon's home match against Phillips on Tuesday was cancelled, because Phillips High School was shut down on Monday and Tuesday for COVID- 19 contact tracing. Marathon's home match against Prentice this Thursday, Oct. 15 has also been cancelled. The WIAA should release playoff seedings at the end of this week.