Posted on
Hornets tame Wolverines, 42-7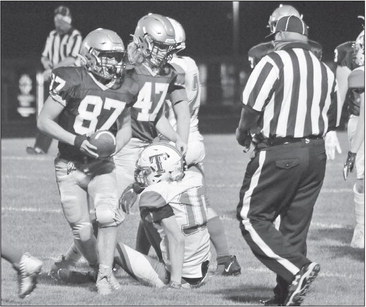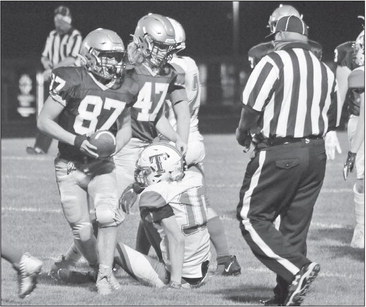 The Colby Hornets took another long distance journey on Friday, Oct. 9, this time to play the Crivitz Wolverines in a non-conference game. Colby came out victorious by a score of 42-7 to extend their overall record to 3-0, and 1-0 in Marawood Conference play.
Colby took their opening possession at their own 20-yard line and went on an eleven play drive, converting four first downs along the way.
The drive was capped off when senior running back Ross Elmhorst found the end zone from one yard out, and sophomore place kicker Tucker Brost made the PAT to give Colby a 7-0 lead with 6:11 left in the first quarter.
Crivitz took over their first offensive series at their own 23-yard line, and the Hornets' defense forced a punt after three plays. Colby had excellent field position at the Wolverines' 46-yard line, and immediately went to the air.
Junior quarterback Brent Jeske connected with junior wide receiver Brody Decker on a fade for a 34-yard gain that gave Colby an excellent opportunity to widen their lead. Three plays later running back Mason Voss found the end zone from two yards out. Brost booted the PAT, giving Colby a 14-0 lead with 2:46 left in the first quarter.
Crivitz took over at their own 20-yard line, and the Hornet defense forced another punt. Junior defensive end Andrew Jeske rushed off the right side and blocked the punt giving the Hornets another golden opportunity deep in Wolverine territory at the 26-yard line.
Colby tricked the Wolverine defense by running a reverse as senior running back Mason Schmutzler went around the left edge untouched from 26-yards. The PAT was missed, but the Hornets now had a 20-0 lead with :22 left in the first.
The Wolverines took over their third possession at their own 34-yard line and went on a seven play drive and picked up two first downs before the Hornets forced another punt.
Colby started at their own 20-yard line and on the second play sophomore running back Caden Healy went around the left edge on a pitch, and with excellent blocking, outran all defenders into the end zone from 63-yards out.
The Hornets went for the two point conversion. Junior quarterback Brent Jeske called his own number, and walked into the end zone giving Colby a commanding 28-0 lead with 8:42 left in the first half.
Crivitz started their next possession at their own 29-yard line and were forced to punt after another three-and-out. The fireworks started quickly once again for the Hornets as Brent Jeske found an opening in the middle of the Wolverine defense and outran all defenders into the end zone on a 71-yard scoring play.
Brost connected for the PAT and the Hornets took a 35-0 lead with 6:40 left in the second quarter and the game remained that way at the end of one half.
"We played very well in the first half on both sides of the ball. Offensive coordinator Robbie Smazal was aggressive with his play calling, especially on first down," coach Jim Hagen stated.
"It was also good to see five different players score a touchdown, which shows the offensive diversity we have on this football team. In the first half we out-gained Crivitz 322 yards to their 62 yards."
The second half started with Crivitz receiving the ball and starting at their own 29-yard line. Colby forced a punt after four plays and once again, the Hornets scored quickly. Senior running back Joe Hawthorne fielded the punt and started right, then went left around a beautiful wall of Hornet blockers and went into the endzone untouched, scoring from 74-yard out. Brost kicked the PAT giving Colby a 42-0 lead with 7:14 left in the third quarter. With a running clock in the second half the game went quickly and Crivitz did score on a one yard touchdown run with 2:39 left in the 3rd quarter making the final score 42-7.
"This game showed once again that we have a lot of athleticism on this team and have playmakers on offense with the ability to score quickly. Defensively we played extremely good on the line of scrimmage and hats off to defensive coordinator Logan Rosemeyer for having a good game plan installed for the Wolverine offense," Coach Hagen stated afterwards.
"Defensive lineman Andrew Jeske, Derek Jeske, Carter Grewe, Cristo Lopez and Corey Steen played really well giving little daylight for the Wolverine running backs. Furthermore, I thought our special teams did an outstanding job in all phases from PAT, kick-off coverage, punt return, etc. We had a blocked punt, punt return for touchdown, limited the Wolverine's kick-off returns all this after taking two long bus trips of almost 3-hours, one way."
Colby amassed 319 total yards with 268 yards rushing and 51 yards passing. Brent Jeske had eight carries for 109 yards and a touchdown, while going two for two on pass attempts for 51 yards.
Caden Healy had four carries for 52-yards and a touchdown. Brody Decker had one catch for 34-yards. Crivitz had 180 total yards with 158 rushing yards and only 22 passing yards.
Colby will now host Marathon in a conference game at Colby on Friday, Oct. 16, at 7 p.m.