Posted on
Edgar throttles Abby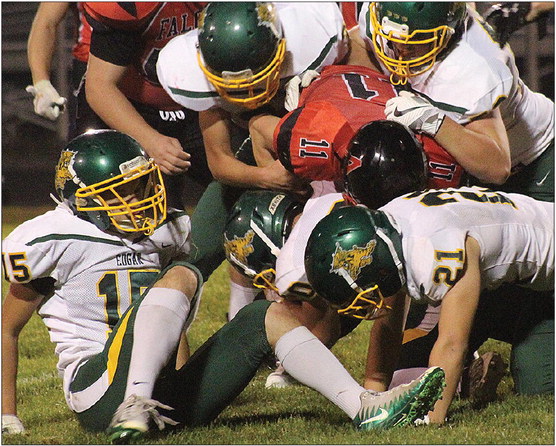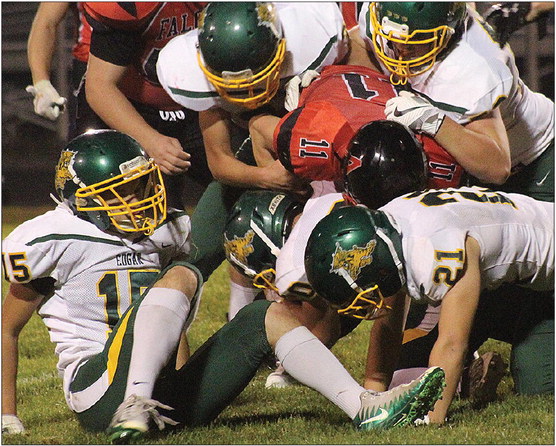 Dahlke doesn't let college talk affect his play
Austin Dahlke is the sort of player who eschews the spotlight, but his name has been on the lips of many a college recruiter. He recently picked up his third NCAA D-1 offer from Bucknell, which joins St. Thomas and Valparaiso as potential suitors for the 6'1", 190 pound linebacker from Edgar.
The future beckons, but Dahlke and his fellow seniors have their eyes firmly fixed on the here and now.
"It means a lot, especially when kids look up and that's their dream, to play at the next level when they're older, but I try not to worry about that stuff and focus on this season," Dahlke says about playing in the NCAA.
That business-like approach to the game came through last Friday as the Wildcats dispatched the Abbotsford Falcons 54-0 in a conference road game.
If you're wondering why these two teams are playing that's because this year's Marawood Conference has a new look, with Abbotsford and Colby moving in as Stratford moves out. Edgar certainly proved one thing last Friday - no matter who their conference opponents are, they're always ready. They also showed the Falcons that the Marawood is not the same as the Cloverwood.
"We knew coming in that Abbotsford was going to be a tough team," Drew Guden said. "Obviously it was their first game because of COVID-19, and that made it tough for them, but we knew they were going to be a tough team being at Level Four last year."
The 'Cats used their speed, size and experience to wreak havoc at all three levels, scoring on defense, offense and special teams.
"We were fortunate to recover five fumbles and intercept a pass," head coach Jerry Sinz said afterwards. "We returned two fumbles for touchdowns, one by Brady Lemmer, the other by Korbyn Bauman."
Konnor Wolf got the party started, scoring on Edgar's opening drive with a 55-yard reception to Kyle Brewster. The two point conversion failed, but Edgar took an early 6-0 lead.
Edgar's defense scored the next points when Brady Lemmer scooped up a fumble and rumbled 22 yards for six. The PAT was no good, but the game stood at 12-0.
Edgar's defense then forced Abbotford to punt, and Guden took the ball and weaved his way through would be Falcons defenders for a 59-yard punt return. Brewster ran in the two point conversion to make it 20-0.
The Wildcats continued to light up the scoreboard in the first. Brady Stencil had a fumble recovery for a TD, and Brewster busted off another highlight play, showing his speed with a 77-yard scoring run.
By the time the first quarter was over the shell-shocked Falcons found themselves in 33-0 hole. Abbotsford was able to move the ball effectively at times, but one potential scoring drive was snuffed out by a Konnor Wolf interception at the goal line, and the Falcons fumbled the ball five times.
Brewster tacked more points on in the second quarter, this time scoring from 58-yards out. Wolf made the PAT and it was now 40-0. Edgar scored one final time just before halftime when Ayden Weisenberger broke free for a 18-yard TD. Wolf's 'Cats stifle
PAT made it a 47-0 game at the break.
It was a marked contrast from Edgar's previous game, a low-scoring 12-7 affair that saw Edgar punch above its weight when they defeated Onalaska, the fourth ranked team from D-3.
"We're starting to finally get a rhythm," Guden said later. "It's only our third game so we've got a lot to improve on film, but we came out here and got some great things done."
Edgar scored for one final time in the third quarter, with Brewster coming up with another big run. His 24-yard rushing touchdown, and Wolf's PAT, was the final score of the night and made it 54-0. Edgar subbed in their younger players, and they continued to stymie Abby's offense. With a running clock in effect the second half went by as quickly as an Edgar tailback.
Brewster led the Edgar offense, tallying a team high 158 yards and three TDs on just three carries. Dahlke added another 37 yards on three carries, and Wolf was an efficient two for two with 67 yards and one touchdown in the passing game. Lemmer led the way on defense with a team high 12 tackles. Guden had eight and Jordan Bunkleman had seven. The Wildcats' next opponent will be at home, when they play the winless Thorp Cardinals this Friday. A victory seems inevitable, but Dahlke cautions that in 2020 every game is uncertain.
"Every week you never know if it's going to be your last week, and the unknown is scary. So every week it's a blessing that we can play. We don't take any Friday for granted, and we just try to play our hearts out."