Posted on
Win streak hits three as Raiders slide by Antigo and Mosinee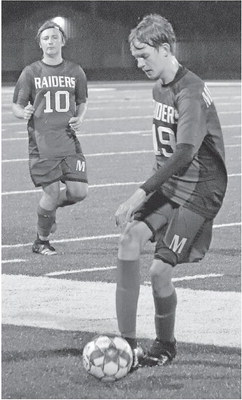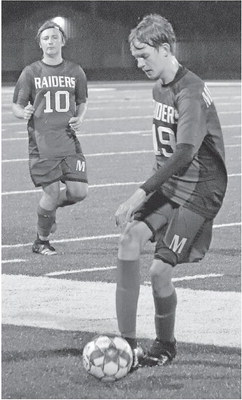 The Medford Raiders continued to put a mid-season bump in the road behind them Tuesday while wearing down Antigo in a 4-0 win at Raider Field.
The victory over the last-place Red Robins kept Medford in mathematical contention for a piece of the Great Northern Conference title. Those chances grew smaller when Rhinelander rallied for a 2-1 win at Mosinee earlier in the afternoon.
But, at 4-3 in league play and trailing 6-1 Rhinelander by two games with three to play, there is still a chance as the Raiders now ride a three-game winning streak.
"We have to win out," Medford head coach Nate Bilodeau said after Tuesday's win. "It's unfortunate we had guys out with COVID stuff for the two Lakeland games, but it is what it is. We're just going to have to play our game going forward. Losing is not an option. We have to win every game now. Every game is very important."
COVID quarantines have taken out two seniors this week, but the Raiders made the best of it Tuesday, adjusting to the turf as it got soaked by a couple of windy rain showers that moved through during the game.
"Obviously the weather conditions were less than ideal," Bilodeau said. "But that shouldn't take away from our play. We should still stay focused, play our game. We did well. We definitely did a lot better in the second half after we settled down a little bit and learned that the pitch is very fast when it's wet. Everything was just 5-7 yards in front of where we needed to be. Take a little bit off, make better passes. We started to utilize our wings a lot more. Those guys were open. Then it was just finishing. We had plenty of opportunities to score in the first half. The second half was a lot better."
While Antigo goalie Cordell Umland and his teammates did a good job of keeping Medford off the board in the first half, the Raiders did get one breakthrough at the 30:30 mark as Zach Rudolph was able to push in the game's first goal with an assist from Silas Wipf.
Just over 12 minutes into the second half, an Aaron Schield assist got Gage Neubauer a shot and Medford's leading scorer paid it off, giving the Raiders a 2-0 lead.
Then it became the Gabe Felix show. The junior wing scored his first two varsity goals to put it away. The first came off a flurry that started with a corner kick from Schield. He put his kick right on target, giving Rudolph a shot at a header. He didn't quite connect, but Wipf intercepted Antigo's attempt at clearing out the ball and got off a shot that skidded under Umland and sat near the left post waiting to be tapped in. Felix beat Neubauer to it to make it 3-0 at the 68:07 mark.
At 71:07, Felix rifled a shot from about 20 yards that slipped right through Umlands's hands and settled into the front left corner of the net.
"Gabe blasted it," Bilodeau said. "He hit it really hard. He had a really good powerful shot, the keeper couldn't hold it and it went in. I thought we did a good job of following the shots. On a game like today, when it's wet, you have to do that stuff. You just have to follow the shots because anything could happen."
To make a push at a title share, as Bilodeau said, the Raiders are likely going to have to run the table in their last three games. The push continues today, Thursday, with a 4 p.m. game at Northland Pines, who the Raiders beat 3-0 on opening night Sept. 15. The Eagles are 4-2 in league play since then and are part of a three-way tie for second place with Medford and Mosinee.
The Raiders get a 4 p.m. rematch at Antigo on Tuesday before hosting Rhinelander at 7 p.m. on Oct. 15. For that game to mean something, the Hodags would have to lose either at Antigo today or at home to Mosinee on Tuesday.
Medford 2, Mosinee 1
Medford completed a regular-season sweep of Mosinee Thursday with a 2-1 road win at Mosinee's Edgewater Park complex.
The win came less than 48 hours after the Raiders dominated the Indians 5-1 at Raider Field. Field conditions were again a factor, but the opposite way they affected Tuesday's win.
"That was the first game that we've played on grass," Bilodeau said. "That was a bit eye-opening for some of our guys. Passes were short, our play was slow because the ball is slow. We always seemed to find ourselves ahead of the ball and waiting for it to catch up with us. Pines has grass too and so does Antigo. We have to be able to play on both types of fields."
Owen Wipf's goal in the 35th minute gave Medford a 1-0 halftime lead. Wipf assisted on Neubauer's goal in the 62nd minute, which wound up being a big insurance goal as Mosinee's Toren Holtz scored with seven minutes left.
"We got out of there with a win," Bilodeau said. "Mosinee's a great team. They gave us a run for our money. It was a goood game."