Posted on
Needing a sweep, Raiders get one to claim upper-bracket berth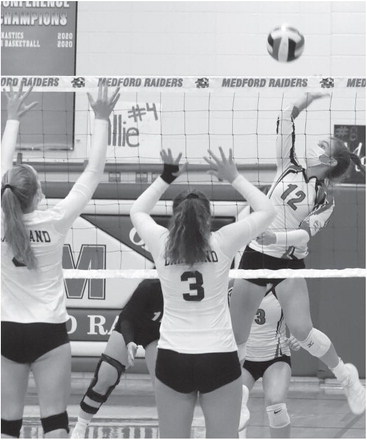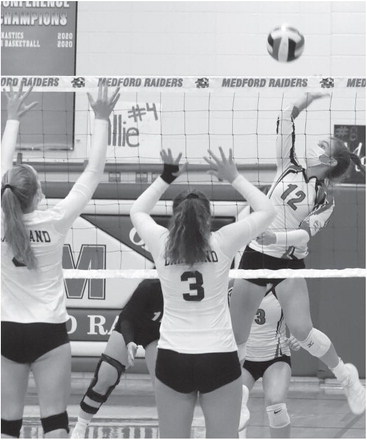 MEDFORD VOLLEYBALL
With a sweep being the only way Medford was going to qualify for the upper bracket of the Great Northern Conference volleyball tournament, the Raiders came through Tuesday, rallying in games one and three and dominating in game two to get the needed 3-0 sweep over Lakeland.
When the night of volleyball in the GNC was done, Medford, Lakeland and Northland Pines all completed the roundrobin portion of the league schedule at 3-3, while Mosinee (6-0) and Antigo (5-1) clinched spots in the top four last week.
Pines was already guaranteed a spot in the top four because it won the set percentage tiebreaker it had in matches played against Medford (3-0) and Lakeland (1-3).
To surpass Lakeland in that set-percentage tiebreaker, the Raiders had to sweep. That didn't look like it was possible when Medford fell behind 18-9 right off the bat in set one, keyed by a 7-0 Lakeland run with Camille Quade serving.
A successful left-side attack from Martha Miller finally got going. A couple of Rynn Ruesch kills followed and then the T-Birds self-destructed on a handful of points. A Laurissa Klapatauskas ace tied it at 21-21. After a net violation, the Raiders got four straight points to win it 25-22.
"I don't know what exactly we were down in that first one, but for them to battle back was huge," Medford head coach Cheryl Schreiner said. "They gave us a couple with some missed serves, which helped us. For the girls to keep their composure and battle back, that was nice to see.
"They held their composure better than I did tonight I'm not going to lie," Schreiner added. "I was going to get a little agitated with our play out there because it was just so all over the place to begin with. I told them that. I said, 'you guys are keeping your composure way better than I am right now and I apologize for that.' They came into the timeout and Martha said, 'we know how to play this game let's get out there and play it.' That's kind of the attitude they went out there with."
The momentum carried over into game two and Medford overwhelmed the T-Birds 25-10 to take a 2-0 lead in the match.
"Between Laurissa Klapatauskas and Allie Paulson at the end, we just served them to death," Schreinder said. "Just got them completely out of system. That was really nice to see. Happy for those girls to keep their composure behind the (serving) line. Even in that first game, the fact that they kept their composure in a tight game behind the line. It's a growth spurt for us."
The sweep appeared imminent when Medford got out to a 15-10 lead in game three, but Lakeland put together one last run and grabbed a 21-19 lead. But Katie Lybert's left-side attack jump-started a 6-0 run that clinched it for Medford. The T-Birds mishit three balls, Marissa Fronk served an ace and Katie Brehm got the winner for match point.
Brehm had a team-high five kills, while Klapatauskas, Miller and Ruesch had four each. Lybert had 11 assists and Paulson added eight. Paulson's five aces in game two gave her a team-high for the night. Olivia Krug added three. Medford had just one error in 59 serves.
Brehm had six of Medford's eight solo blocks. Lybert and Miller had 10 digs each, while Fronk and Krug had nine apiece.
Now to wrap up the regular season, Medford hosts Antigo today, Thursday, travels to Northland Pines Tuesday and hosts Mosinee Oct. 15 in 7 p.m. varsity matches. Three wins and the Raiders would suddenly be conference champions.
"I know the girls are excited to have another shot at the upper schools," Schreiner said. "This is another confidence builder, coming from behind. We just have to keep building."
Antigo 3, Medford 1
The Raiders took game one Thursday in Antigo, but found themselves playing from behind in each set the rest of the way and fell 3-1 to the Red Robins, who finished second in the first round of the GNC schedule with a 5-1 record.
The victory in game one was keyed by a mid-game surge that started with a Megan Fredrikson kill that broke a 16-16 tie. Lybert got a kill after Fronk dug up a potential block kill by the Red Robins to make it 18-16.
After an error, Medford regained possession and, with Lybert serving, ripped off seven straight points to win the set 25-17. Fredrikson clinched it with her deep roll finding open space in Antigo's defense.
Medford led 5-2 early in game two and 7-6 on a Paulson ace, but from then on, it was an uphill battle.
Antigo surged ahead 15-9 and 18-10 on a dump and then an ace from Seven Smith and a kill from Molly Nelson. The closest Medford got was 19-14 on a Ruesch kill. Antigo tied the match with a 25-16 win.
Antigo took a quick 4-0 lead in game three, including a Grace DeWan kill and a Smitch ace. Clare Aulik pushed one past the block of Brehm to put the Robins up 11-4 before the Raiders inched their way back into it. They finally tied it at 21-21 on a Fredrikson ace, but the Robins scored the next four to win it 25-21.
A serving run by Nelson helped Antigo go up 9-4 in game four. Nelson's diving dig wound up hitting the line on Medford's side for a key point that made it 11-6. DeWan put down a couple of kills and middle Grace Fleishman had two blocks in a run that put the Robins up 20-9 and ultimately put the Raiders in a hole they couldn't dig out of. Antigo won the final set 25-17.
"We did such a good job of capitalizing on Antigo's mistakes the first set and then fell flat," Schreiner said. "We'd get the ball back after they would go on a run and then miss our serve. There were too many unforced errors. I am encouraged by the fact that no matter the score the team never gave up."
Klapatauskas led Medford with eight kills, Ruesch and Fredrikson added seven apiece and Lybert had three. Lybert had 13 assists and Paulson had 12. Krug served a team-high three aces, while Klapatauskas and Fredrikson had two each.
Klapatauskas and Brehm both finished with five solo block kills, while Ruesch had two and Paulson had one. Fronk, who wore the libero jersey for this match, led Medford with 18 digs. Paulson had 16, Lybert and Klapatauskas had 15 apiece and Krug added 11.
Medford served at a 92.3% success rate (72 of 78). The misses just seemed to come at inopportune times.