Posted on
Hornets dominate over Elmwood-Plum City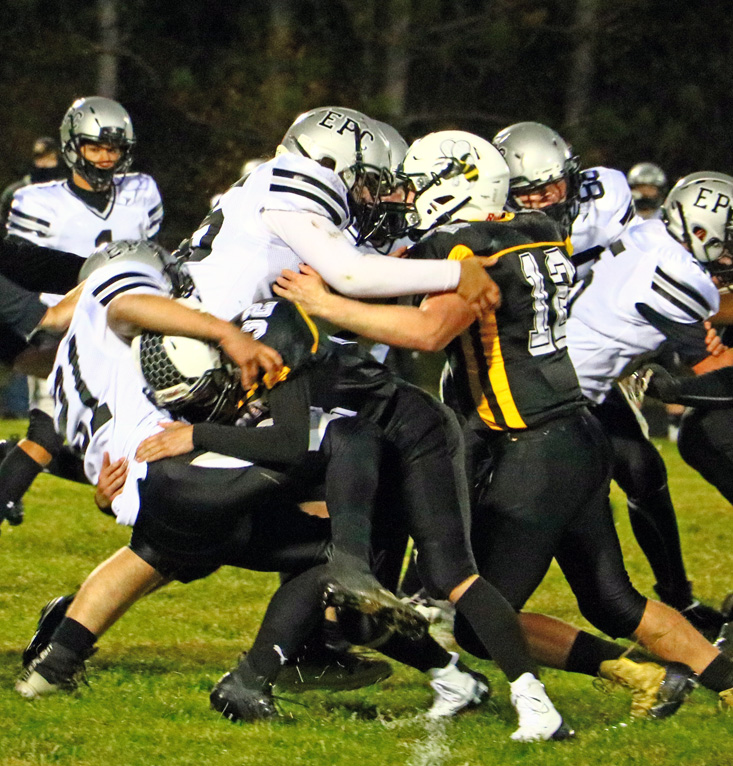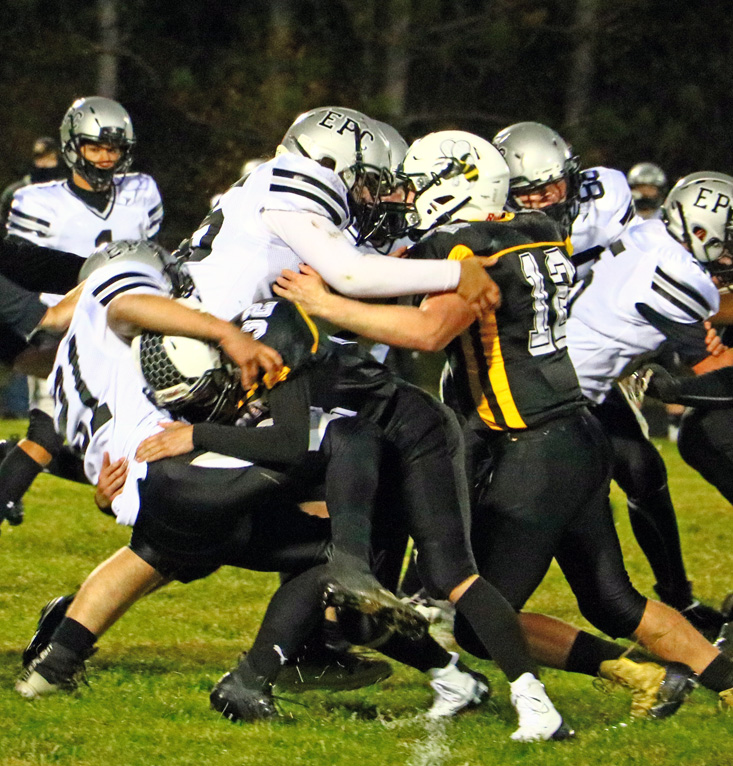 By Ginna Young
This year's Homecoming was one to remember Oct. 2, as the Cadott Hornets Football team welcomed conference opponent Elwood-Plum City.
The Wolves came ready to play, but were quickly stung by the Hornets, as Cadott punched their way into the endzone for a 15-yard run by junior Ryan Sonnentag in the first quarter. The extra point was good from sophomore kicker Peter Weir and the Hornets were up 7-0.
Cadott struck again a few minutes later, after a fumble recovery was was returned for a touchdown by sophomore Tegan Ritter. Weir again nailed the extra point and Cadott led 14-0.
However, the Wolves wouldn't be ignored and scored a touchdown, with a two-point conversion successfully completed. That made the score 14-8, but the Hornets answered back with a kickoff return touchdown from senior Nelson Wahl.
Weir again took to the field for the extra point attempt and Cadott ended the first quarter, up 21-8.
The Hornets refused to let the Wolves score in the second quarter, instead, racking up a touchdown run from junior quarterback Gavin Tegels. A successful extra point kick from Weir and the Hornets' score sat at 28-8.
Cadott scored one final time before the half, a touchdown pass from Tegels to senior Tyler Matherne. Weir hit the 24yard extra point and the Hornets went into the locker room up 35-8 over the visitors.
Elmwood-Plum City valiantly tried to keep pace with Cadott, scoring a touchdown, with a two-point conversion in the third quarter, but it would be their last activity on the scoreboard, as Cadott continued the scoring onslaught in the third.
Wahl again ran for a touchdown, followed by a second touchdown by Matherne. Weir continued to punch the extra point through the defense and the Hornets sat at 49-16, at the end of the third.
That's the way the score would stay, as neither team scored in the fourth quarter. The win puts Cadott at 1-1 in conference action.
Cutline: Cadott junior Gavin Tegels (No. 12, right) switched his role as quarterback for a defensive stance Oct. 2, going helmet-to-helmet with an Elmwood-Plum City lineman. Cadott took the conference win on their home turf, 49-16. Photo by Ginna Young