Posted on
Cool conditions help lead to quick times on home course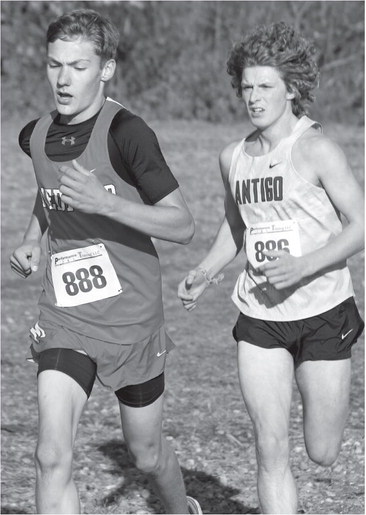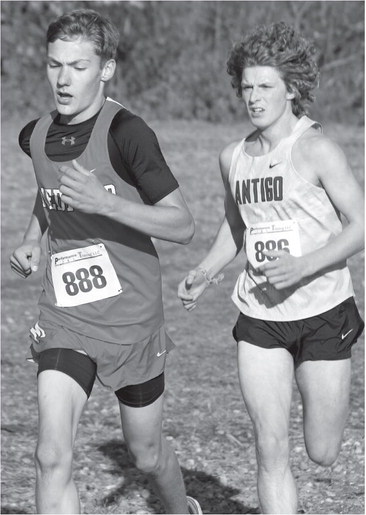 MEDFORD CC INVITATIONAL
The Medford Raiders appear to be getting really comfortable on their new home cross country course.
Their third run of the season on the course resulted in several season-best times Thursday as the Raiders strolled to easy victories over Great Northern Conference rivals Lakeland, Mosinee, Northland Pines and Antigo in both the girls and boys races.
"The cool weather and flat course proved to be a great combination with the whole team running great," Medford head coach Kevin Wellman said.
The guys got things started by scoring just 29 points to win their meet. Lakeland, which did not have its full arsenal of runners available, was a distant second with 63 points. The T-Birds won a tiebreaker with Northland Pines. Mosinee (73) was fourth and Antigo was incomplete.
After having to miss the Sept. 22 meet in Antigo, Joe Sullivan returned to Medford's lineup and didn't really miss a beat. He led the first wave of runners from start to finish and topped the overall results with a time of 16:52.8, just off the 16:50 he posted on the course on Sept. 17. He finished 32.5 seconds ahead of runnerup Sam Gremban of Northland Pines. Mosinee's Cooper Szekeress was third in 17:38.6 and Francis Milanowski of Northland Pines was fourth at 17:54.5.
The Raiders clinched the meet by putting its final four scorers in the bottom half of the race's top 10 finishers.
Freshmen Tanner Hraby and Logan Gubser started the run of Raiders at the finish line. Hraby was unable to hold off Antigo's Logan Edwards (18:28.1) down the stretch for fifth, but he easily settled into sixth at 18:35.8. Gubser was seventh at 19:16.5. Seniors Logan Searles placed ninth in 19:22.2 and Jack Tlusty was 10th at a season-best 19:34.
Tristan Price was just 6.6 seconds shy of the top 10, placing 12th in 19:40.6. Freshmen Nick Steliga (20:41) and Nathan Willman (20:44.1) were 19th and 20th in the field of 35 runners. Lucas Borman was 27th in 21:26.5 and Ethan Mottle was 34th at 22:36.9.
"Eight of the guys put in personal record (PR) times," Wellman said. "Logan Gubser had a great race with Nathan Willman and Ethan Mottle making big improvements in their PRs. One of the most exciting finishes of the evening belonged to Nathan Willman, who had a great kick to edge out a runner in the last few feet of the race. The guys being able to put five runners in the top 10 showed how great a night they had."
Medford's girls also put five runners in the top 10 finishers of their race and earned seven of the top 13 spots to easily win it. The Raiders had 34 points to outscore Lakeland (60), Mosinee (68), Northland Pines (104) and Antigo (117).
Senior Alicia Kawa again paced the Raiders with a season-best time of 20:11.7, while freshman Meredith Richter was fifth in 20:24.2, 20.5 seconds ahead of Antigo's Rylee Aird. Northland Pines' Nora Gremban continued to dominate, easily winning the race in 18:51. Mosinee's Kate Fitzgerald (19:57.4) and Lakeland's Kate Melms (20:04.1) were third and fourth.
Bryn Fronk was in the lead pack for much of the race and wound up seventh in 20:56.5, while Brooke Rudolph was eighth at 21:01.8. Jennifer Kahn locked up the fifth scoring spot with a 10th-place time of 21:11. Alexis Fleegel and Ellee Grunwald weren't far behind taking 12th and 13th in 21:24.2 and 21:28.2, respectively.
Rounding things out for Medford, Ella Daniels placed 22nd out of 45 finishers in 23:12.7, Nathasha Butt was 31st in 25:33.8 and Kylie Potvin was 34th at 26:28.2. Potvin cut more than five minutes off her first time of the season at Antigo.
"The Lady Raiders had a tremendous evening," Wellman said. "Many of the younger ladies on the team had PRs. Kylie, Meredith, Natasha all put in their best times of the season. Alica, Meredith and Bryn showed once again they are the three-headed giants of the team by repeatedly pushing each other and finishing in the top three on the team again."
In a piece of good news for Medford, the team learned last week it will get one more chance to compete on its home course this year when it hosts a WIAA subsectional meet on Tuesday, Oct. 20. The caveat is that Medford has bumped up to Division 1 in this fall's revised postseason assignments and is sure to host some tough competition that afternoon. The subsectional field currently includes D.C. Everest, Lakeland, Marshfield, Merrill, Mosinee, Rhinelander, Wausau East and Wausau West.