Posted on
Cadott adding to wins record, as players step up skills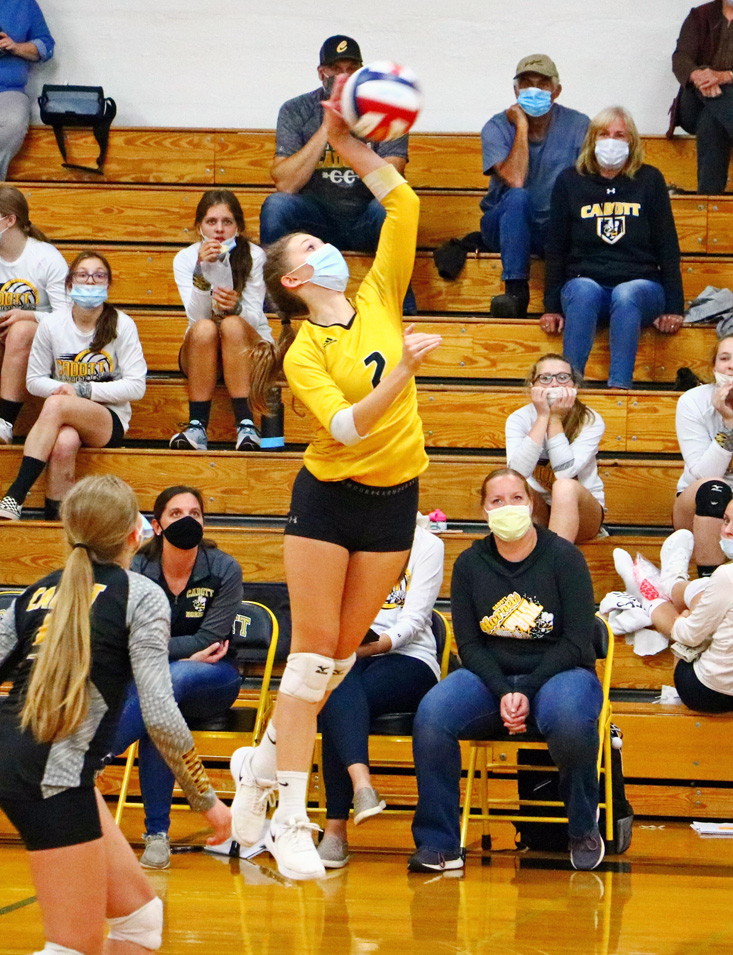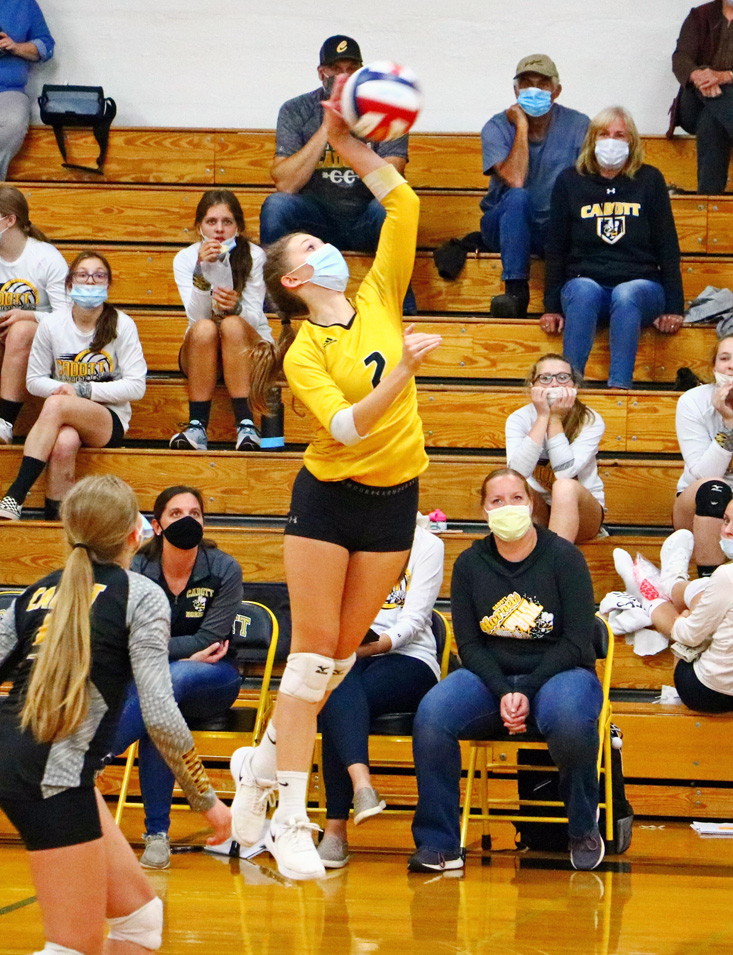 By Ginna Young
To begin the week Sept. 29, Cadott hosted rival Stanley-Boyd, in a fierce five-set volleyball match-up. The Hornets were then off to Osseo-Fairchild and a weekend game in Menomonie.
Sept. 29 vs. Stanley-Boyd conference (L 3-2)
Cadott started the match by dropping the first two sets, 25-18 and 25-17, but rallied to take the win in the third and fourth sets, 25-19 and 25-22. Stanley-Boyd wouldn't give up the attack and managed to eke out a fifth and final set, 17-15.
Leading the way for Cadott, was senior Haylee Rowe with 35 assists. Sophomore Lauryn Goettl recorded 25 digs and 5 aces, while seniors Jada Kowalczyk and Lexxie Rowe had 9 kills each. Junior Makenna Barone finished the night with 6 aces.
Oct. 1 vs. Osseo-Fairchild conference (W 3-1)
Two days later, Cadott was on the road against Osseo-Fairchild, with the Hornets taking the away victory.
Cadott won the opening two sets, 25-21 and 30-28, but Osseo-Fairchild came storming back to take the third set, 25-17. The Hornets knuckled down and pulled out a 25-18 victory to bring in the fourth set.
"Really nice team win tonight, after a tough loss against Stanley-Boyd on Tuesday," said coach James Bremness.
H. Rowe racked up even more assists, with 52 in the game – a career night for her and big numbers for one match.
"She did an excellent job in leading her hitters," said Bremness. "She is getting better and better each week."
Kowalczyk also performed well, ending with 18 kills.
"We've been waiting for her to have a break-out performance like this," said Bremness.
Barone was again solid in the middle, with 18 kills and 4 blocks.
"She is becoming a top hitter in the conference, with her range, power and consistency," said Bremness.
L. Rowe came next with 13 kills, while junior Olivia Goodman ended with 10 kills.
"She (L. Rowe) took some aggressive swings in some tough situations," said Bremness. "Her ability to be smart, but yet with power, is a big asset for us."
Rounding out the night, Goettl added 27 digs and 3 aces.
"Lauryn Goettl held the backrow down against a top conference hitter in Brooke McCune, from Osseo," said Bremness. "A solid night with 27 digs. Her serve is also becoming a major weapon for us."
Bremness says it was a good team win on the road, and that he is happy how the team battled back after dropping the third set.
"With opponents like Fall Creek and McDonell next week, we will have to be on our A game," he said.
Oct. 3 vs. Menomonie non-conference (W 3-0)
Stepping out of the West Cloverbelt Conference, Cadott spent a weekend morning traveling to Menomonie, where they came away with a 3-0 victory. The first set was close, as Cadott won that match-up, 25-21, but two and three were no contest wins at 25-11 each.
"This was just a good solid team win," said Bremness.
H. Rowe continued to add to her assists, finishing with 25. L. Rowe added 8 kills, while Barone had 7 kills and 3 blocks Goettl completed the day with 15 digs and 4 aces "Much of the success was due to good passing in serve recieve by Jada Kowalczyk and Lauryn Goettl," said Bremness. "Along with that, the attackers are learning how to be more aggressive every match, without making a ton of errors."
The Hornets are now 6-2 overall and 3-2 in conference play.
"If we keep this kind of play up, we could be a dangerous team in playoffs," said Bremness.
Cutline: Senior Lexxie Rowe spikes the ball over the net Sept. 29, as Cadott took on rival Stanley-Boyd. The Hornets took the game to five sets, but fell to the away team, 3-2. Photo by Ginna Young