Posted on
Swimmers see improvement against Lakeland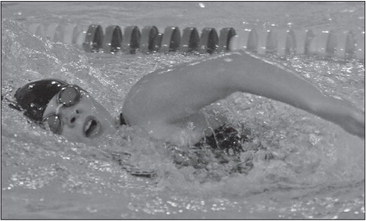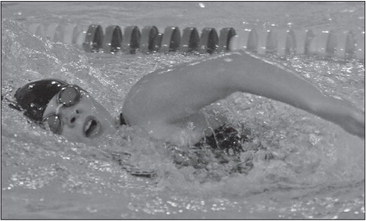 The Abbotsford/Colby swim team welcomed back one of its members last week, bringing its roster to a grand total of nine student-athletes.
Those nine swimmers battled with one of the Great Northern Conferences' premier teams, squaring off in a road dual meet with the Lakeland Thunderbirds in Minocqua on Oct. 1.
The Thunderbirds superior numbers gave them a 102 to 56 victory, but head coach Monica Tesmer was encouraged by her team's results.
"With only nine swimmers [the co-op] had 19 personal best as a team," Tesmer said with enthusiasm.
The co-op opened the road dual with a runner-up result in the 200-yard medley relay as the team of Paige Klement, Olivia Krause, Josie Hoppe and Zanza Haemer finished in 2:27.24.
Brooklyn Filtzkowski had one of the best performances of the evening as she swam to second place in the 200-yard freestyle in 2:23.57. Klement was fifth in the same event in 2:34.21.
Lexi White and Morgan Weber picked up points in the third event of the meet, taking third and fourth in the 200-yard IM in times of 2:47.76 and 2:50.44.
Lanie Hediger added another podium finish by taking third in the 50-yard freestyle in 28.41. Hoppe was right behind, taking fifth in 32.18.
Weber added another second place finish for Abby/Colby, this time in the 100-yard butterfly race in 1:18.55. Hoppe added a third place finish in 1:27.73.
White continued her strong night, placing second in the 100-yard freestyle in 1:05.16. Hediger followed, taking fourth in 1:06.80 and Krause was fifth in 1:09.78.
The co-op had three more swimmers place inside the top five in the grueling and demanding 500-yard freestyle. Filtzkowski was second in 6:32.14, Haemer was third in 7:15.68 and Fellenz was fourth in 8:29.54.
In the eighth event of the night, the 200yard freestyle relay, the team of Weber. Filtzkowski, Hediger and White placed second in their time of 1:56.58.
Three swimmers competed in the 100yard backstroke. Klement was third in 1:15.36, Haemer was fourth in 1:20.51 and Fellenz was fifth in 1:48.33.
Krause earned another top three result in the tenth event of the evening, taking third in the 100-yard breaststroke in 1:34.93.
Two relay teams competed in the last event of the dual, the 400-yard relay. The team of Weber, Hediger, Filtzkowski and White was third in 4:23.80. The team of Klement, Fellenz, Hoppe and Haemer was fourth in 5:13.87.
The co-op will have another chance to improve this Thursday when they host the Medford Red Raiders. Races will begin at 5:30 p.m.