Posted on
Stratford defense clamps down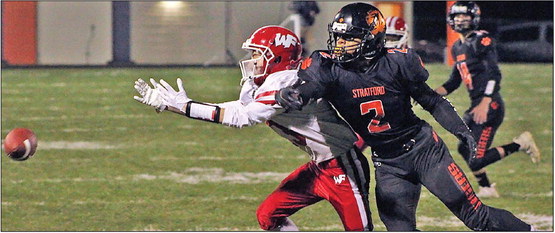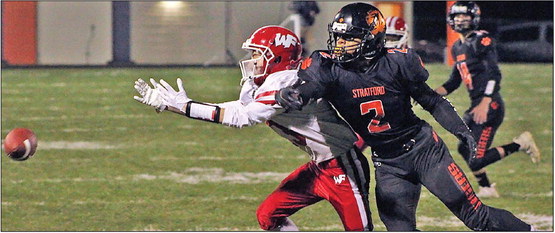 Tigers have only surrendered six points this year
By Casey Krautkramer
Stratford senior quarterback Max Vanderhoof passed two long touchdown strikes to senior Kale Weisenberger in the team's 41-0 home win against Weyauwega-Fremont on Friday.
The Tigers already led, 21-0, after the first quarter. Vanderhoof called his own number for a seven-yard touchdown run. Junior Raife Smart rumbled for a 32-yard touchdown run, and senior Kainoa Gouveia added the two-point conversion run to give Stratford a 14-0 advantage.
Weisenberger grabbed a 34-yard touchdown pass from Vanderhoof, and sophomore Connor Weigel kicked the extra point, to give the Tigers a commanding 21-0 lead after the opening quarter.
While Stratford's offense was churning, the team's defense was just as solid against Weyauwega-Fremont by limiting the Indians to only 63 yards of total offense. Stratford senior defensive back Colten Schillinger scored on a 52-yard interception return in the third quarter.
Weisenberger caught a 46-yard touchdown pass from Vanderhoof, and Weigel tacked on the extra point to give the Tigers a 34-0 lead after the third quarter. Schillinger added a oneyard touchdown plunge in the fourth quarter.
Stratford head football coach Jason Tubbs was pleased with his team's performance on Friday night. The Tigers will travel to Spencer on Friday in a battle between undefeated Central Wisconsin Large (CWC-Large) squads.
"I thought Friday's game was a great team win," Tubbs said. "Different players like Kale and Raife got in the end zone and the defense got a shutout. I am excited for the Spencer/ Marshfield Columbus football game because it's a familiar opponent within 20 minutes of our school."
'Cats shut out Hilltoppers
Senior running back Kyle Brewster led the Edgar football team's offense with two second-half touchdowns, and senior middle linebacker Austin Dahlke had a stellar defensive game in leading the Wildcats to a 12-7 win at Onalaska on Friday.
Brewster broke a scoreless halftime with a one-yard touchdown run in the third quarter. He then scrambled for a nine-yard touchdown run in the fourth quarter. Onalaska added a late touchdown run and extra point kick.
Austin Dahlke paced the Wildcats' defense with nine total tackles, including eight of them solo. He added three sacks, a recovered fumble, a tackle for loss and two interceptions.
Senior defensive back Drew Guden tied Dahlke for the team's lead with nine tackles, including six of them solo. Guden also knocked down two passes and had a tackle for loss. Senior linebacker Brady Lemmer had seven total tackles, including six of them solo. He added one quarterback hurry.
Undefeated Edgar plays at Abbotsford this Friday, in what'll be the Falcons' first game this season.
Athens routs Thorp
The Athens football team provided its fans with plenty of entertainment in the first half, before the band even performed its homecoming routine, during Friday's 56-8 win against Thorp.
Junior quarterback Cooper Diedrich tallied 212 yards of total offense and three touchdowns for the Bluejays. He ran 10 times for 122 yards and two scores, and he had 90 yards passing and one touchdown.
Athens senior running back Dayne Diethelm added 164 yards of total offense and a pair of touchdowns. He ran 13 times for 72 yards and one score, and he had two receptions for 92 yards and one score.
Senior running back Jake Denzine had seven carries for 105 yards and two touchdowns, and senior Cobie Ellenbecker added a 10-yard touchdown scamper in the fourth quarter.
Cobie Ellenbecker intercepted the ball twice on defense against the Cardinals. He returned one of the interceptions for a 40-yard touchdown in the third quarter.
Diethelm led Athens with seven tackles while playing linebacker and Denzine had six tackles from his defensive back position on the football field.