Posted on
Late defensive stops help Loyal grind out first win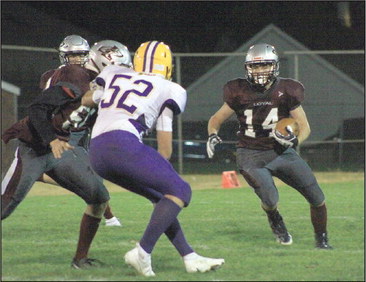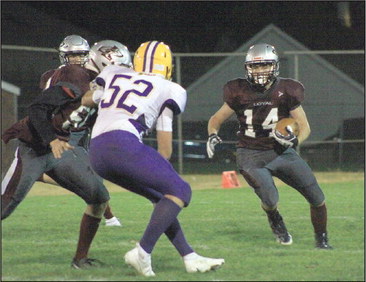 With a tenuous 18-12 lead late in the third quarter of its 2020 season opener against Pittsville on Oct. 2, the Loyal football team made the kind of mistake that can turn a possible win into a setback. Enter the Greyhound defense to save the day.
Following a Loyal fumble at its own 27-yard line with less than a minute to go in the period, the defense rose up to stop the Panthers from scoring, and the offense then pieced together a 67-yard scoring drive to seal the 26-12 win. It was Loyal's first-ever game in the Central Wisconsin-Small Conference after the Sept. 25 scheduled game at Almond-Bancroft was cancelled due to COVID 19.
The game looked like a season opener, said Greyhound head coach Chris Lindner. The offense was not as consistently sharp as he'd like to see it, but the defense limited the Panther attack to 151 total yards and came up with the big stops when it had to.
"I thought we played alright," Lindner said. "We knew mistakes were gonna happen. We talked about how we could limit the amount of mistakes."
The one big error the Greyhounds committed was the fumble deep in its own territory, just after the Greyhound defense had forced a punt.
Pittsville took over on the last play of the third period and had a short field in front of it to the end zone. It wouldn't get there.
Loyal snuffed a first-down run, then Kaden Horn dropped Panther quarterback Camron Dammann for a 5-yard loss on second down. After a third-down incompletion, Pittsville went for it on fourth, but freshman defensive back Louis Nikolai knocked away Dammann's pass at the 10-yard line.
Loyal took over again at its own 33yard line, and its only pass completion of the game carried the offense downfield. On a third-and-9 play, quarterback Wyatt Dietsche threw a strike to Drew Stieglitz on a crossing route and Stieglitz busted one tackle on his way to a 35-yard gain to the Panther 16-yard-line. Two plays later, on third-and-4, Matthew Szymanski found some space on an inside run and blew into the end zone for the 9-yard touchdown and a 24-12 lead. Szymanski added the 2-point conversion run.
Loyal's ground game generated 223 yards on the night on 40 carries, a decent number but not quite where the coach would like it.
"We were too inconsistent on the offensive line," Lindner said. "I thought our backs ran well. I thought our quarterback ran the offense well."
Sophomore running back Sullivan Hanson ran for 110 yards on 14 attempts and Szymanski gained 96 yards on 21 carries.
Lindner said for a first game in a strange year, it was a good showing.
"Two or three weeks ago, I didn't know what we were gonna be like," he said. "I think we showed some good solid potential."
Loyal never trailed as it drove 55 yards in 11 plays on its first possession for a score. Szymanski's 6-yard run provided the points, but a conversion pass fell incomplete.
Pittsville tied the game early in the second quarter. Loyal's defense was penalized twice on the drive, and Aiden Kolar capped it with a 4-yard run. The conversion play failed.
Loyal took the lead back late in the half. Szymanski got to the edge on a fourth-down play to sustain the drive, and followed a 23-yard run from Hanson with a 2-yard touchdown plunge. A halfback option pass play for the conversion did not work, but Loyal led 12-6 at the break.
The Greyhounds got the ball first in the second half and wasted no time extending its lead. After Nikolai's kick return set up the offense at midfield, it needed just three plays to score as Hanson beat the defense to the right edge and was off for a 45-yard scoring run. Dietsche tried the conversion run but came up short.
Pittsville got the score back to 18-12 on its next possession, on a 65-yard, 7-play drive. Kolar's 4-yard run capped it, but he was dragged down on the conversion attempt.
After Loyal's defense stiffened after the fumble and the offense made it a 26-12 game, Pittsville went to the air to try to get back into it. The Panthers threw eight passes on their next possession, but the drive ended on an incompletion on a fourth-and-11 play at Loyal's 16-yard line. The Greyhounds were able to run out the clock from there.
Pittsville ran for 84 yards on 30 rushing plays. Kolar had 72 of those yards on 21 carries, and no other Panther runner had more than three carries. Dammann threw 15 passes with seven completions for 67 yards.
Loyal passed four times in the game with the one completion to Stieglitz for 35 yards.
The turnover battle was even as both sides fumbled once. Loyal was penalized four times for 40 yards while Pittsville was flagged three times for 30 yards.
Next up for Loyal is Central Wisconsin- Small Conference opponent Stevens Point Pacelli, which heads to Loyal Friday night for a 7 p.m. kickoff. Pacelli is led by an outstanding running back that burned the Iola-Scandinavia defense for more than 300 yards last week.
"We really need to work on limiting the big plays," Lindner said.
DEAN LESAR/STAFF PHOTO