Posted on
Season paused after RL's best effort so far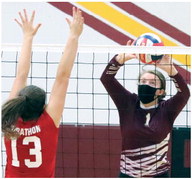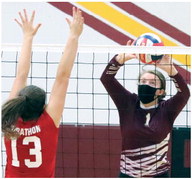 RIB LAKE VOLLEYBALL
In what has to be considered Rib Lake's best outing of the volleyball season, the Lady Redmen were in position to win each set Thursday until a mid-game lull cost them each time in a 3-0 loss to visiting Marathon.
In a battle between teams that both brought 0-3 Marawood Conference records into the match, Rib Lake improved in virtually every facet, particularly serve receive and digging up some tough balls hit by the Red Raiders. Ultimately, Marathon had just a little more firepower at the net and was able to string together key runs and key times.
"Our scores don't reflect how hard we played or how close we really were up until the last few points," Rib Lake head coach Barb Anderson said. "We were able to come out and take the lead in all three games, and then we would get flat and not be able to finish the job."
Marathon got out to a 9-6 in the first set before Rib Lake went on a mini run. An Emma Winter kill capped a good rally, Nellie Hopkins smashed a free ball in the middle and Molly Heiser served an ace to put Rib Lake ahead 10-9. Marathon didn't regain the lead until Hope Krautkramer went on a brief tear with three winners in a four-point stretch to make it 16-14. Rib Lake's Tia Bube made a fine play on a bad set to get the ball Rib Lake loss
over. It was misplayed by Marathon, making it 16-15, but from there the Red Raiders stretched out enough of a lead to secure a 25-20 win.
Marathon jumped ahead 5-1 in the second, but Rib Lake responded with a 6-0 surge. Winter hit an open deep corner and then served an ace, Bube's push found a hole, Winter served another ace and Heiser's save dropped just over the net and onto the floor for a 7-5 Rib Lake lead. An incredible dig by Kyla Kennedy led to a misplay by Marathon for a 10-7 lead and that lead grew to four at 12-8 on an Emily Rodman ace.
The Redmen's momentum, though, didn't last long enough. Three kills by Marathon's Vanessa Krueger and an Ave Krueger ace that rolled off the top of the net highlighted a 10-2 surge that put the Red Raiders up 18-14. Rib Lake got no closer than three after that and fell 25-19.
A 4-0 spurt in game three put the Redmen up 12-9, but Marathon scored the next three points to tie it. A Raider error and then a tough serve by Hopkins resulted in a passing error and a 14-12 Rib Lake lead. Marathon then went on a 13-2 tear, led by attacks at the net from Vanessa Krueger and Alyssa Hall, to win the set 25-16 and end the match.
"Getting better, growing as a team. These are phrases I would use to describe us," Anderson said. "Moving to a two-person receive with Kyla and Tia has been a good decision. The two of them did a nice job receiving the ball. Finishing was our problem, although Tia did finish a lot and ended the night with 10 kills, three solo blocks and six digs. Kyla had a high of 13 digs. She dug up some tough balls."
Winter made some things happen on the outside with four kills, three aces and three digs. Hopkins had three kills and three digs. Rodman added a kill and an ace serve. Reagan Reinhardt had one dig. Josie Scheithauer and Heiser set up the hitters with seven and six assists respectively.
"We will get back to practice and work on getting better every time we step out onto the court," Anderson said.
Unfortunately, Rib Lake matches this week against Athens and Auburndale were postponed. Next's week matches against Abbotsford and Wisconsin Rapids Assumption are also off.