Posted on
Raiders squeak by Barron; post-season starts Monday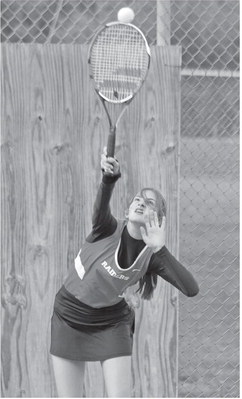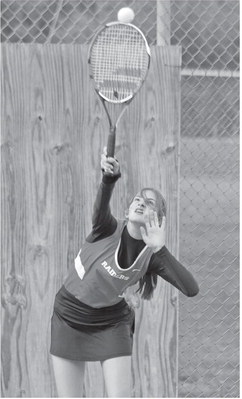 MEDFORD GIRLS TENNIS
Lindsey Wildberg earned a first-set victory in a tiebreaker Tuesday, which turned out to be crucial in Medford's 4-3 non-conference tennis win over Barron.
Wildberg faced Barron's Annika Moe in the numberthree singles match, which was the last one to start. As it turned out, it would be the deciding match after the teams split the first six matches.
Wildberg and Moe battled to a 6-6 tie in the first set. Wildberg won the tiebreaker 7-5 to take the set. She was ahead 3-2 in the second set when light rain made the court just slippery enough for the players and coaches to decide it wasn't safe to continue. Darkness also was setting in, so Wildberg was declared the winner and the Raiders took the dual.
The victory put Medford's overall record at 3-9 heading into the regular-season finale today, Thursday, which will be a home triangular with Lakeland and Wisconsin Rapids Assumption that will start at 1:30 p.m.
Three of Medford's wins Tuesday came from juniors in singles play. Along with Wildberg, Kelsey Jascor easily took care of Hailey Thompson 6-1, 6-0 in flight four and Sophie Brost was a 6-1, 6-3 winner over Aryn Lipke at number-two.
"Sophie played extremely well tonight," head coach Jake Bucki said.
Barron's Alyssa Peterson won a tight first set and then took control after that, beating Raider senior Brooke Sommer in the number-one match 6-4, 6-1.
Medford's number-three doubles team of Eryka Seidl and Myah Smith easily took care of Elle Mark and Emmelee Shipley 6-1, 6-1.
Barron's state-qualifying team of the past two years, Jada Brunkow and Phoebe Jerome beat Medford's new number-one doubles combination, Jordaan Clark and Masaeda Krug 6-1, 6-2. Lainey Zuan and Andrea Bechard beat Medford's Kenya Mann and Makayla Motte 6-3, 6-2 in the number-two match.
With these final non-conference meets this week, Medford hopes to build some momentum and possibly even some improved seeding status going into the WIAA Division 2 post-season, which is moving ahead as scheduled next week.
The Raiders will be one of eight teams in the Lakeland subsectional on Monday, along with GNC rivals Lakeland, Newman Catholic, Stevens Point Pacelli, Columbus Catholic and Phillips. Wisconsin Rapids Assumption and Ashland complete the field.
Flight one semifinalists and finalists in all other flights will advance to sectional play Wednesday at Baldwin-Woodville. There, the top team, flight-one semifi nalists and flight-two champions will qualify for state competition, which will be held this year in Kohler.
Antigo 6, Medford 1
Wildberg got Medford's only win Monday as the Antigo Red Robins completed a perfect 7-0 run through the Great Northern Conference this fall with a 6-1 win over the Raiders on the MASH courts.
In the number-three singles match, Wildberg beat Callie Hubatch, who typically plays in fourth flight for Antigo, 6-1, 6-1. It was the junior's third straight win in flight three in GNC play. She finished 3-3 at the flight in GNC matches and 4-3 overall in conference singles matches.
Antigo won the other six matches in straight sets and won 43 of 49 matches it played during the conference season.
Jascor moved to number-four singles after playing at number-one doubles most of the season and played a strong match against senior Holly Zimmerman, who won 6-3, 6-4. Sommer drew a tough number-one matchup with Antigo's undefeated Avery Nicholson, who won 6-2, 6-2. Margo Kelly beat Brost in the number-two match 6-3, 6-1.
Antigo's doubles teams had little trouble.
In flight one, Greta Parsons and Jenna Lenzner beat Clark and Krug 6-2, 6-2. Ellie Preboski and Elli Stank swept Mann and Motte 6-0, 6-0 at number-two and Faith Bussiere and Ellie Packard swept Seidl and Smith.
The meet was originally rained out on Thursday and the teams worked around some rain drops again on Monday to get it in.