Posted on
Raiders' improvement shows in 3-1 win over Hatchets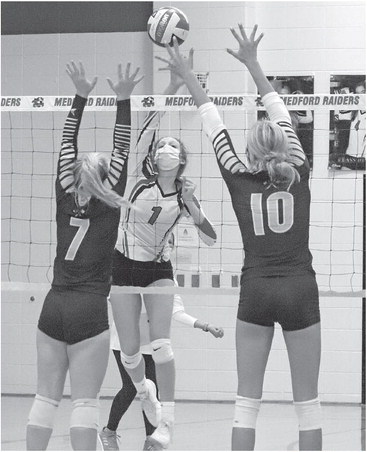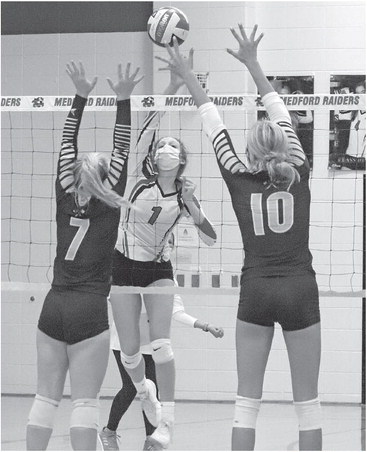 MEDFORD VOLLEYBALL
On the surface, Medford's 3-1 volleyball win Tuesday over a Tomahawk team that fell to 0-5 in Great Northern Conference play may not look big.
But the smile behind the mask on head coach Cheryl Schreiner's face told a different story.
In what was clearly her young team's best performance of the shortened season, the Raiders made major strides defensively, eventually figured out how to get past the sometimes dominant blocking of Tomahawk standout Meghan Scholz and dug deep to win the pivotal third game after being down by four late.
And, they stopped the program's recent skid of three straight home losses to the Hatchets.
"It's a nice confidence builder for them," Schreiner said after the Raiders improved to 2-2 in the GNC and 3-3 overall. "I thought they played well. They scrambled well. We had some really nice saves out there and we served well too. We still have some young mental errors happening out there, but it's getting better.
"Even though we got down, we never gave up," she added. "You didn't see any chins drop, you didn't see any heads hanging. If somebody's head did hang, somebody gave them a slap and said, 'hey it's OK, let's go get the next one.' That was a huge step in their mental toughness."
The Raiders came out firing, winning the first set 25-15. They had a chance to grab set two as well, taking a 21-20 lead on a Marissa Fronk ace, but Scholz got a key block and Amalie Kurth served up two late aces to push Tomahawk to a 25-22 win that evened things up.
As is often the case in a 1-1 tie, the third set was pivotal. Medford trailed 10-6 after a Scholz ace, but Katie Brehm's kill got a sideout, then Laurissa Klapatauskas served Medford into a 12-10 lead. Gabby Brunner's tip fell inside the sideline for a 14-11 lead, but then Scholz and Alyssa Zehner went on a blocking rampage, helping Tomahawk surge ahead 19-15.
"Those were the young mistakes where we're hitting the ball right into the block," Schreiner said. "You have to use the block, swipe it off the side of the block, pick a side. Gabby did a nice job of that with really tooling that block. There's a wall up there now, so you can't hit straight into it. We knew that they were tall, so at practice Monday we did a block coverage drill. We did hitters against blockers and that sort of thing to prepare for tonight. I thought Katie Brehm did a nice job of learning that throughout the match. Martha (Miller) was trying to do some tooling. Rynn (Ruesch) was trying to get up over the top."
Brunner's kill stopped Tomahawk's run and the Raiders responded with a 10-4 surge to close out the set at 25-23. Key plays included an Allie Paulson ace, a kill by Brehm past Scholz that tied it at 22 and a Fronk ace that put Medford ahead 23-22.
After that win, the confident Raiders dominated game four 25-13.
Ruesch led Medford with 12 kills, Miller had seven, Brehm added five and Brunner and Katie Lybert had four each. Lybert had 20 assists and Paulson had 11. Paulson had a team-high six aces, while Fronk had five. As a team, Medford had 15 aces.
Miller (18), Ruesch (15), Olivia Krug (11) and Fronk (10) hit double figures in digs and Ruesch had six solo blocks, while Brehm had three and Miller had two. Brehm and Ruesch each had two block assists.
"This was the best defense we've played all year," Schreiner said. "When we're saving balls way out there and giving ourselves another chance, that's big and it's hard on the other team if you can keep that ball alive."
The Raiders hope to carry the momentum through the next two matches, which will conclude the first round of GNC play. Medford is at 3-1 Antigo tonight, Thursday, and hosts 2-2 Lakeland on Tuesday. Results from those matches will determine if Medford is in the upper bracket or lower bracket of the GNC tournament Oct. 8, 13 and 15.
"For them to play like this tonight, hopefully we can ride this into Thursday and compete," Schreiner said.
1-1 on Saturday
What was once a nine-team invitational wound up being a triangular Saturday at Raider Hall, where Medford finished on a high note by sweeping Ashland. Cadott won the tournament by beating Medford 3-1 and Ashland 3-0.
In the opening round against Cadott, junior Makenna Barone was a handful in the middle, senior Jada Kowalczyk added some punch on the outside and libero Lauryn Goettl led a solid back row as the Hornets were simply more consistent than the Raiders.
Cadott raced out to a 10-3 lead in game one. Medford got three straight points on a Paulson kill, a Paulson ace and a Ruesch roll that hit the sideline to make it 10-6 and Brehm got a block kill against Barone to make it 11-7, but that was as close as the Raiders would get in a 25-16 loss.
Game two was a different story. The set went back and forth until Medford went on an 8-3 surge, highlighted by a Brunner kill, to go up 18-12. The Hornets struggled with mistakes, Ruesch had a big kill and the Raiders closed out the set 25-15 to tie the match at one set apiece.
The match swung to Cadott's favor midway through game three. Paulson went on a serving spree to put Medford up 9-5. Miller's roll and a Krug ace put the Raiders up 12-9, but a Kowalczyk kill and a Haylee Rowe ace got Cadott going. The Hornets went on a 16-6 tear to win the set 25-18 and kept it going, roaring out to a 17-4 lead in game four before settling for a 25-14 win.
Miller and Ruesch were Medford's kill leaders with six apiece. Lybert had eight assists, Paulson had six and Brunner had four. Miller had three aces, while Paul- son had two. Krug had 12 digs and Fronk had eight. Klapatauskas had five solo blocks, while Ruesch had three.
After a break, the Raiders came out firing against Ashland in the final match of the day. They buried the mistakeprone Oredockers 25-10 in set one and kept it going in the second set, jumping ahead 8-3 behind two Katie Lybert aces and kills from Miller, Ruesch and Brehm. Ashland closed within 11-8, but Medford went on another run with a kill from Miler, an easy tip for Klapatauskas, a kill and an ace from Lybert, a kill from Ruesch and a kill and an ace from Paulson to go up 19-10. That was enough to eventually secure a 25-18 win.
Medford trailed 11-8 in game three before finding its groove again. The Raiders surged ahead behind a couple of Fronk aces and a Krug ace. Miller and Ruesch had key kills late and Brehm sealed the 25-18 clincher with a block kill, her second of the match.
Miller had six kills in the win, Ruesch had five and Paulson added three. Lybert had six aces, Fronk had four and Miller served three. Medford had just four service errors in 78 attempts. Paulson had 15 assists, Lybert had 12 and Brunner had three.
Mosinee 3, Medford 0
The Raiders were unable to stop host Mosinee from making GNC history on Thursday night.
With their 39th straight conference win, the Indians set a conference record for all sports. Mosinee swept the match 25-15, 25-19, 25-11.
Schreiner said she saw some positives despite the relatively one-sided scores.
"I was very proud of how this inexperienced team battled a very tough opponent," she said. "Nerves again were a factor in set one, but set two was back and forth until the end. Mental toughness was a factor in set three. We need to learn to play tough until the final whistle blows." Volleyball
The Raiders were able to produce a fair number of attacks, 80 according to their stats sheet, but Mosinee's defense did an excellent job of defending them. Ruesch did get six kills and Paulson added three. Klapatauskas, Lybert and Megan Fredrikson got one apiece.
Paulson and Lybert notched five assists each.
Fronk had two service aces. Klapatauskas and Miller each had one.
Mosinee got eight kills apiece from Jessica Maurer and Brooklyn Montgomery and seven from Jenna Placek. Montgomery also had 18 assists.
Paulson had 18 digs for Medford, Miller had 15, Lybert had 14 and Fronk had 13.
Paulson was credited with four blocks, while Ruesch and Miller had one.
After sweeping Lakeland Tuesday, Mosinee is 5-0 in league play and hasn't dropped a set.
"Every varsity match we play we are learning and growing as a team," Schreiner said. "I know these girls want to improve their game and will work hard to accomplish that goal."
Continued from page 28