Posted on
Raiders get little resistance from Hurricanes in opener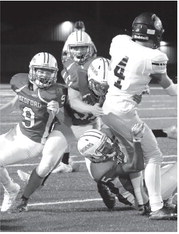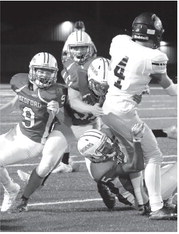 MEDFORD FOOTBALL
The Medford Raiders gave Hayward a rude welcome to Great Northern Conference football Friday, holding the Hurricanes to minus-15 rushing yards in the first half, turning two interceptions into immediate points and building a 44-0 halftime lead while cruising to a 52-7 win in the long-awaited season opener at Raider Field.
Blaine Seidl, the conference's 2019 Defensive Player of the Year, had both of the team's pick-sixes, which came at the start and end of the second quarter. Offensively, the Raiders made the most of their 184 total yards in the first half by scoring touchdowns on all four of their possessions.
"It felt amazing," senior Colton Surek said of finally getting into game action.
"We were a little nervous at the beginning, but once you first hit somebody, it goes away," Seidl said.
"I thought after getting some of the jitters out a little bit there, we played pretty well," head coach Ted Wilson said. "You can't ask for much more, two pick-sixes and we didn't give up very many yards in the first half when the varsity played. Overall, for the first game of the year, the kids played fairly well."
The solid offensive execution was notable since Medford had to make some changes due to injury. Seidl took over at a guard position on the offensive line, as the team was trying to fill the large absence of tackle Jarod Jochimsen, and Surek moved to tight end to help cover for Blake Studinger as both were injured in the Sept. 18 scrimmage. Surek scored his first varsity touchdown. His role expanded during the game when Riley Her- man got injured while catching his first varsity touchdown pass. Those scores gave Medford a 14-0 first-quarter lead. Seidl said his move put him back into a familiar spot as he played throughout his youth football days.
"It started a little rough but I believed that we could push through," Surek said. "Our team is, I think, very flexible. We pray that the other guys on the team get back, but I think we can work with the people we have."
"I think they did a pretty good job," Wilson said. "Blaine got moved and Colton Surek got moved. Even midgame, we ended up moving Colton to the other side to a more prominent tight end position where he's going to be on the field more and he pretty much took it in stride. A lot of those seniors are Swiss army knife type guys. They can do a lot of things and do a lot of things well. They're really willing to help out the team how the team needs to be helped."
Herman's touchdown on Medford's first possession came on a beautiful seam pass from Logan Baumgartner along the left hashmarks. The 26-yard play capped a five-play, 44-yard drive set up by a short Hayward punt after a three-and-out.
"Logan shortened up his drop a little bit to get the ball out when Riley was open," Wilson said. "If he waits a little bit longer, that hole in the middle of the field kinda closes up with the two high safeties. That was a really well-thrown ball and a nice catch by Riley Herman."
Another three-and-out set Medford up on its own 40. Five running plays took the Raiders to the Hurricanes' 29-yard line, where play-action fake by quarterback Nate Retterath helped Surek get wide open in the right flat for the catchand- run score with 4:06 left in the opening quarter.
"It felt great," Surek said. "We called the play in the huddle and I made sure I was calm because, most likely, the ball is coming toward me. I break out and see nobody is there and I see the ball coming. I make sure I catch the ball first before I turn and go. Then I just had to make sure I get to the end zone."
Hayward then put together its first threat, highlighted by a 23-yard completion from Niizhoo Sullivan to Jonah Sande and a 15-yard pass interference