Posted on
Raiders get back on track with a blowout win over Mosinee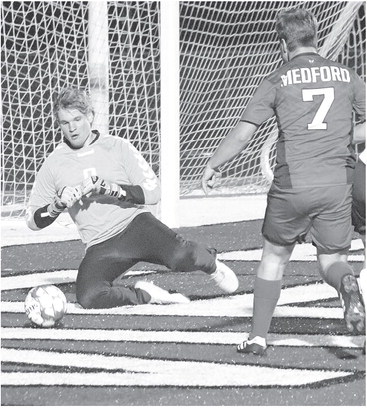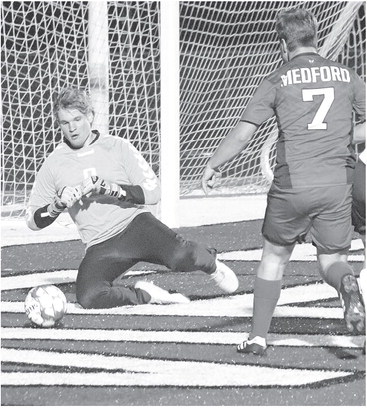 MEDFORD BOYS SOCCER
The Medford Raiders were back at full strength Tuesday which put the Mosinee Indians in the wrong place at the wrong time.
Releasing the frustration of last week when quarantines and injuries left the Raiders a shell of their typical selves in two Great Northern Conference losses to Lakeland, the Raiders got four goals from Gage Neubauer and were in control from the 10th minute on in a 5-1 win at Raider Field.
The win snapped a three-game losing streak and scoreless streak in GNC play and put the Raiders at 2-3 in the conference at 3-3. The loss knocked Mosinee off its perch atop the league. The Indians (4-1, 4-2) are now tied for the league lead with Rhinelander, who got a key 2-1 win over Lakeland Tuesday.
Medford isn't in a great position two games behind the leaders with five to play, but it hopes Tuesday was the first step toward climbing back into contention.
"It put some wind in our sails to have our starters," head coach Nate Bilodeau said after the win. "We had everyone tonight. It felt good to finally play together as a team and everybody felt comfortable in their positions. Obviously Gage had a huge game coming back from being quarantined for a week. We knew he was hungry tonight and he found the back of the net four times. He had the perfect hat trick, he had a left foot goal, a right foot goal and a header. It doesn't get any better than that.
"We played together well. That's the stuff we practice. It helps having everyone here and healthy. It was a huge win for us."
The Raiders grabbed control with two Neubauer goals just 95 seconds apart in the opening minutes of the first half. The first, at 9:06, came off a perfect long lob pass from midfielder Aaron Schield that found Neubauer getting past Mosinee's last line of defense. All he had to do was beat goal keeper Keaton Wieloch to the ball, which he did for the easy tap in.
At 10:41, Ty Baker drilled a long indirect kick from Medford's defensive end that found Neubauer's foot and he knocked it in for a quick 2-0 lead.
"We haven't scored in two weeks in conference," Bilodeau said. "It was huge. It felt good to finally score. You could just tell everybody wanted it tonight. Everybody knew what was at stake. We have to start winning our games now, get refocused. It was good."
The execution was perfect on a corner kick at the 23:17 mark, giving Medford a 3-0 lead. Owen Wipf delivered the kick from the right corner and Zach Rudolph headed it in for his second goal of the season.
Caden Schmirler scored off a Cole Holtz assist at 37:23 to pull the Indians within 3-1. It stayed that way through nearly 12 minutes of play in the second half. But, at 56:52, Neubauer completed his hat trick by heading in a shot off a Colton Gowey assist.
The three-goal lead survived a couple of tense moments with just over 20 minutes left. First, defender Brayden Machon made a head's up play to prevent a potential goal on a ball that had gotten by goal keeper Brady Hupf. Hupf then made a second save on the rebound. About 90 seconds later, Hupf made a tremendous diving save on a header by Toren Holtz that looked like a certain goal.
"Those were heart attack moments, there's no question," Bilodeau said. "There's things we should be focusing on defensively. We knew at the beginning of the season defense was going to be our struggle this year with a lot of youth on our team. We learn from those things. Thank God, Brady's back there. Brady had a phenomenal game with some great saves back there."
Not long after that, at 74:02, Neubauer sealed it, sending a shot that snuck inside the left post. Rudolph had the assist.
Today, Thursday, Medford travels to Mosinee for a rematch with the Indians that starts at 4:30 p.m. Last-place Antigo visits Tuesday for a 7 p.m. kick off. The Raiders travel to Eagle River Oct. 8 for a key rematch with Northland Pines, who they beat 3-0 in the Sept. 15 season opener.
Lakeland 2, Medford 0
With several starters out, the Raiders put up a valiant effort Thursday in a 2-0 defeat at Lakeland. The loss came 48 hours after Lakeland took it to the Raiders 5-0 at Raider Field.
"Our back four were all sophomores, our goalie (Jake Dassow) was a sophomore and we didn't have our starting striker," Bilodeau said. "Again it was a confidence booster for those younger guys that don't really have a lot of opportunity on varsity. There's some juniors and seniors that have gotten more playing time. We brought three JV players up and they did great and they got a ton of playing time. We were doing what we could."
Lakeland got the only goal it would need quickly. In the ninth minute, Yaroslav Myshchyshyn, who scored four times in the 5-0 win, scored on a crossing pass from Bo Peterson.
That's the way it stayed all the way until the 70th minute when DJ Ratajczyk put it away, scoring on a header off another cross from Peterson.
"If we would've had our starters would they have scored those goals? I don't know," Bilodeau said. "But they did great. I was really proud of those guys. I told them that after the game. It was a weird feeling. We lost, but I was so happy and so proud of them just because of the way they played. We had chances to score in that game too. I'm really bummed we don't get a fair shake at those guys because I think with our starters, we would give them a good run for their money."