Posted on
Lake Holcombe riding three-game win streak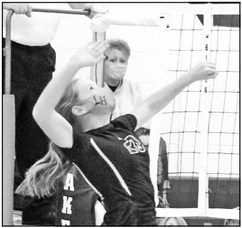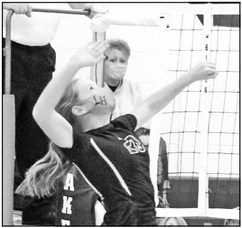 By Ginna Young
The Lake Holcombe volleyball sqaud knuckled down for a busy week, traveling to two away games, before finishing out at home.
Sept. 24 vs. Flambeau conference (W 3-0)
It was a no-contest trip to Flambeau for a conference match-up, with Lake Holcombe taking home the victory. The Cheiftains won all three sets, 25-17, 25-18 and 25-19.
Senior Karlee Andres led on kills with 5, while assists belonged to senior Allison Golat-Hattamer, who led with 12. Sophomore Annabelle Wincek also led, with 14 digs.
"The girls played solid volleyball and worked together to earn this win," said coach Beth Meddaugh. "It is fun to watch the team come together and be able to focus on volleyball this season."
Sept. 25 vs. Birchwood conference (W 3-0)
The next day, the Chieftains were on the road again, where they decisively pulled out a 3-0 victory, taking the matches 25-9, 25-15 and 25-21.
"The girls played really well tonight," said Meddaugh "Serving was much improved over the last couple of games and everyone was hitting well."
Senior Leah Allard led with 3 kills, while three players each had 2 kills. The games' assist leader was Hattamer, with 10, and junior Olivia Larson recorded 20 digs. Senior Jonae Toutant ended with 11 aces.
"These girls do a great job of pulling together as a team," said Meddaugh.
Sept. 28 vs. New Auburn conference (W 3-1)
Finishing out their hectic week, Lake Holcombe hosted New Auburn, with the first set going to the visiting team, 22-25. The Chieftains rallied together and came back to win the remaining three sets, 25-10, 25-10 and 25-16.
"After a slow start in the first set, the girls came back strong in the last three sets," said Meddaugh.
Andres again led on kills, with 11, and Hattamer recorded 26 assists, while Wincek led with 31 digs.
The win brings Lake Holcombe's conference record to 4-1.
The team played so well tonight," said Meddaugh. "Everyone contributed to tonight's win with solid skills and excellent communication."
Cutline: Sophomore Karly Kirkman sends the ball over the net in a tough offensive set for Lake Holcombe, Sept. 28. The Chieftains went up against New Auburn, taking the home conference win, 3-1. Photo by Ginna Young.