Posted on
Homecoming brings Robins to town; Gilman gets tested by Loggers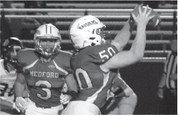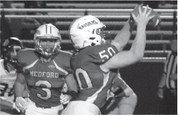 WEEK 2 FOOTBALL
History says the next two weeks will be the biggest of the 2020 regular season for the Medford football team.
This week and next, Medford will take on the two most successful Great Northern Conference football programs since the league began play in 2008. Antigo and Mosinee came into the 2020 season with identical 50-20 GNC records in the league's first 12 seasons. Medford ranked third at 46-24.
Antigo visits Raider Field this Friday at 7 p.m. for Medford's homecoming game. This series has featured several low-scoring, physical grinders over the years. Though Medford won last year's game 27-0, it was one of the tougher games the Raiders had in their 11-game win streak to start the year. Antigo wound up just 2-4 in the conference and 3-6 overall a year ago and missed the playoffs for the first time as a GNC member.
Antigo leads the 12-year series 8-5, with one playoff game in the mix, but Medford has won the last two meetings.
"Historically they've been an extremely strong program," Medford head coach Ted Wilson said. "They do the things that they do very well and they're very well coached. They're always a very physical, hard-nosed, tough football team. I expect all those things again out of them. Last year was an anomaly for them. This year I'm sure they're itching to get back to where they were. "
Antigo is coming off a tough homecoming loss of its own, 21-18 in double overtime to its fierce rival Rhinelander. The Red Robins won the statistical battle, but they couldn't finish on a criti- cal fourth-quarter drive deep in Rhinelander territory while leading 12-6. The Hodags eventually tied the game in the final seconds. After both teams scored touchdowns but failed on two-point conversions in the first overtime, Antigo lost the ball on downs in the second overtime and Quinn Lamers booted a 21-yard field goal to win it for the Hodags.
The Red Robins, as always, figure to rely on their running game and ball control for success. It almost worked in week one as the Robins rolled up 291 rushing yards on 60 attempts. Senior Dakota Matuszewski led the way with 180 yards on 27 carries and two touchdowns. Senior Josh Heuss added 86 yards on 19 carries.
Defensively, Antigo limited Rhinelander to a modest 162 rushing yards and 4.5 yards per carry. The Hodags only threw for 45 yards.
Antigo is relatively young on the lines and will be challenged by Medford's experienced squad, which opened with a dominant 52-7 win over Hayward. The Raiders scored two defensive touchdowns, were in Hayward's backfield for much of the first half and scored on four consecutive offensive possessions in the first half.
The other key game in the conference this week has Mosinee visiting Rhinelander in a battle of 1-0 teams. A Mosinee win would make the Indians' Oct. 9 home game with Medford even more meaningful.
Gilman at Phillips
After a 53-0 blowout win over Bruce in their eight-player debut Friday, the Gilman Pirates figure to get a much tougher test this week at Phillips. The Loggers are coming off an 8-1 season in 2019 and won their 2020 season opener 42-14 at New Auburn.
Phillips did all of its offensive damage on the ground Friday, grinding out 421 yards on 40 attempts to average 10.5 yards per carry against the Trojans. The Loggers broke away from a 12-6 halftime lead by outscoring New Auburn 30-6 in the second half.
Jesse Bruhn, a sophomore, did the most damage, rushing for 190 yards on just 13 carries. Brady Bogdanovic, a senior, added 113 yards on just nine attempts. They stepped up in their first crack at filling the hole left by 1,500-yard rusher Ethan Mudgett, who graduated after last season.
Gilman's rush defense was up to the task against an overmatched Bruce offense Friday, limiting the Red Raiders to 15 rushing yards and two first downs. The Red Raiders completed one 29-yard pass to get to 44 yards of total offense.
The Pirates piled up 380 rushing yards of their own in Friday's win. They'll be going up against a Loggers defense that held New Auburn to 186 total yards and scored a touchdown on a fumble recovery.
"They run a similar type of offense that Bruce did," Rosemeyer said. "They execute it a lot better. It helps that we don't have to prepare for anything too new this week. Everything we're seeing this week is what we saw last week. They run it a little bit better and a little bit quicker. Their running backs are a little bit faster and quicker. Defensively, they're just a little bit quicker also. They're just a quicker team than what we saw. A lot more aggressive, physical team. A fast team, the whole thing."
Phillips is one of the largest schools to sponsor eight-man football with a 2020-21 enrollment figure of 238.
Hawks on hiatus
Unfortunately, on the morning they were set to get 2020 started, the Rib Lake-Prentice Hawks saw their season put on hold Friday morning due to health issues at Rib Lake High School. Their Lakeland Conference opener with Unity was canceled and this week's trip to Hurley has also been canceled. Hurley will now play Colby instead.
The Hawks' game Oct. 9 against Grantsburg also very much in doubt at this time.
Rib Lake's volleyball matches this week against Athens and Auburndale and next week against Abbotsford and Assumption were taken off the schedule as was a cross country dual meet Tuesday at Chequamegon and a meet today, Thursday, at Athens. The cross country team's Sept. 24 meet at Marathon was canceled due to the day's rainy weather and its status for upcoming meets is to be determined.