Posted on
Home meet sees Cadott runners finish near top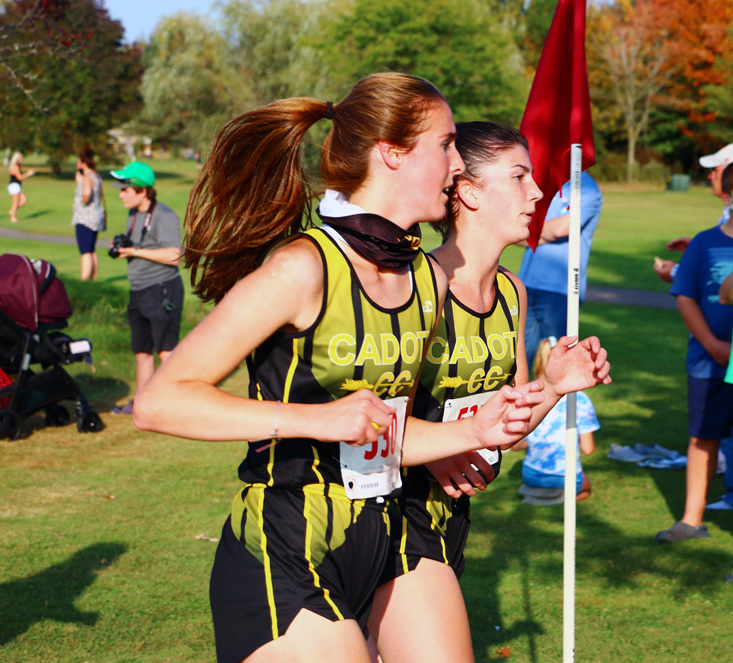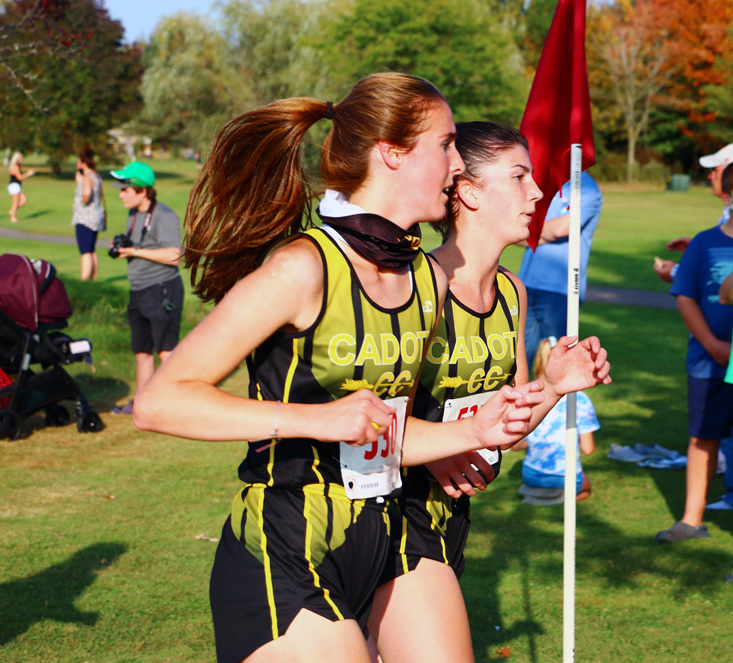 By Ginna Young
In their only home meet this year, the Cadott cross country team ran well at home Sept. 22, as multiple athletes descended on the Whispering Pines course.
The boys team earned a fourth place finish, with a time of 1:41:51.4, while the girls placed fifth (2:20:32.7).
"…The meet went very well," said coach Tom Weiss, adding that the course's hills aren't steep, but they are long.
Individually, sophomore Peter Weir finished just out of first, coming in a step behind for second place (17:35.6). Junior Tad Weiss was only a few paces behind that, finishing fourth (18:19.9).
Zach Morgal, senior, completed the course 14th (19:35.9), with junior Evan Freed ending in 31st (21:33.8) and junior Corbin Grenz coming in 45th (24:46.1). Freshman Sage Handrick rounded things out, placing 53rd (27:25.5).
Seniors Meadow Barone (front) and Kaileigh Tice are neck-and-neck, as the Cadott runners made a turn Sept. 22, on their home course. Barone completed the event in 13th place, with a time of 25:37.4, while Tice finished 25th (27:13.2).
On the girls side, senior Meadow Barone placed 13th (25:37.4), with sophomore Lucy Lindeman coming next, in 18th place (26:02.5).
Kaileigh Tice, senior, ran for 25th place (27:13.2), while sophomore Jessica Klukas finished 36th (30:32.1.) Sophomore Jaycee Stephens ended the day in 38th (31:07.3).
"Weather helped runners to post terrific times on a sneaky, tough course," said Tom Weiss.
Cutline: Seniors Meadow Barone (front) and Kaileigh Tice are neck-and-neck, as the Cadott runners made a turn Sept. 22, on their home course. Barone completed the event in 13th place, with a time of 25:37.4, while Tice finished 25th (27:13.2). Photo by Ginna Young
[caption id="attachment_92631" align="alignnone" width="300"]
Cadott sophomore Peter Weir smiles as he sees his finishing time of 17:35.6 at the end of a home invitational course Sept. 22. Weir took second place in the event. Photo by Ginna Young[/caption] [caption id="attachment_92632" align="alignnone" width="300"]
Junior Tad Weiss quickens his pace as the finishing line nears at his Cadott home invitational Sept. 22. Weiss finished in fourth, with a time of 18:19.9. Photo by Ginna Young[/caption]