Posted on
Football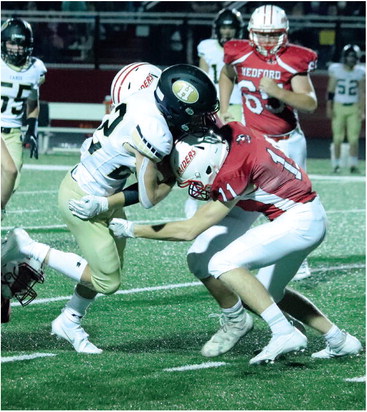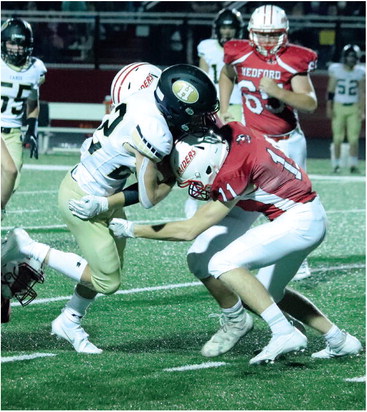 penalty on fourth and 14.
Seidl, though quickly ended that threat on the first play of the second quarter, picking off Sullivan's pass over the middle, cutting to his right and scoring an 85-yard touchdown.
"I read pass, then I went into the hook zone and he threw it right to me," Seidl said. "Emett (Grunwald) and Nate Retterath had good blocks."
"We did talk this week about the two linebackers doing a better job of dropping into their hook zones and not playing so flat and getting some depth," Wilson said. "Blaine did that. He did a good job of taking that coaching and listening to it and trying to get more depth on his drop instead of going so laterally and ran himself into two picks that were right there. We talk about the blocking and work on that in practice, getting in front of that guy and trying to get him in the end zone. The kids did well."
Seidl ended Hayward's next drive by getting into the backfield that punter Coburn Hanson didn't have time to get the punt off. He wound up fumbling and Peyton Kuhn recovered for Medford at Hayward's 24. Aiden Garnder scored four plays later on an 11-yard run. Baumgartner hit Grunwald for the two-point conversion to make it 30-0. Grunwald scored from a yard out to cap a seven-play 54yard drive to make it 36-0 with 2:11 left in the half.
Seidl then got his second pick-six on the first play of Hayward's next possession, stepping in front of Sande and then finding nothing but wide open turf in front of him down the left side for a 45yard score. Kuhn ran in to the two-point try.
"I read pass, just saw the guy coming in front of me on a drag, so I just followed him and he threw it right to me," Seidl said.
Medford's reserves had a promising drive stall in Hayward territory to open the second half. The Hurricanes followed with their lone touchdown drive of the day, with Tanner Poppe going 34 yards off a swing pass from Derrick Miller with 1:12 left in the third quarter.
The Raiders' finished the scoring with an impressive 68-yard, 11-play drive that ended with a 6-yard touchdown run by sophomore Peyton Gilles. Senior Trevon Drallmeier ran in the two-point try.
"It's good to get those kids in, let them play and experience what it's like to play against a varsity football team," Wilson said.
Medford finished with 307 yards of total offense, including 243 on the ground. Ten different players got carries. Gardner and Grunwald led the way with 56 yards each. Gilles ran for 42 yards on eight carries in the second half.
"We ran the ball fairly well," Wilson said. "We have a few things to clean up there with some blocking assignments and finding some other holes. We can't complain too much, but there was a chance there to turn some of those into bigger plays instead of 7- and 8-yarders."
Retterath was two for two through the air for 38 yards, while Baumgartner was one for two with his touchdown to Herman. Kuhn added a 9-yard catch.
Hayward finished with 162 yards, 125 of which came in the second half. The Hurricanes had 59 rushing yards and 103 passing yards.
Medford is back at Raider Field Friday, hosting Antigo at 7 p.m. in the homecoming game. The Red Robins dropped their season opener to Rhinelander 21-18 in double overtime.