Posted on
Rockets compete in small field at home triangular meet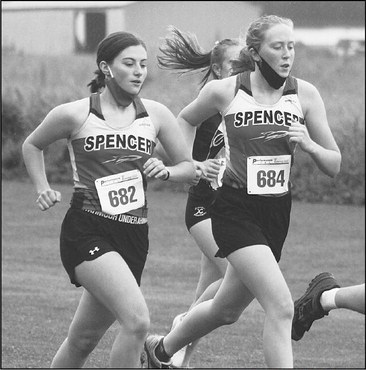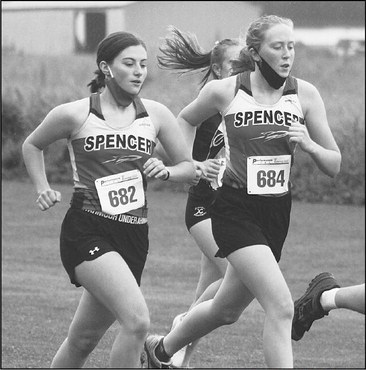 With guidelines limiting the number of runners on a cross country field allowed to run at the same time, it was a rare moment to have both the boys and girls varsity teams running together at a meet held at Frey Field on Sept. 24. The triangular meet pitted the Spencer athletes against a very small running field, giving the girls and boys a unique race in the midst of the COVID-19 pandemic.
The Spencer boys fielded a full team of seven runners at the invite, making up almost half of the entire field of runners competing in the boys race. With 16 boys running the course, Cameron Nieman and Noah Schultz were the first Rockets to finish, coming in one after another to take sixth and seventh, respectively. Nieman ran a 20:25, while Schultz finished at the 20:51 mark.
The next pair to come through the finish were Malachai Anderson, who placed 10th with a time of 21:22, and Caleb Rucker, who ran a 21:34 for 11th. The last three runners for Spencer trickled in during the following minutes. Kaiser Eickleberry came through in 22:55 for 14th, Austyn Kohls finished in 24:24 for 15th, and Andrew Sieracki was 16th with a time of 25:21.
The Spencer girls were just one member short of being able to field a complete girls team at Frey Field, competing instead as individuals. In their 12-runner field, Leah Zastrow led the girls with a thirdplace finish, coming through at the 24:28 mark. Emily Wehrman was right on her heels, taking fourth with a time of 24:34. Faith Miller also finished for the Rockets, taking sixth with her time of 25:57. Haylee Hopperdietzel was the last to finish for Spencer, finishing in 26:27 for 10th.
The Spencer boys took second place at the meet with 37 points, finishing behind Colby-Abbotsford (19). Columbus Catholic fielded an incomplete boys team. For the girls, Colby-Abbotsford was the only school that fielded a complete girls team, taking an undisputed first place with 15 points.
ROSS PATTERMANN/STAFF PHOTO