Posted on
First 8-man game a learning experience for Greenwood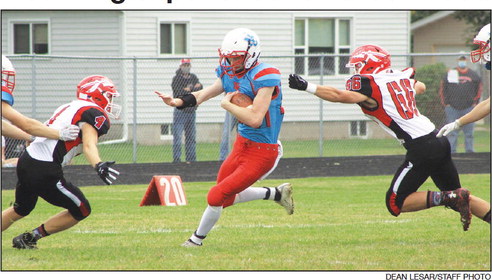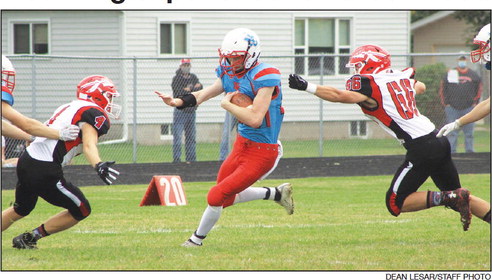 As if it wasn't enough for the Greenwood Indians to be switching from an 11-man to an 8-man football format this season, and then losing pre-season practice time due to COVID-19, the schedule-maker made it even worse for the Indians by giving them one of the state's most successful 8-man programs to play first. The difference in 8-man familiarity was apparent as Newman handed Greenwood a 35-16 loss on Sept. 26, though the game was closer than the final score might suggest.
Greenwood still trailed only 21-16 with less than six minutes to go in the final quarter before two late Newman long passes sealed the outcome. The Indians fought back from a 19-point first-half deficit to make it a close contest, but head coach Chris Schmitz said there was just too much new stuff happening on the field for the Indians to get a win.
"It was a real eye-opener for our kids," Schmitz said of the Indians' first taste of 8-man action.
Played on a slightly narrower and shorter field, 8-man football features altered offensive formations and varying eligibility of receivers on any given play. Newman threw different formations at Greenwood and relied on a short-passing game mixed with a tough ground game to amass 297 yards of offense and reach the end zone five times.
The speed of the game was a challenge early for Greenwood. Playing in the new format in game action for the first time, the Indians had to react to Newman's more sophisticated game plan, which it has honed in five or six seasons of 8-man play. Plus, Schmitz said, Greenwood's first-string has only played so far against the reserves in practice, and game action is much quicker. The Indians also did not get a good look at 8-man play in its scrimmage versus Owen-Withee and Loyal, as both those teams play the 11-man game.
"It was a look, but it didn't prepare us really for what we were to see," he said.
Newman had the game's first possession and drove 65 yards in seven plays for the first touchdown, a 19-yard pass from Dylan Ackerman to Jacob Pfiffner.
Greenwood couldn't move the ball on its first possession, but Cooper Bredlau's punt rolled all the way down to the Cardinal 1-yard lane. When Ackerman fumbled a first-down snap in the end zone, Greenwood defenders were there to wrap him up for the 2-point safety with 6:45 to play in the first period.
Greenwood found its offense after the punt following the safety, and pushed to the Cardinal 7-yard line with a first-and-goal. The threat ended there as Cooper Bredlau's pass bounced off a set of hands and into the arms of Newman's Brennan Shaughnessy near the goal line.
The Cardinals then mounted a 97-yard drive for their second score of the game. A mix of runs and short passes carried Newman downfield until Ackerman finished the march with a 4-yard run with 5:42 left in the half.
Greenwood went 3-and-out on its next possession and punted again. Newman needed just six plays this time to drive 54 yards, with Thomas Bates scoring on a 7-yard run for the 21-2 lead.
Greenwood got the ball again with less than a minute before halftime, but got aggressive. On a third-and-1 play, Bredlau heaved a pass down the right sideline for Westen Schmitz, who snagged it, broke an open field tackle, and romped into the end zone with a 59-yard touchdown play. Bredlau carried in the conversion run to make it a 21-10 game at the half.
Greenwood's offense came out firing in the third quarter. With a series of off-tackle runs by Xander Hinker and a pass completion to Sullivan Whitford to convert a fourth-and-6 play into a first down, Greenwood drove 55 yards for a touchdown. Hinker capped it with a 2-yard run at the 6:07 mark, but the conversion attempt failed.
The game was stopped for 45 minutes at that point as a quick storm passed through. The Indians did not lose their momentum, though, and forced a Newman punt on its first drive. The teams then swapped more punts on the next several drives, and Bredlau pinned Newman at its own 11-yard line on another good kick with 7:25 left in the game.
A letdown on pass defense broke the stalemate. On a third-and-6 play from the Cardinal 15-yard line, Ackerman got solid pass protection and waited patiently for Pfiffner to break free behind the secondary. He caught the pass in stride and loped the rest of the way for the 85-yard score and a 28-16 lead with 5:47 to play.
Greenwood picked up a penalty first down on its next possession, and another long pass down the right side to Schmitz carried the Indians to the Newman 18-yard line. The drive ended there, though, as Pfiffner picked off
DEAN LESAR/STAFF PHOTO Bredlau's next pass at the Cardinal 3-yard line. Greenwood managed to force a punt, but fumbled the ball away on the first play of its next possession. Newman put it away from there with another long pass play, this one from Ackerman to Shaughnessy for a 36-yard score with 2:01 left to play.
Schmitz said he saw some positive things from his team, particularly since it was able to stay close for so long with a successful, established 8-man program.
"When we maintained blocks and did stuff right, we were there," Schmitz said. "Our pass defense was really pretty good, except that they had three big plays. Our open field tackling was pretty good."
Offensively, Greenwood had 208 yards in the contest, 85 of it on the ground. Hinker ran 13 times for 46 yards and Whitford picked up 31 yards on seven attempts.
Greenwood threw 15 times, with six completions for 123 yards. Westen Schmitz had four catches for 115 yards.
Newman piled up 297 of its 456 yards of offense through the air, with Ackerman completing 17 of 20 throws. He also ran 14 times for 66 yards and Bates added 90 yards on 18 carries. Charile McCarty had seven catches for 60 yards.
Coach Schmitz said he could tell how far the Newman program is ahead of Greenwood in the 8-man game, but it has played it for several seasons. Newman was supposed to be the fifth game on the Indians' schedule, but became the first after a COVID-caused reshuffling.
Schmitz said his team has to get used to the new looks of this format.
"I think there's still some confusion as to how the defense plays against you," he said. "It just seems like there's so many holes out there."
The unfamiliarity with the the intricacies of the 8-man game had the Indians players taking too long to react at times.
"The kids got caught up in the moment of watching the ball game instead of playing in the game," the coach said.
Greenwood will make its 8-man home debut this Friday night when it hosts Bowler-Gresham for a 7 p.m. kickoff.
At right, Greenwood's Sullivan Whitford hauls in a pass against the defense of Wausau Newman's Josh Klement.