Posted on
essa Krueger paced the team ….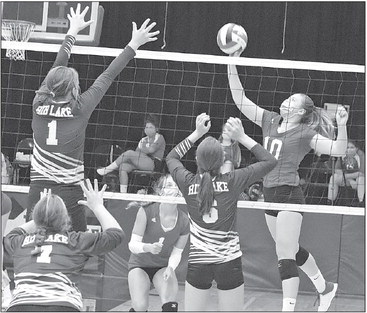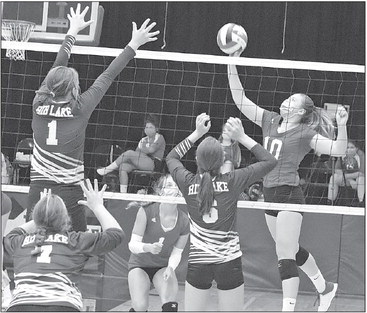 essa Krueger paced the team with 16 kills and 15 digs.
Grace Johnson paced Athens with three aces. Shauna Belter led the team with nine kills and Jazelle Hartwig and Sophia Coker with two assisted blocks each. Lavicka had 14 pass assists and Hart recorded 18 digs.
'Jays silenced by Crickets
Athens lost three straight sets against Fall Creek on Saturday at home by scores of 27-25, 25-19 and 25-14. The Crickets have been one of the best volleyball teams in the state during the last few years.
Grace Johnson led Athens with seven serve aces and 17 digs. Shauna Belter paced the Bluejays with nine attack kills and Addison Lavicka led the team with eight pass assists and nine digs.
Athens will play a home match against Stratford at 7 p.m. this Thursday, Oct. 1. Each athlete from both teams will receive four tickets for their family and friends to attend. There won't be any tickets available for sale at the door.
Win in the Cards for 'Cats
Edgar downed Wausau Newman in straight sets on Tuesday in Wausau.
The Wildcats swept the Cardinals by scores of 25-14, 25-20 and 25-21 to win the match.
Reagan Borchardt led Edgar with four ace serves and 14 attack kills, two blocks and nine digs. Kendalyn Dahlke paced the teamn with 19 assists and she added two aces and five digs.
Red Raiders beat Royals
Marathon won its road match, 3-1, at Wisconsin Rapids Assumption on Tuesday.
Ava Krueger led the Red Raiders with eight aces. Vanessa Krueger, paced the team with 13 kills and she tied with Ava for the team lead in digs with 13. Vanessa Krueger added three aces.
Ashley Phakitthong led Marathon with 29 assists. Hope Krautkramer added 10 kills.