Posted on
'Cats start slow, end fast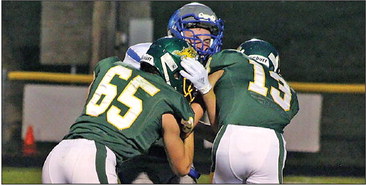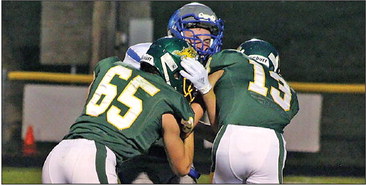 Edgar powers past Athens in the second half
Edgar's football players standing on the home sideline during Friday's game against Athens discovered it's more crucial than ever for them to cheer loudly for their teammates on the field.
With a limited number of fans in attendance, Edgar's normal raucous home crowd was much quieter in cheering on their beloved Wildcats. In fact, early on the Athens football team's sideline was much louder than Edgar's sideline during the Wildcats' 37-8 win. Edgar eventually got its offense going in the first quarter against Athens with an eight play, its offense with an eight-play and 63-yard drive culminat- ing in senior running back Kyle Brewster's one-yard touchdown plunge.
Wildcats senior running back Austin Dahlke rushed for three big first downs during the touchdown drive. Edgar senior quarterback Konnor Wolf's two-point conversion pass attempt to tight end Brayden Baumgartner fell incomplete.
Early in the second quarter, Brewster avoided Athens tacklers for a 69yard touchdown scamper down the Bluejays' sideline. Edgar held an early 12-0 advantage against Athens after Austin Dahlke's two-point conversion run failed.
Athens junior strong safety Cooper Diedrich recovered an Edgar fumble deep into Wildcats' territory with fiveand- a-half minutes left in the second quarter. Diedrich is also the Bluejays' starting quarterback, and he passed the ball to sophomore tight end Aiden Janke in the corner of the end zone for an 11-yard touchdown. Diedrich ran into the end zone untouched for the two-point conversion to cut into Edgar's lead at 12-8.
The Athens football team's sideline and fans sitting on the track behind the coaches and players were loudly cheering, now that the Bluejays were only trailing by four points to the Wildcats.
Edgar senior starting defensive tackle RJ Knetter determined it was time to get the Wildcats' sideline fired up to support the offense on the field, after an Edgar assistant coach mentioned it was eerily quiet.
"Sideline activity is huge because the atmosphere and environment means everything," Knetter said. "It's a great thing when your team's sideline is cheering for you, because while you are out on that field playing, that extra motivation from your team and crowd helps you push through when you are tired or getting discouraged when times are getting tough. We finished the game off strong once we got the sideline cheering and picked up the intensity. I'm very proud my teammates." Immediately after Knetter began cheering loudly, Wolf passed the ball to senior wide receiver Drew Guden for a 32-yard gain to the Athens 15yard line. Later in the drive, Edgar was faced with a crucial fourth-downand- one at the six-yard line. Brewster ran hard to the four-yard line to obtain the first down.
Brewster then rushed for a one-yard gain, before Austin Dahlke's threeyard touchdown through the middle of Athens' defense. Austin Dahlke added the two-point conversion run to provide Edgar more breathing room with a 20-8 lead against Athens. Edgar head coach Jerry Sinz also noticed his team began playing better football in the second quarter.
"We started off slowly on offense as many times our team does in the first game of the season," Sinz said. "We were basically feeling out our own offense and the defense of our opponent, who we had very little knowledge of because it was the first game of the year. I thought we picked up the intensity in the second quarter. Our defense played a super game throughout by holding Athens to only five first downs and 46 total yards of offense. We can definitely improve our kicking and punting games.
"Defensively Drew Guden, RJ Knetter, Ayden Weisenberger, Austin Dahlke, Brayden Baumgartner and Brady Lemmer played excellent games. Kyle Brewster led us on offense with 116 yards rushing and two touchdowns."
Edgar outscored Athens, 17-0, in the second half. Wildcats junior running back Jordan Bunkelman ran for a two-yard touchdown and Wolf passed the ball to Guden for the two-point conversion. Junior linebacker Ayden Weisenberger achieved a safety for Edgar's defense. Freshman running back Karter Butt scored on a 19-yard touchdown run, followed by Wolf's extra point kick.
Athens senior running back Dayne Diethelm led his team with 10 carries for 13 yards and three receptions for 21 yards. His father, Athens head football coach Todd Diethelm, was pleased with how well the Bluejays played against a stout Wildcats' squad.
"We knew we were up against one of the best teams in the state," Todd Diethelm said. "I believe our players competed well. We talked about competing all week and our players went out and did what we asked them to do. We were completely gassed in the fourth quarter. We ask all our starters to play both ways and on special teams, therefore we knew that was going to catch up to us because Edgar has more depth. If we come out and compete the same way we did against Edgar for the rest of the year then we will be ok."
Athens plays its homecoming game at 7 p.m. this Friday, Oct. 2, against Thorp, while Edgar plays at Onalaska, which isn't allowing any fans to attend its games.
Tigers throttle Chargers
Stratford's football team began this season with a statement 35-6 road win against Wittenberg-Birnamwood. It was Stratford's first football game as a new member of the Central Wisconsin Conference Large (CWC-Large).
Tiger seniors Colten Schillinger and Beau Gross each scored two touchdowns in the game. Schillinger ran for a 46-yard touchdown in the first quarter, but his extra point kick failed. The Chargers countered with quarterback Ben Wesolowski's 80-yard touchdown throw, but the extra point failed.
Schillinger also ran for a 23-yard touchdown and the two-point conversion in the first quarter to give Stratford a 14-6 lead.
Next it was Gross' turn, as he scored on a one-yard touchdown plunge followed by Schillinger's extra point. Gross added a 13-yard touchdown reception from senior quarterback Max Vanderhoof, but the two-point conversion failed. Nonetheless, Stratford built a commanding 27-6 advantage at the end of the opening quarter.
There was no more scoring the rest of the game until the fourth quarter when sophomore halfback Jackson Ormond ran for a two-yard touchdown. Schillinger tacked on the twopoint conversion run.
Stratford plays its first home game at 7 p.m. this Friday, Oct. 2, against Weyauwega-Fremont in CWC-Large play at Tigers Stadium.