Posted on
Raiders dominate Columbus, Phillips for fall's first wins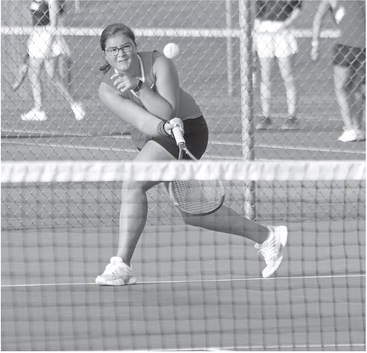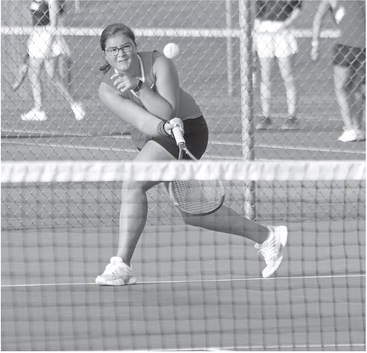 MEDFORD GIRLS TENNIS
Two players made their varsity debuts and helped their doubles teams earn victories that were key in the Medford tennis team's 5-2 home win over Columbus Catholic Tuesday.
The win was Medford's second straight in Great Northern Conference play, which has vaulted the Raiders to 2-4 in league play. Medford hosts its GNC finale today, Thursday, at 4:30 p.m. when undefeated Antigo comes to town looking to clinch the outright conference title.
Medford head coach Jake Bucki said the meet produced a lot of positives. Among those were a sweep of the doubles matches.
In flight one, senior Jordaan Clark teamed up with freshman Masaeda Krug for the first time to earn a dominant 6-1, 6-2 straight-set win over Catherine Kitzhaber and Maya Kuhn. At numbertwo, sophomores Eryka Seidl and Myah Smith got their first win of the season in five attempts in the flight with an easy 6-1, 6-0 win over Alliah Immerfall and Eva Schiferl. At number-three, sophomores Makayla Motte and Kierstyn Halopka outlasted Emma Alcott and Denali Volkman 7-5 in the first set and then jumped ahead 4-1 in the second set before winning 6-3. Halopka made her varsity debut in the match.
In singles, Brooke Sommer won her third straight match in flight one, taking care of Columbus Catholic's Helen Voss 6-3, 6-1.
"Her return game is getting so good," Bucki said. "Her return game is like, top 10 in Division 2, no question."
Lindsey Wildberg won her second straight match and earned her fourth singles win of the season with a 6-0, 6-0 sweep over Declyn Tracy in the numberthree match.
Columbus Catholic's Maria Garcia looked like her team's best player in a 6-1, 6-2 win over Raider Sophie Brost in flight two. Lizzy Gruenloh won the first set in the flight-four match 6-0 over Medford's Autumn Higgins. Higgins retired at that point due to an ankle injury, giving Gruenloh the win.
Columbus Catholic fell to 1-5 in the GNC standings. Medford now has 38 points in conference play with its 19 match wins. The Raiders are tied with 3-3 Lakeland with that point total, but increasing the total will be hard to do today against Antigo.
Medford closes the regular season next week with a home meet against Barron Tuesday and then a 1:30 p.m. triangular with Lakeland and Wisconsin Rapids Assumption on Oct. 1. Assumption replaces Ashland, who had to pull out due to quarantine issues.
Medford 7, Phillips 0
The Raiders got their first team victory of the season Thursday, shutting out host Phillips 7-0 in a Great Northern Conference dual meet. All of Medford's wins came in straight sets, though their were some close matches in singles play.
Sommer earned her second straight win with a 6-3, 6-3 win in flight one over Logger Allison Kulwicki. Brost was pushed by Sophia DeByl but came out ahead in both sets 6-3, 6-4 in what Bucki called one of her best performances of the season.
At number-three, Wildberg continued to play well, earning a 6-1, 6-4 win over Ella Teeters. Higgins got her first varsity singles win, beating Isabelle Teeters 6-4, 6-1 in the number-four match.
Clark and Jascor had little trouble in the number-one doubles match, beating Alyssa Huffman and Amy Kerner 6-1, 6-2. Kenya Mann and Motte were challenged early by Loggers Rachel Fusak and Brooke Stein but they pulled away in the second set for a 6-4, 6-0 sweep.
In flight three, Smith and Seidl cruised to a 6-0, 6-1 win over Carli Foytik and Breanna Hollinger.
With the loss, Phillips dropped to 0-6 in GNC duals.