Posted on
Pirates work to find right combinations in early losses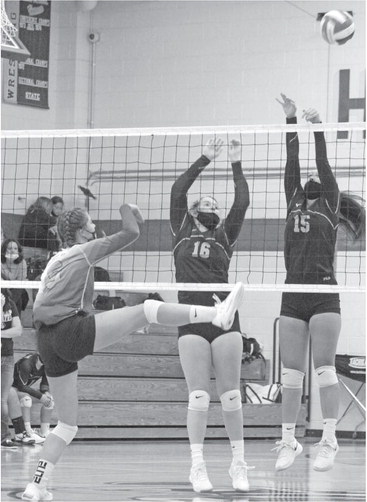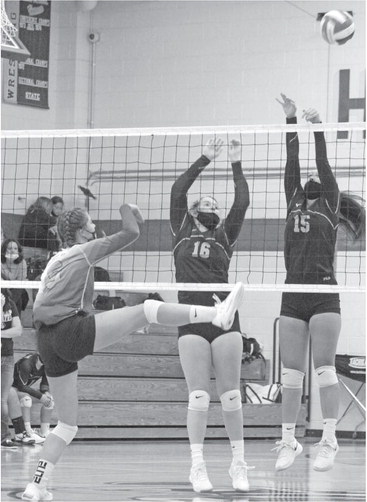 The Columbus Catholic volleyball team remained a tough obstacle for the Gilman Pirates to overcome on Tuesday.
In Gilman's home opener for the shortened 2020 season, the Lady Dons got 23 kills from standout junior Dorci Walker and rolled to a 3-0 sweep over the Pirates in a matchup between programs who shared the 2019 Eastern Cloverbelt Conference championship. With the win, Columbus improved to 2-0 in league play and 5-2 overall. The Pirates are 0-2 in the conference and overall.
Columbus Catholic easily got through games one and two 25-11 and 25-10. Gilman made things a bit closer in game three, but the Dons prevailed 25-16.
"Columbus has a quick offense with many options and though they made some big plays on us, our players also need to focus on being able to answer back on the next point and reclaim the momentum," Gilman head coach Janice Komanec said.
Gilman's first loss of the season occurred Thursday in a 3-1 defeat at Colby, who, at 2-0, appears to be on its way to a bounce-back season after going winless in the conference last season.
Gilman won its first set of the season 28-26. Gilman led 17-14 before Colby tied things at 20-20. The Hornets hit game points at 24-23, but the Pirates fought them off and eventually prevailed.
The momentum, however vanished in game two. Colby's strong serves got Gilman scrambling and the Hornets turned the Pirates' returns into strong hits as they evened the match with a 25-12 win. Colby's run continued with a 25-11 win in game three.
"Colby had a big swing out on the left and our blockers struggled to slow it down," Komanec said. "We need to improve our blocking speed and strength."
Colby jumped out to a 13-5 lead in game four, but Gilman got back into it with 6-1 run that cut the Hornets' lead to 15-11. The Pirates kept clawing their way back, getting within 18-15 at one point, but Colby regained its composure and closed the match out with a 25-20 win.
Through two matches, Aubrey Syryczuk is Gilman's kill leader with 13, while Gracie Tallier has 11. Hannah Vick has four.
Madisyn James leads the team in digs with 15, Syryczuk has 14, Tallier has 13, Ellie Drier has nine, Tychelle Duellman has six and Emma Grunseth has four. Grunseth is the assist leader with 17 and James has 14.
"As we played these first two matches, we had areas of strong volleyball but they were overshadowed by runs of inconsistency," Komanec said. "We are young and two-thirds of our team has no previous varsity experience, so we are trying to work through that as we try to jump in and compete in conference. Had we been able to play our usual pre-conference schedule with some multi-contact competitions it definitely could've helped us get some of these kinks worked out."
Gilman is at Spencer tonight, Thursday. Gilman hosts Owen-Withee Tuesday and visits Neillsville Oct. 1 for its next conference matches.
"We have players that need to get acclimated to the speed of the game and build confidence and trust in themselves to compete within it," Komanec said. "We also need to keep working to find the right combination of players on the court to be the strongest unit."