Posted on
Partnership makes Medford's new cross country course possible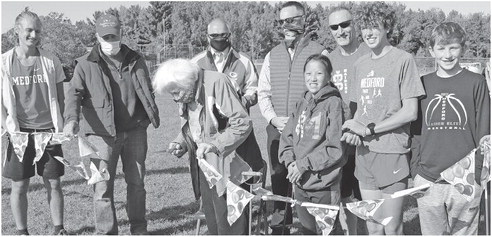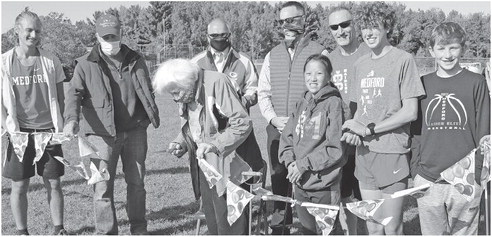 CROSS COUNTRY COURSE OPENS
The Medford Raiders' new home cross country course officially opened Thursday with a ribbon-cutting ceremony prior to a dual meet with GNC rival Tomahawk.
The new 5,000-meter course winds through school property as well as the Kuse Farm Museum and Nature Preserve, which lies along the school's northern border.
Dr. Hildegard Kuse had the honor of cutting the ribbon as it was her acceptance of the idea for trails on the property to serve as part of the course that made the project a reality.
"I thank you," Kuse said during the ceremony. Kuse noted she will turn 92 years old this week. "It's not a one-way thing and I hope that there will be many years after I'm not around when we can use it."
For the past six years, Medford has used Black River Golf Course for its home meets. The team hosted a scrimmage with Prentice-Rib Lake on the course Aug. 27. One more meet is scheduled for this year, the Oct. 1 Medford Invitational, which will include Antigo, Lakeland, Mosinee and Northland Pines.
"The cross country coaches kept on pestering me about getting a course on campus," Medford activities director Andy Guden said. " They knew we didn't have enough space, but they were like, 'hey, let's keep on thinking about how we can get this done.' Then we bought that land (to the west of Medford Area Elementary School). So then it was like, 'hey we got more land, let's get a course on campus.' My relationship with the Kuse sisters has a lot of history with me growing up just down the road and working on their lawn and mowing lawn, trimming trees and stacking our hay in their barn all those years. I felt comfortable asking Hildegard if we could possibly use her trail system with the nature pre- serve. She was very excited about that idea. We checked into it and now we have a great partnership I believe."
The 35-acre farm has been in the Kuse family since 1881. Part of the land is still farmed for crops, but the trails surrounding the fields allow visitors to view various forms of wildlife and plants and exhibits in the museum buildings offer glimpses of the area's history.
Members of the cross country team have put in ser- vice time on the property, removing buckthorn and helping widen the trails. Guden thanked contributors such as Al Guden for providing equipment that was used to perfect the trails, Clem Johnson who spread new gravel that was laid down on portions of the trails and Dale Baumann and Troy and Sherry Meyer for time they put in the get the course ready for Thursday's opener.
"We're just excited to be able to have more things on campus than off-site," Andy Guden said. "It's better as a school for us to do that, we get more spectators. It's easier to run concessions, bathrooms, parking lot, all that. So now we're excited to host sectionals year after year on site if the WIAA awards it to us. Without Ms. Kuse giving us the green light, this really wouldn't be here today."
"We just want to say thank you Hildegard and to your late sister Loretta as well," said Sherry Meyer, who is the assistant cross country coach. "As a coach we also put goals on our goal sheet at the beginning of the year and my personal goal was to have a cross country course on campus. This is one of my goals, my dreams come true for our team and I appreciate that. One reason I coach is to teach our student-athletes how to serve our community. With that being said, we just got to go out and cut buckthorn and do some service work on the farm museum and nature preserve at the Kuse farm, so that was really nice for the kids to do as well. We enjoyed that."
"It's a hand in hand kind of thing," Kuse said. "Remember, there are other things back there, the cabin is back there, dad's paintings are back there, there are a lot of things that are there for the community to see. We certainly want that to be something that can continue. It's a hand in hand kind of thing. Loretta would be happy too."