Posted on
Girls continue to dominate, boys one point short at Antigo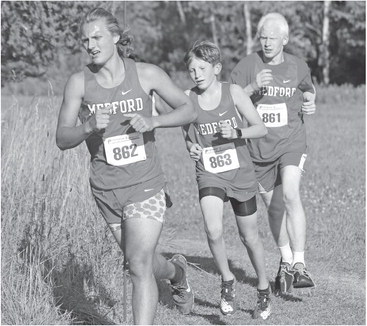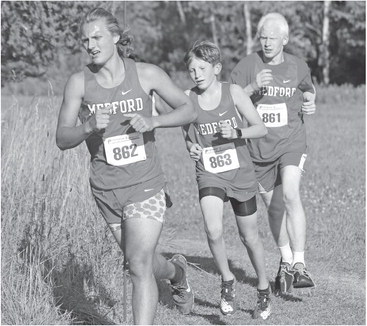 The Medford girls continued to dominate, while the boys, despite missing its top runner, came up just one point shy of victory during Tuesday's five-team Antigo Cross Country Invitational.
Held at the hilly Gartzke Flowage Bike and Ski Trails, where fast times are not to be expected, the girls put seven representatives among the top 11 finishers to easily secure the team title with just 23 points. Rhinelander (62), Mosinee (66), Northland Pines (118) and Antigo (128) did not pose a threat to the Raiders who won their fourth straight regular-season meet.
Senior Alicia Kawa and sophomore Bryn Fronk led the Raiders' assault by taking second and third, respectively, with times of 22:45.9 and 23:07.7. They trailed Northland Pines' superb freshman Nora Gremban, who hit the finish line in 21:37.4.
After Mosinee's Kate Fitzgerald placed fourth in 23:15.3, it was all red at the finish line. Freshman Meredith Richter led a string of four Raiders with her fifth-place time of 23:17.8, followed by Ellee Grunwald in 23:41.2, Brooke Rudolph in 24:11.7 and Jennifer Kahn in 24:22.3. Alexis Fleegel closed the gap on Medford's lead pack by taking 11th in 25:12.1. She missed the top 10 by 1.2 seconds. Ella Daniels was 18th in the field of 38 runners with a time of 26:02.3.
Medford had two JV entrants. Natasha Butt was third out of 13 finishers in 31:09.8 and newcomer Kylie Potvin was seventh in 31:43.5. Rhinelander's Eva Hetland won in 27:39.7.
The boys were without Joe Sullivan, who had easily won his first three official races of the fall. That left freshman Tanner Hraby as the team's number-one runner. He did well, placing sixth out of 35 runners in 20:27.2. A trio of Raiders took the ninth through 11th spots. Senior Logan Searles came in at 21:44.3, followed by freshmen Nick Steliga (21:46.4) and Logan Gubser (22:10.6). Tristan Price was Medford's fifth scorer, taking 16th in 22:49.4, and Andrew Krug was 21st in 23:26.8.
Medford's total of 52 points was one shy of Rhinelander's 51. The Hodags were led by race champion Callahan Laggis (19:16.8). Northland Pines had the second- and third-place finishers in Sam Gremban (19:37.5) and Francis Milanowski (19:57.5), but the Eagles could only muster a fourth-place finish with 71 points, three more than Antigo. Mosinee was fifth with 93.
Medford's Nathan Willman was the top JV runner of the night, crossing the finish line in 24:10.5. Lucas Borman was second at 26:18.6 and Ethan Mottle was fourth with his time of 27:00.7.
Medford returns to competition on Oct. 1 when it hosts its own invitational at 5 p.m. on the new course behind Medford Area Senior High. Antigo, Lakeland, Northland Pines and Mosinee are expected to attend.
Tomahawk dual
The Raiders matched up Thursday with GNC contender Tomahawk for the first time this season and came away with a split in what turned out to be a dual meet on Medford's new course.
The girls had dominated the rest of the league in two previous meets and they continued that trend against the Hatchets, winning 17-41.
Early on, Tomahawk's Rachael Rae Reilly led, but eventually Medford's lead pack took over and claimed the first four spots at the finish line. Kawa collected her first win of 2020, edging Richter as both were credited with times of 20:20. Fronk was third in 20:37, three seconds ahead of Rudolph.
Grunwald sealed the deal by taking seventh in 21:18, two seconds behind Tomahawk's Greta Tjugum. Reilly wound up fifth in 20:54. Kahn was eighth in 21:31.
Fleegel was 12th in the field of 21 at 22:33 and Daniels passed Hatchet Geena Wanta at the finish line to place 13th in 23:05. Butt was five minutes faster on the Medford course than she was in the Aug. 27 scrimmage and finished 20th in 25:15.
Sullivan stayed undefeated in the boys race, but seven of the next eight finishers were Hatchets as the defending GNC champions won the dual 21-40. Medford had beaten every other GNC team twice coming into Thursday's meet.
Sullivan blistered the course with a winning time of 16:50. His new course record is 39 seconds faster than his first one. He beat runner-up Noah Buckwalter by 40 seconds and third-place finisher Drew Bolder by 49 seconds.
Hraby got sixth place for Medford in 18:21. He was a second behind Tomahawk's Owen Dickell. Searles finished 10th and started a surge of Raiders who took five of six spots. He and Price both were credited with times of 19:14. Steliga was 12th, three seconds behind, and Gubser was 13th in 19:30. Jack Tlusty was 15th in the field of 21 with his time of 19:44. Krug (21:28), Willman (22:13), Borman (22:37) and (24:18) were 18th through 21st.
From Hraby on down, all of the boys were faster by about two to four minutes than their Aug. 27 race on the course. Mottle cut almost seven minutes.