Posted on
Accidental start led to one heck of a run for local track announcer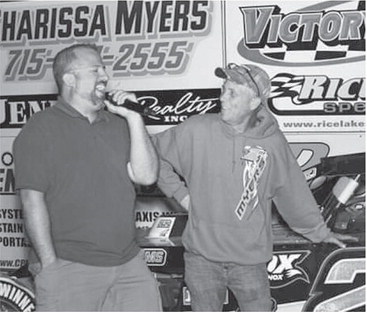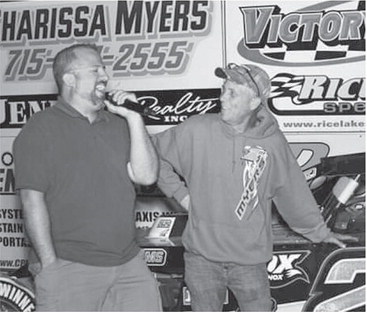 After all these years, Ben Brost still calls it accident.
But for someone who already was living weekends at the track, it sounds more like fate.
Unexpectedly handed the microphone as a 16-year-old, Brost turned that first experience into a 23-season run as race track announcer in Unity and beyond. It's a run he's decided to no longer continue on a full-time basis.
"It's not the end, I guess I'm calling it semi-retiring," Brost said in a Sept. 9 interview. "I want to be able to pick and choose certain events where I can toss my hat into the ring for maybe a touring series or one-off type deal, something I'm available for."
Brost, a 2000 graduate of Medford Area Senior High who now lives in Eau Claire, was given touching send-offs at Rice Lake Speedway on Sept. 5 and Unity's SKSpeedway on Sept. 11. He's worked part-time or full-time at the Unity track every season since he started under all the names and owners that facility has had and has been the announcer at Rice Lake the past five seasons.
The time has come, he said, to spend more time focusing on the boat company he's part owner of, Wide Open Marine, and to catch up on weekend time with family members that has been lost while he went from track to track on summer weekends.
"I've always said what started out by accident became another hobby in the sport and it was a career for awhile," Brost said. "It gave me some of the greatest opportunities that I wouldn't have had without doing that. I met some fantastic people over the years."
The first fantastic people in the sport Brost refers to are his family members that got him interested in dirt track racing at a young age. He remembers his grandparents, Allen and Joanne Brost, taking Ben's mother and her brothers all over to races. Ben wound up following those uncles when they got behind the wheel.
"My uncles raced in the 80s and 90s," he said. "My uncles Mark, Gary and Dan all raced. My uncle Steve was a big supporter too. He never drove, but he was there quite a lot. He pitted for my uncles and stuff. I started announcing at the end of their careers essentially. I got to call races, a couple of them, for Mark and Gary. I called a few more for Dan. Dan quit in 2003 I believe. I raced for two years '03 and '04. So I wouldn't have been able to do that had it not been for announcing. That was always my dream to become a driver. That was fun. One night I got to pit next to my uncle Dan. That was cool."
Blessed with a distinct raspy, but strong voice, an engaging personality and his enthusiasm for racing, Brost's marriage with the microphone was formed on one of those nights with the family in Unity at what was then called Monster Hall Raceway.
"It was completely by accident," Brost said. "It was a mechanic's race and my uncles were still racing. So their cars were in the pits and I remember saying to my grandpa I'm going to sit by grandma up in the stands. I walked up there and sat down. I heard the announcer struggling with names and things of drivers because they were the mechanics. I knew who the pit crew guys were that were driving the cars. So I told my grandma, 'I said I'm going to go up in the announcer's booth and I'm just going to kinda point out who's who.' She said, 'if you do that, I'm crawling under the bleachers.' "So I did and one of the announcers handed me the microphone and said, 'here.' I said, 'what am I going to do with that?' He said, 'announce, we're tired, so go ahead.' So I cracked a joke and I'll never forget it. It was Davey Sapinski driving the car. He came out of turn four and he went up on the retaining wall and then he came back down again. I said, 'he meant to do that. He wanted to show you fans what the anatomy of a race car exhaust looked like.' The crowd started laughing. Then on my way out, Roger Bunkelman, the promoter at the time, and Jerry Wiegel, who owned it, they offered me a job announcing. I said, 'no thanks I'm good.' Well, the next morning we were out at my grandma and grandpa's for a family team breakfast and I said, 'they offered me a job announcing last night.' My grandpa looked at me, 'yep and you took it too.' I was like, 'well, I guess I'm an announcer now.'" Building off that impromptu debut, Brost said it took a couple of years to develop the style and understand the preparation that went into being that voice at the track and making sure when the mic was on, he was getting it right. His success at Monster Hall led to a gig with the American Dirt Network, which followed the WISSOTA Late Model Challenge Series and took him to tracks in western Wisconsin, Minnesota and the Dakotas. He's also announced things like Mixed Martial Arts fights and football games for the Chippewa Valley Predators semipro team.
Along with announcing, he spent eight years as part of Tom Nesbitt's pit crew, which he said was tremendously valuable. Nesbitt raced for 50 years, primarily on the tracks of Wisconsin, and was inducted into the National Dirt Late Model Hall of Fame in 2005.
"On average I would announce like 35 shows (per year), but I'd still travel to other races," Brost said. "I'd do my homework and talk to other drivers, plus I was on a pit crew for eight years for Tom Nesbitt. Being on the road with him was an absolute blast. I could still announce around that. Traveling all over the place was very rewarding."
Much like his announcing debut, the friendship with Nesbitt started by accident one night at Monster Hall, when Brost called him "the Flying Fossil" while announcing a race lineup.
"At the conclusion of the show, I'm walking through the pits and I hear 'announcer, announcer," Brost said. "I don't think anything of it. 'Idiot in the yellow shirt!' It was his wife. She poked her head out of the door of their motor home. So I walk over there and say, 'yes Mrs. Nesbitt.' I've got my tail immediately in between my legs. She said, 'if you ever call my husband Flying Fossil ever again, we're going to have a scrap on our hands. You owe him an apology and also what would you like to drink?' I walk in and start to say 'Mr. Nesbitt.' He says 'never mind the mister, don't you ever call me the Flying Fossil ever again. Schultz, that's his wife's nickname, can you make the announcer a drink?' We became friends instantly, just like that."
As Brost learned and grew more confi dent, he found that to be his best, he needed a cordless microphone and to be out with the crowds, rather than stuck in a booth.
"I never did claim to be the best announcer," Brost said. "I'm not the worst. I actually have a shirt that says 'World's Okayest Announcer.' I got it for Christmas from a friend of mine a few years ago. One thing I know I'm good at is creating an electric atmosphere that causes people to want to come back. People want to stay there. That's important because to get a driver fans, that's also part of what the announcer does. You're selling that driver to the fans. With sponsor-generated revenue for drivers, for race tracks –– that part of my job I took very seriously to try to do that. And it worked."
The call from Rice Lake Speedway in 2015 Brost said is something he'll never forget. Before then he had gotten to know track owner Dave Adams, his son Kevin who is a well-known driver as well as Kevin's wife Megan quite well.
"(Megan) said if you were offered the job at Rice Lake Speedway to announce, would you take it and what would you need for it?," Brost said. "I said, 'well, yeah I definitely would.' Rice Lake Speedway has been there since 1951. It is a racing institution. The history and the pageantry that exists there. It was like, 'I got my shot, I made it.'" After subbing for a couple of races at SKSpeedway last year, Brost was offered the full-time gig for this year. It was one last go-around he's glad he took, even in a season shortened by COVID-19.
"I'd been thinking I wanted to step back for a couple years now," Brost said. "I thought, 'you know what, that's home. I want to go back and end it on my terms.' The crew that is there now that I've been working with is great. The owner Steve Kasten is a really good guy and one of the hardest-working men I've ever met in this business. The race director Travis Paul was going to be my replacement as an announcer. There was another guy that was going to be the race director, but he said he didn't want the job, so Travis stepped up and took it. Travis and I really grew together as co-workers and have become friends. Scott Jirschele, he was instrumental in bringing me back there too. It's been a real pleasure to work with him and the entire team that's there."
Brost said he's nothing but thankful to everyone in the racing community who helped him along the way. And he can't thank his parents and his extended family enough for putting up with his weekend absences but also encouraging him to chase his success.
"My grandma and grandpa, Allen and Joanne Brost by far have been my biggest supporters," he said. "I've always joked over the years if I announced the opening of a pop can, they would be there. That's the truth."