Posted on
Harriers post plenty of personal bests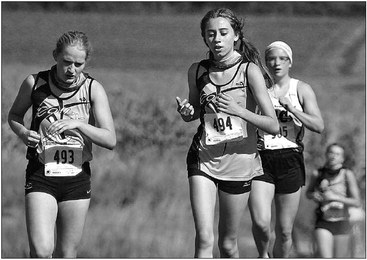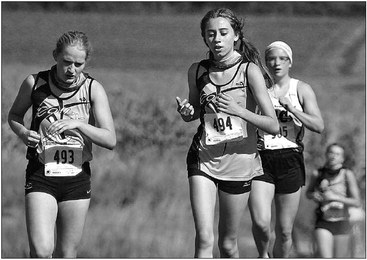 Both cross-country teams were missing runners on Saturday, but each team performed at a high level in their third meet of the 2020 season.
The Colby girls placed second at the Loyal/Greenwood Invitational, while the Colby/Abbotsford boys edged past Loyal/Greenwood 38 to 39.
The Colby girls were without Willow Oehmichen and Daisy Feiten, on Saturday, but the Colby girls cross-country team very nearly pulled off an upset over the Loyal/Greenwood co-op, losing by a mere nine points.
Colby saw all seven varsity runners finish inside the top 12, but the Loyal/ Greenwood senior duo of Savannah Schley and Rylan Lindner, who finished first and third overall, tipped the scales in the favor of the hosts, who defeated Colby 23 points to Colby's 32.
Junior Trinity Severson was the first runner to cross the finish line for Colby, taking fourth overall in her time of 24:33.
"I think the team did well considering we were missing our top two runners," Severson said. "I'm proud of everyone on our team for putting in the work this year. I think we'll have a pretty good season if everyone keeps working hard."
Three more Colby girls finished inside the top ten. The second runner to come in was freshman Casey Reynolds is off to a great start her first season at the high school level, and she ran a personal best by 17 seconds to place seventh in 25:33.9.
Mercedes Sarkkinen was the third runner through for Colby and finished ninth in 25:49. Just two seconds behind was Payton Roth in tenth place in 25:51.8.
Freshman Reagan Schraufnagel made big strides at Loyal as she was the fifth and final scoring runner for the Colby girls. Her time of 26:07.9 landed her in 12th place, and also gave her a new personal best by over one minute.
Hanna Meier was Colby's sixth runner, finishing in 14th place in 27:31. The time shattered Meier's previous season best by over one minute. Kaylee Podevels was the final varsity runner, placing 19th in 35:05.7 iin her first meet of 2020.
Boys
Not surprisingly, the Colby/Abbotsford boys co-op was led by senior Chase Oehmichen, who continues to make his case as one of the best runners in central Wisconsin - and perhaps the state.
Oehmichen and his shades struck a familiar sight on the sunlight, grassy fields on Saturday, and he fought off a challenge from Loyal/Greenwood's Avrey Horvath for a second straight week, winning the boys race with a time of 18:09.2.
Talon Severson's excellent junior campaign continues, and he was seconds away from a sub-20 minute 3.1 mile race. His time of 20:06.5 gave him sixth overall.
Matt Mateer added a third top ten performance for Colby/Abby. Mateer was eighth overall in his time of 20:21.8, a new season best by fifteen seconds.
Richard Streveler's previous season best was a 21:37, and his personal best came at the conference meet in Cadott last year in 21:29. He shattered both in Loyal by finishing in 13th when he ran the five kilometer course in 21:08.7.
Freshman Carter Roth was the last scoring runner for the boys team. His time of 22:11.8 earned him 14th overall. More importantly, he finished two spots above Loyal/Greenwood's Jaden Ruggles, giving the boys their one point margin of victory. Braxton Smith was the last runner for the boys, taking 17th in 22:47.3.
The runners will have another chance to drop times when they return to Frey Field on Thursday to. The first race is set to start at 4:30 p.m.