Posted on
VOLLEYBALL TEAMS TRY TO MAKE UP FOR LOST TIME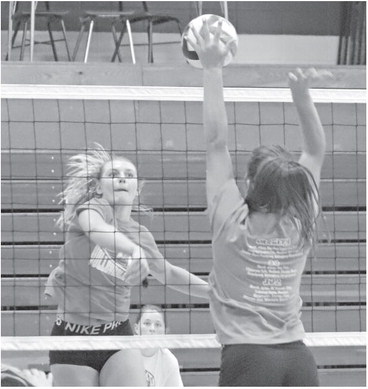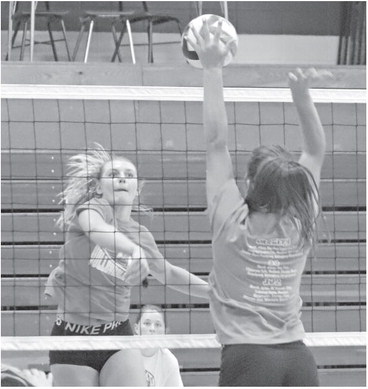 Raiders feel lack of experience doesn't mean lack of ability
Large senior are common in Medford's volleyball program, but rarely has graduation left the Raiders this thin on varsity experience.
The Raiders open 2020 with three returning letter winners, but junior Rynn Ruesch is the only one of the bunch who had a regular spot in head coach Cheryl Schreiner's rotation last fall. The 2019 season ended with Medford tying Antigo for third place in the Great Northern Conference at 7-5 and finishing 20-15 overall.
With 10 graduates having moved on, a new crew of juniors and sophomores has entered the fray vying for varsity time. In a year where Schreiner and her staff could've used the usual early- season tournaments to work out some nerves in the newcomers and experiment with lineups, the COVID-19 pandemic has forced the Raiders to jump right into conference play after just a week and a half of practice.
The condensed season starts tonight, Thursday, at Raider Hall when Medford takes on Northland Pines, who is coming off a fine 28-10 season that included an 8-4 mark in league play. The Eagles are now without two-time GNC Player of the Year and All-State selection Jacqueline Smith, who has taken her talents to Northern Michigan University.
Medford hosts Prentice Monday in non-conference play before heading to Rhinelander Tuesday and defending GNC champion Mosinee on Sept. 24. Varsity matches start at 7 p.m., but social distancing policies will limit attendance to mainly family members in all GNC gyms this fall.
"We have a lot of talent in this gym," Schreiner said during Tuesday's practice. "We're lacking experience obviously. We only have Rynn coming back with fulltime varsity experience. What they lack in experience they really make up for in determination. There's so many kids that are so evenly matched in this gym. It was difficult. The five coaches had to sit down and really hash things out and think things through and put the kids where we felt they could excel and get better and hopefully move up throughout the year."
No matter what, the most important thing to the Raiders is they are playing. Most are multi-sport athletes who lost their spring seasons due to the pandemic and they spent the summer wondering if the same would happen this fall.
"It was for sure nice just being able to be back in the gym with everyone after not having softball or our spring sports," Ruesch said.
"You're here in the gym with people cheering you on, talking to you again instead of being stuck at home," said Marissa Fronk, one of just two seniors on the roster. "It was nice."
"All summer we had no idea if we were going to be able to do this and the fact that it's finally here, it was exciting," sophomore Martha Miller said. "It just makes you more thankful."
"You could just see they just wanted to be here," Schreiner said of the early practices, which began on Sept. 7. "They just wanted to be together and be here to get some ball touches in. Thankful to be here. We're treating every day in the gym as a gift. We really are."
Ruesch, Fronk and Miller are the returning letter winners. Ruesch is a twotime letter winner who figures to provide offense and blocking as the team's top middle. Miller is an emerging outside hitter. Fronk had some early-season success last year, including 21 digs in a win over Pines.
From there, the list of candidates for playing time is lengthy. Allie Wesle joins Fronk as the team's only seniors. Junior Katie Brehm joins Ruesch as a varsity middle. Junior Olivia Krug is solidifying herself for a back row spot and Katie Lybert has locked down a setting spot to start the year. Sophomore Allie Paulson opened the coaches' eyes with an outstanding start to the season and earned a varsity spot. "Rynn's got the most experience," Schreiner said of the players emerging as leaders. "Another girl that's really stepped up in a leadership role has been Martha Miller. She pretty much set up all the captain's practices and got the kids in the gym. She took care of that so she has really stepped up as a leader. She is such a good example for her teammates because she's a worker and her attitude is positive 24/7 which is so cool and it's contagious. Marissa Fronk is kind of that quiet senior presence. Katie Lybert's the kid that's going to keep everybody pumped up and hopefully not have everyone take themselves so serious. Katie Brehm's the same way."
A large chunk of the junior class will suit up with both the JV and varsity squads and continue to battle for playing time. They include Emma Brost, Gabby Brunner, Mara Buskerud, Hailey Fisher, Megan Fredrikson, Abbie Frey and Laurissa Klapatauskas. Sophomore DeLana Radlinger is pushing for back row playing time.
Obviously getting the young players up to speed as quickly as possible is a top priority at the varsity level.
"I think there's going to be a bucket of nerves out there on Thursday," Schreiner said. "So that's going to be interesting to watch. The other thing I see with the lack of experience is inconsistency. So we are really focusing on being more consistent in every aspect of the game, with our blocking, with our passing, with our hitting. That's the part that I'm really focused on right now is consistency and then making smart decisions. Instead of just wailing on the ball, let's do something smarter."
"I think our attitudes are really good," Ruesch said. "It shows that we want to get better, especially because we haven't really played all together before."
"I think they're going to be kinda ready for it," Fronk said of the varsity newcomers. "(Varsity) is different, but they play with us every day, so it's not like they're just not playing volleyball."
"As soon as the nerves are out, we'll be good to go," Miller said.
Though some early bumps in the road are expected, the Raiders also expect they'll get through them and be competitive.
"I would like to be at the top of the conference," Schreiner said. "I think it's doable, I really do with this group of kids. I think it's doable. Again, we have to get some things figured out. I feel Thursday will be a telltale night for me. I feel with their work ethic, their coachability and their talent, I think there's no reason not to strive for the top of the conference."
"I think everybody is just excited to finally play a game again," Fronk said about tonight's match. "I think we're going to learn from this game and what we need to fix because it is our first game. We're going to see what we need to work on even more in practices."