Posted on
Rib Lake tries to quickly catch up after a lost summer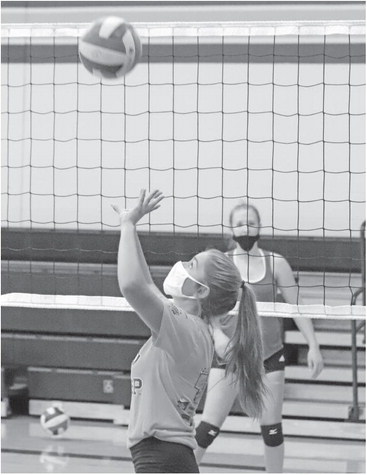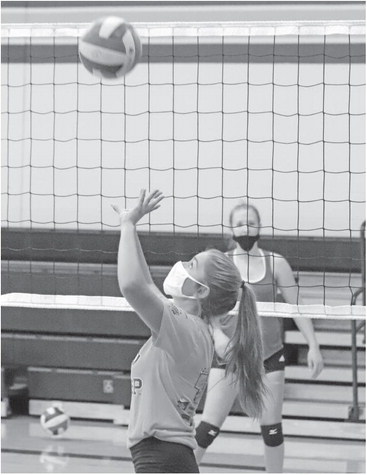 With an inexperienced varsity group, the Rib Lake volleyball team is one squad feeling the effects of being unable to play much in the COVID-19 summer of 2020.
Since practice finally began on Sept. 7, the Lady Redmen have tried their best to make up for lost time and be as reasonably ready as possible for their first two competitions this week against Marawood Conference powers Prentice Tuesday and Newman Catholic tonight, Thursday.
"I feel like it wasn't starting from scratch, like it was in middle school," senior Nellie Hopkins said of the first week of practice. "I feel we still had it. It was more like getting the rust off. I feel like even now, we'll be at least kinda ready. We won't be complete beginners."
"Yeah, it hasn't gone bad considering we didn't practice over the summer," junior Tia Bube said.
The most important thing in regards to the 2020 season is that the players are thrilled just to be back working together. The team's veterans –– Hopkins, Bube and junior Kyla Kennedy –– said it was a long summer having limited contact with each other and wondering if the team was even going to get the go-ahead to play in the fall.
"I'm so glad that we can play," Kennedy said. "Last year, with spring sports, I was really bummed out that we didn't get to play. Now we actually get the opportunity."
"Yeah, I'm just so pumped that we can play," Hopkins said. "I was so worried."
"It was soooo good to see their smiling eyes," head coach Barb Anderson said of that first day of practice. "Masks make it difficult to see their faces, but I could tell they were happy to be there."
The loss of five seniors from the 2019 squad that finished 1-4 in the Marawood North and 7-26 overall left Rib Lake with some holes to fill. With Hopkins being the lone senior in the program, the varsity will be junior-dominated with six of them figuring to be the core of this year's squad.
Hopkins and Bube hold down middle positions in the starting rotation, while Kennedy is the top setter, while Molly Heiser will do some setting as well.
"Nellie, Kyla and Tia will be looked upon for their leadership skills," Anderson said. "They have the most experience on varsity, and will need to keep their teammates relaxed and confident. Nellie and Tia bring their height and middle hitter skills. Tia also has played club, so she has the most experience. Kyla will help Molly with setting skills and offensive patterns." Emma Winter, Emily Rodman and Reagan Reinhardt round out the junior core. All three saw some varsity time last year. That court time will increase dramatically for them this fall.
"They have played for me long enough and know what I expect," Anderson said. "They have played some varsity and understand their roles with Emma and Emily being lefts, Molly setting and Reagan acting as libero. Emily Rodman has the biggest challenge as she has always been my utility player. She does anything and everything I ask. Emma, Molly and Reagan have been playing their spots on JV so I am hoping it is an easier adjustment for them."
The leaders said there is a chemistry present with the upperclassmen that they can definitely build from. That being said, communication, as always, was a key focus in week one.
"We are all pretty close, so we can all work well together, so I think that's a plus," Kennedy said.
With just seven core players, they all know they're going to play, which they said is an interesting dynamic.
"I think it takes some pressure off, but I think it also puts some more pressure on because, on the court, we know if we make a mistake there's no one for Barb to put in so she's going to be on us," Hopkins said. We know it's for all good reasons."
"We had lots to do and a little time to do it before our match on Tuesday," Anderson said. "We tried to incorporate some conditioning, but mostly it has been running an offense and working on defense. Skills have not had time to get refined." Anderson said the restrictions and guidelines put in place over the summer by the WIAA and locally made it too difficult to create organized opportunities for the girls to play. "Practicing over the summer did make a huge difference in past years," Kennedy said. "It doesn't feel like it does, but now that we haven't done (summer work), it's like 'my word,'" Hopkins said of the rust-shaking process. Anderson noted there are some younger girls who could get some time with the varsity ranks. Sophomores Kamy Annala and Rhonnie Jo Scheithauer and freshman Josie Scheithauer and Danielle Mann have shown some things early on.
"Kamy could help in a variety of ways, and Rhonnie Jo will give us some needed height," she said.
Due to the WIAA-imposed late start to the season and the current precautions that go along with holding matches, the 2020 regular-season schedule was forced to be condensed into what amounts to a Marawood Conference-only plan.
At first in August, the conference was eyeing a double round-robin play within each division. But with Chequamegon opting out and moving volleyball to spring, conference officials decided a single round-robin among the entire league would offer more guaranteed chances to play if health issues arise in some locales.
Rib Lake is also limiting attendance at home matches, giving each player four tickets to distribute to family members.
The Marawood figures to offer plenty of challenges. Newman was a Division 4 state qualifier last fall, Abbotsford and Stratford were divisional champs, while Prentice and Marathon were runnersup. Phillips, Athens and Auburndale are typically solid squads.
For Rib Lake, the main goal is to improve each day and enjoy the ride, however long it lasts.
"For me, it's just the improvement of the team and how we're willing to work together," Kennedy said. "Going into the season, I'm pretty positive."
"If we can just make things happen, it will be a success," Bube said.
"I hope that everyday and every match you will see us growing as a team, improving our skill set and competing," Anderson said.