Posted on
Raiders tame Hodags' hilly course for second straight team sweep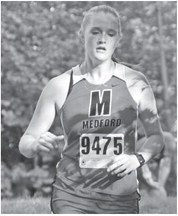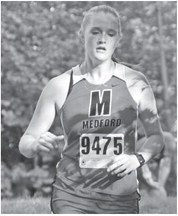 The boys needed every place they could get, while the girls were absolutely dominant for their second straight outing during the Medford Raiders' sweep of the team titles at Thursday's Rhinelander Invitational.
Held on a new course at the Cedric A. Vig Outdoor Classroom, the Raider boys squeaked out a 54-57 margin over runnerup Lakeland, while the host Hodags were just 10 points behind. The girls totaled just 25 points while putting six runners among the top nine finishers. They held a 38-point margin over Lakeland when the final scores were tallied.
Just like the Sept. 1 meet in Mosinee, this meet featured all of the Great Northern Conference teams except Tomahawk, who is scheduled to compete today, Thursday, in a triangular hosted by Medford at 4:30 p.m. Gillett-Suring fills the other spot.
"On a brand-new course at the Rhinelander School Forest, the hills were the defining feature," Medford head coach Kevin Wellman said. "Veteran runners believe that it is the hilliest course they have run.
"The teams did a tremendous job with the ladies earning six of the top nine spots," he added. "The guys team put five runners in the top 17 spots. It was a great team effort by all the runners with individuals pushing themselves to stay ahead of key competitors to help the team pull out the victory."
Joe Sullivan again ran away from the pack, winning the boys race in 18:04.7. He won by a 48.5-second margin over Northland Pines junior Sam Gremban. Rhinelander junior Callahan Laggis was third in 19:10.1.
Raider Tanner Hraby was seventh in the field of 51 with his time of 19:42.1. Logan Searles and Nick Steliga were credited with 14th and 15th respectively as both finished in 21:20.3. Senior Jack Tlusty capped Medford's scoring with a 17th-place time of 21:38. His finish was key as he came in just ahead of Lakeland's fourth and fifth scorers, Joren Cobb and Maverick Metzger.
Rounding out Medford's results were Logan Gubser in 22nd place at 22:12.4, Tristan Price in 30th place at 23:06.2, Andrew Krug in 33rd place at 24:00.8, Nathan Willman in 45th with a time of 26:24.3, Lucas Borman in 49th at 28:00 and Ethan Mottle in 50th at 28:21.5. Mottle's time was 1:10 faster than it was at Mosinee.
Northland Pines finished fourth with 106 points, followed by Antigo (116) and Mosinee (125). Francis Milanowski of Northland Pines (19:31.9) and Lakeland's Nolan St. Germaine (19:35.7) rounded out the top five individuals.
The GNC's two freshman phenoms topped the field of 63 female runners. Nora Gremban of Northland Pines pulled away to win in 21:53.4, but Medford's Meredith Richter made a statement, edging Lakeland senior Kate Melms by 0.02 seconds to take runner-up honors in 22:13.3. Raider senior Alicia Kawa got fourth in 22:14.7. After Mosinee's Kate Fitzgerald took fifth in 23:23.2, it was all Raiders.
Ellee Grunwald had her second straight strong outing, taking sixth in 23:29.6. Bryn Fronk was next at 23:38.1, followed by Jennifer Kahn in 23:45.4 and Brooke Rudolph in 23:53.
Freshman Ella Daniels came in 22nd at 25:15.9 and Alexis Fleegel, after missing the Mosinee race, was 26th in 25:42.8. Natasha Butt was 38th in 29:02.9.
Team scores were: 1. Medford, 27; 2. Lakeland, 65; 3. Mosinee, 73; 4. Rhinelander, 86; 5. Northland Pines, 136; 6. Antigo, 150.
The Raiders will be at another hilly and challenging course Tuesday when they compete in the Antigo Invite, held at the Gartzke Flowage Bike and Ski Trails.