Posted on
Raiders can't quite hang with Tridents, host Robins today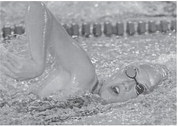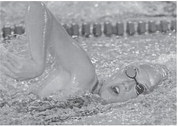 MEDFORD GIRLS SWIMMING
Aiden Denzer won two individual events, Erin Bergman took the 100-yard backstroke and both were part of the winning 200-yard medley relay team, but those wins weren't enough to push the Medford Raiders past the Ladysmith Coop Thursday in a Great Northern Conference girls swim meet.
The Tridents prevailed 93-77, using seven event wins that included two individual wins from Olivia and Madeline Bunton and key victories in the 200-yard and 400-yard freestyle relays.
"Overall the girls swam very well for the second meet of the season," Medford head coach Betsy Meinel said. "We were down two swimmers this meet. This will probably be our new normal this season as our lineup can change by the day. Even with less girls than normal, the girls were able to get excited and turn out a great meet. Every point always matters when we swim Ladysmith and this year we just didn't have the depth to win. We always enjoy this meet though because they are similar to our team."
The result left both teams at 1-1 in GNC duals.
Denzer and Bergman helped Medford take two early leads. They led off for the medley relay team that included Morgan Ball and Kami Razink and won the meet's opening race in 2:00.25. The team shaved 0.4 seconds off its time from the meet a week earlier against Mosinee and put the Raiders in front 8-6. They beat Ladysmith's top team by 2.72 seconds.
Two events later, Denzer won the 200yard individual medley in 2:30.18, cutting nearly seven seconds off her Sept. 3 time, while Bergman was right behind her in 2:30.69. Colby Bergman was sixth in that race at 2:53.21 as Medford led 25-21.
Ladysmith scored 11 of 16 points in the next race, the 50-yard freestyle, to take the lead at 32-30 and the Tridents never trailed again.
Denzer added her second win late in the meet, capturing the 100-yard breaststroke in 1:17.45, 2.71 seconds ahead of the Tridents' Mya Baselt. Jackie Williams took fourth for Medford in 1:33.08, while Olivia Rau got the fifth-place point in 1:44.26.
"Aiden had a spectacular night," Meinel said. "She won the 200 IM with a great leg in the breaststroke, coming from third to first in just that 50 alone. She then came back to easily win the breaststroke. Both of those events were huge for the team. Erin was back in the IM for the first time in over a year."
Bergman's backstroke win was achieved with a time of 1:05.47. She was 3.39 seconds ahead of Ladysmith's Brooke Lechleitner. Colby Bergman snagged third place in 1:15.12 and Maddie Williams was sixth at 1:20.39.
The team of Denzer, Razink, Ball and Erin Bergman swam the 400-yard freestyle relay in 4:07.57, dropping 6.52 seconds from the previous week. It wasn't quite enough to catch the Tridents' team of Lechleitner, Olivia Bunton, Sanaa Trott and Madeline Bunton, who finished in 4:04.3. Colby Bergman, Lydia Pernsteiner, Kirsten Weix and Lacey Brandner took fourth in 4:50.25 and the team of Breanna Kraemer, Rau, Shaniah Brandt and Jackie Williams was fifth in 5:07.69. Razink earned second-place finishes in both sprint races. Her 50-yard freestyle time of 27.23 seconds put her 0.37 seconds behind Madeline Bunton. Weix added a fifth-place time of 31.05 seconds. Razink's 100-yard freestyle time of 1:01.74 again put her behind Bunton, this time by 4.56 seconds. Rau was fourth in 1:17.18 and Pernsteiner got the fifth-place point in 1:17.63.
"Kami had a great night for the sprints posting some fast times for this early in the season," Meinel said. "She has definitely taken the lead as the team sprinter."
Ball swam the 100-yard butterfly in 1:08.92, good for second behind Lechleitner (1:03.73). Maddie Williams came in fourth at 1:22.75 and Kraemer was fifth in 1:24.92, improving by about 1.4 seconds.
Brandner trailed Olivia Bunton in both distance freestyle races. In the 200, Brandner finished in 2:27.55, which put her 9.9 seconds behind Bunton. Pernsteiner cut 3.59 seconds and took fourth in 2:45.57 and Brandt was fifth in 2:50.51. Brandner finished the 500-yard freestyle in 6:40, while Weix came in fourth at 7:18.42 and Brandt was fifth in 7:31.56. Bunton won with a time of 6:06.48.
Pernsteiner, Jackie Williams, Kraemer and Brandt added four points with a second-place time of 2:17.01 in the 200yard freestyle relay. Medford had teams disqualify in that race as well as the 200yard medley relay.
"We always try to push the exchanges as close as we can to reduce the time lag between swimmers," Meinel said. "This makes them difficult to judge and this time we got called on them. Either way it is better to have these happen early in the season so we can learn from them and move on. We will continue to work on them in practice and push them just as hard in the future."
Medford hosts Antigo today, Thursday, before heading to conference-leading Rhinelander on Sept. 24.